I started learning to crochet almost two years ago and I have really enjoyed it. However, I have previously yet not tried to crochet an edge around something (like a burp cloth) because of the difficulty in pushing a hook through the fabric.
Of course someone has come up with a solution! The
Sharp Crochet Hook
allows you to crochet a border on fabric without pre-poking holes or other means! You just crochet. Isn't that a great time saving tool?
If you love to crochet (or want to love it), then today you are in luck because the owner of Sharp Crochet Hook is doing a giveaway of her product!
And if you don't crochet but would love to do borders around blankets or burp clothes, you should try it. The website for Sharp Crochet Hook has a great page with instructions and patterns on how to do this:
http://www.sharpcrochethook.com/faq.html
Plus, I have always found YouTube helpful in learning to crochet. There are also patterns found on this page:
http://www.sharpcrochethook.com/crochet-hook-patterns.html
. You can make cute things like these: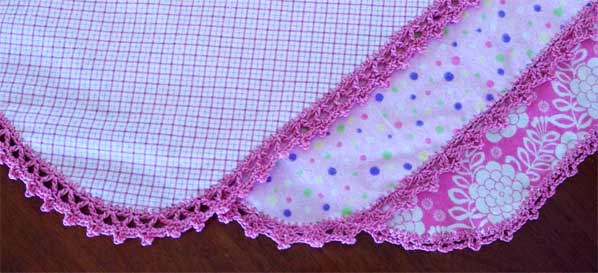 I know if you crochet, you already know how great this tool would be to use! Wouldn't these blankets be great as gifts to friends and family? And now how much easier to make it?!?!?!
Let's get entering!
For Your First Entry:
Become a follower of this blog. Then leave a comment. If you are already a follower (the thing where your cute face pops up with all the other cute faces of people following), comment telling me so.
For Your Second Entry:
Like
Sharp Crochet Hook
on Facebook. Then come back and leave a comment saying you did so.
Sample Entry
For Your Third Entry:
Share what you would make if you win a Sharp Crochet Hook. You might want to look at their patterns page for inspiration: http://www.sharpcrochethook.com/crochet-hook-patterns.html.
Sample Entry
Burp cloth first! Then once I am amazing, a blanket.
For Your Fourth Entry:
Like this blog on Facebook.
Already do? Tell me so.
Comment
saying you like it.
Sample Entry
For Your Fifth Entry:
Free entry! But you have to enter.
Sample Entry
For Your Sixth Entry:
Tweet, blog, OR share on Facebook about this giveaway! Then comment saying you did so--include your twitter ID or blog addy if applicable. You only need to do one of these to enter.
Sample Entry
I tweeted! @valplowman
For Your Seventh Entry:
Follow me on Twitter. Once you have done so, come back and comment and include your Twitter ID. Already do? Comment saying so.
Sample Entry
I follow on Twitter! @valplowman
Entry Rules
You must leave a comment in order to have an entry.

You must leave a separate comment for each entry. This is not so I can get lots of comments--it is because it makes it a million times easier to choose a winner. It takes less time, and less time is good. Plus, it makes sure I don't miss an entry.
You don't have to do all seven entries...for example, if you just want to follow this blog, you can just do entry one.
One entry per comment.
Up to seven entries per person.
You must fulfill the rules of each entry for each entry to count. If I see the entry is not valid (did not meet entry requirements), I will disqualify your entry. Trust me, I check.
Entries will be accepted until 11:59 PM Friday, October 21 Mountain Standard Time.
The winner will be randomly selected at random.org
The winner will be announced Saturday, October 22.
If you would like, you can add your email address to your entry. If you are the winner, I will email you to let you know. You do not need to add your email address in order to win. I understand not everyone wants to share their email addresses with the world. I will announce the winner on the blog, so you can check the blog Saturday to find out if you won.
Once the winner is announced, you will have one week to contact me or another winner will be chosen. Be sure to check back. The only thing worse than not winning is to win but not realize it in time!