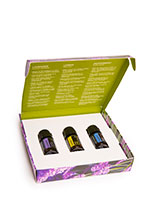 Today's giveaway is a great one. If you have ever wondered if you would like essential oils or not, this one is for you!
Andrea Kelly
, fellow Babywise mom and doTERRA Wellness Advocate, is giving away an Introductory Kit. This kit has lavender, lemon, and peppermint. These three oils are all super versatile. Lemon and lavender are hands down the two oils I use most often. I started with this same kit and after using it for a while decided I do like oils and have gone on to add more oils to my collection.
Right now, Andrea has a special going where new enrollments get a free usage guide book and a free diffuser--for more information on this, contact her at
akelly1009@gmail.com
. This promotion will be going on until June 15.
a Rafflecopter giveaway
ENTRY RULES
You must enter the giveaway to have an entry.
You must fulfill the rules of each entry for each entry to count. If I see the entry is not valid (did not meet entry requirements), I will disqualify your entry. Trust me, I check each winning entry to make sure it was valid.
Entries will be accepted until 12:00 midnight

June 5

, 2015.
The winner will be randomly selected through Rafflecopter.
The winner will be announced sometime after the winner is chosen. I will email the winner.
Once the winner is announced, you will have one week to contact me or another winner will be chosen. Be sure to check back and/or check your email. The only thing worse than not winning is to win but not realize it in time.
I will not use your email address for any

purpose

other than contacting you if you are the winner (and FYI, I don't have access to the email addresses except for the winner's).

US Shipping only