Any links to Amazon are affiliate links.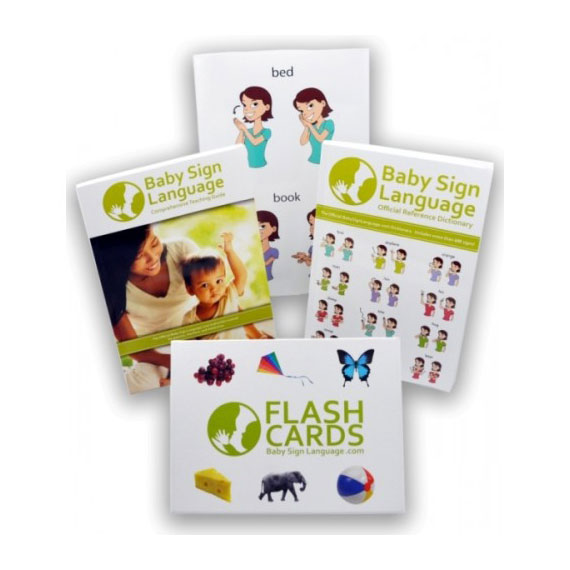 I was given a sample of this kit in order to review it and tell you about it. All opinions are my own. 
I am a HUGE fan of doing sign language with babies. Oh the tantrums you can divert! I have talked about it in The Screaming Non-Verbal Baby/Toddler, Preventing Whining, Controlling the Young Temper, Language Development, and Sign Language. Sign language is powerful. So I am so excited to bring this giveaway to you today!
The people at BabySignLanguage.com have a variety of sign language kits to help you teach your babies sign language. The standard kit they are giving away today includes flash cards, a BSL guide book , a signing dictionary, and a wall chart.
These items are very high quality. I love the guide book because it is over 100 pages long full of instruction on how to teach your baby sign language. It is very comprehensive and helpful! You will love this. It is great for you to have to yourself or to give as a gift. Also, I noticed that right now all of their kits are on sale: http://www.babysignlanguage.com/store/.
Check their website and blog out. They are both full of information on teaching sign language. It is all very helpful!
Enter below to win your own kit:
ENTRY RULES
You must enter the giveaway to have an entry.
You must fulfill the rules of each entry for each entry to count. If I see the entry is not valid (did not meet entry requirements), I will disqualify your entry. Trust me, I check each winning entry to make sure it was valid.
Entries will be accepted until 12:00 midnight October 3, 2014.
The winner will be randomly selected through Rafflecopter.
The winner will be announced sometime after the winner is chosen. I will email the winner.
Once the winner is announced, you will have one week to contact me or another winner will be chosen. Be sure to check back and/or check your email. The only thing worse than not winning is to win but not realize it in time.
I will not use your email address for any purpose other than contacting you if you are the winner (and FYI, I don't have access to the email addresses except for the winner)