Any links to Amazon are affiliate links.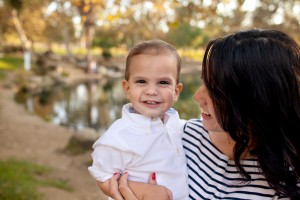 To cap off BFBN week, we wanted to highlight a Babywise mom blogger. Today we are highlighting my friend Natalie from babysleeptrainer.com. Natalie is a sleep consultant and helps people through sleep training. Natalie has been a long-time blog reader. She has been reading almost as long as this blog has been around.
Natalie is talking about how personalities impact the sleep training process–both the baby's personality and the parents' personalities. This post is awesome. I very highly recommend you read it. Here is a sample:
A child's personality has a lot to do with how quickly and easily the sleep training process will be. An easy going baby will take well to any type of method and either its regular or intermittent implementation. Generally speaking, the stronger willed the child, the more that child will benefit from extreme consistency on the parent's part in implementing the training method.
Read it, people. This is why some babies are easier to train than others. This is also why some parents are better at sleep training than others. This is why you can be inconsistent with one child and it can work out fine, only to find the slightest variation with your next child can create problems for days.
I have had both kinds. Brayden and Brinley needed extreme consistency. Kaitlyn and McKenna were flexible. It is easier to go from the consistency child the flexible child rather than the reverse. I am, however, very similar to Brayden and Brinley so I very naturally am quite consistent and it was not hard for me to be super consistent with Brinley after two flexible babies. And it should be said, while flexible babies can roll with changes, they still do far better with consistency. Always err on the side of consistency.