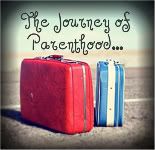 Today's blog spotlight for the Babywise Friendly Blog Network is Emily Parker at
www.journeyofparenthood.com. Emily has been a long-time blog reader here. Emily is a Babywise mom. She is very open and very bubbly. She is a positive person who is very friendly. She shares all about her life and adventures on her blog. She is sweet and strong at the same time.
Today, Emily has written a post all about what she loves about Babywise. It is her brief Babywise story. She manages to be positive and real at the same time. My favorite quote from her post:
"I have often been criticized for using a book to help me as a parent rather than just trusting my "mommy gut."
I have a few things to say about that. One being that we are all called to follow a book for how to live our lives and that's called The Bible. We don't just wander around aimlessly with no purpose or direction. We use His guidance and direction as we are called to do!"
Go on over and check out her post and her blog. I am sure you will love getting to know Emily.
We are sorry that this post was not useful for you!
Let us improve this post!
Tell us how we can improve this post?