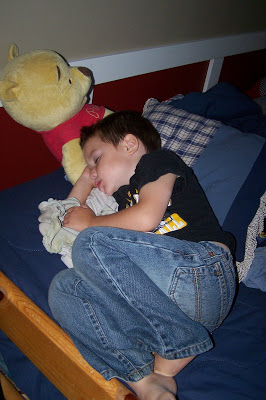 I am sure that dropping the one nap of the day is bitter-sweet. On the one hand, the break time is nice for everyone :). On the other hand, your child is growing up (or is that on both hands?). It gives you a lot more freedom to get out and do things. As in all things, there are good and bad points associated with dropping the one nap of the day.
But at what point do you do this? On Becoming Preschoolwise states that dropping this nap starts around four years of age, though it greatly depends on the sleep needs of individual children (page 100). Some children start this at age three; others wait until closer to five.
Dropping this nap is very, very different from all of the other naps you have dropped in your child's life. It isn't dropped by dropping feedings like when your child was an infant. It isn't slowly dropped over a couple of weeks, or dropped cold turkey like the third and first naps. The idea that dropping naps is a weaning process greatly applies to dropping this nap.
Over time, your child will stop sleeping during this nap some days. As time passes, he will sleep during this time less and less, until he sleeps less often than he does sleep. At this point, you are really having rest time rather than nap time. On Becoming Preschoolwise says that the process of transitioning from nap time to rest time takes six months to one year (page 101).
THE PROCESS
On Becoming Preschoolwise has tips for this process (pages 100-101). You essentially tell your child to lay in bed–he may not leave bed. He can have a couple of books to look at. You tell him if he feels sleepy, he should sleep. If he does fall asleep, no matter what time, you wake him at his normal wake up time. If he does not fall asleep, you might need to put him to bed 30 minutes early.
SIBLINGS
If your children share a room, have the child who is transitioning out of nap time and to rest time in a separate room (your room, family room, etc.)
IN ACTIONOur process has been a bit different than described in Preschoolwise. First, it kind of started around three, not four.
At three, Brayden started sleeping less and less, but his disposition after a missed nap told me he wasn't ready to not be taking naps. I had him sleep in my room since his room overlooked the road, where he had lots to look at instead of sleep. That helped a lot. Naps went back to happening most days.
Then the real process started around 3.5 years old. An overall difficulty for us is that Brayden really does not like to sleep. Kaitlyn has always loved it, but Brayden does not. You can't tell him to sleep if he needs it; according to him, he never needs it 🙂
He is really good about staying in his bed. We had our battle at 3.5, but he is good. I had to teach him to tell time so he would stay in bed and not get up to check if it was time to get out. Now he has his books and his clock and he stays in bed.
He now doesn't take a nap most days (he is four years and three months old). He takes a nap about 3 days a week. I recently tried shortening his time in bed, but it didn't go well. He needs his time in there to decompress and just relax.
We are definitely on our way to having no naps, but we are not there yet. It has been a long process and will continue on for many more months to come, I am sure. For now, it is called naptime. As he can handle it, we will shorten it and have official rest time until he no longer needs that to make it through the day happily and obediently 🙂
Related Posts/Blog Labels
We are sorry that this post was not useful for you!
Let us improve this post!
Tell us how we can improve this post?