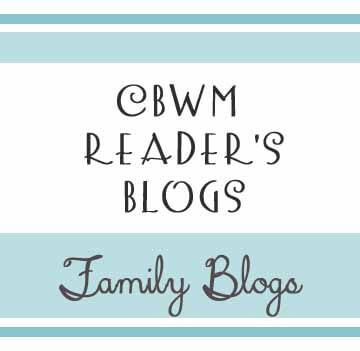 This is the post for sharing your family blogs. Please be sure you really want your blog linked for thousands of people to see before linking here.
READER BLOGS:
Cameron and Megan said…
Our's was an adoption journey blog until our son came home, now it is a FAMILY blog!
http://www.babyboltes.blogspot.com/
The Vineyards said…
My blog is a family blog. We have 9 month old twins that we have babywised from day 1. Just read babywise II and looking forward to putting it into action!
danavineyard.blogspot.com
Dave and Elaine said…
I blog at God's Faithfulness Through Infertility.
It tells the story of my journey through infertility treatments, adoption, and now, motherhood and how God was and still is faithful through it all!
I have two daughters that are 3 years old and almost 1 year old.
Michelle said…
http://michellesmusingenglish.blogspot.com/
I talk a ton about my family in here. If people look back at the posts starting January/February of 2012 they can get an idea about what it was like to have a preemie, a 27 weeker to be exact. But I also talk about some of the challenges of being a work at home mom (I teach online). Some posts are not about family at all, but most of them have something to do with family.
sarahoutloud said…
I'm a stay-at-home mom of 1, and I blog at www.sarahoutloud.com.
There you'll see lots of baby updates and stories. hope you enjoy!
erin m judd said…
my blog is: http://www.kernedtightly.com/
it's mostly a family blog, but I post a lot of my graphic design work, and beginning photography practice, and Bradley Method stuff… on there too. So it's sorta miscellaneous as well.
I'm a stay at home, work at home, momma of one 19 month old little girl, due with our second little girl in November. Also, my husband is awesome.
Sarah WhitehouseNews said…
News From the White House
www.newsfromthewhitehouse2.blogspot.com
I'm Sarah, the matriarch of the White House. This blog was started as a newlywed, and now is a newly(ish) mom of one ADORABLE baby girl. Older posts include a lot about yard sale finds and randomosity. Lately it's my e-baby book. Throw in some self reflection posts and Weight Watchers along with Dave Ramsey and there you go!
Stephanie Loudmouth said…
Welp, I guess I'm late with this but might as well comment.
Hi! I'm Stephanie and I have two blogs, The Loudmouth Lifestyle and Baby Loudmouth. I started Baby Loudmouth just a few weeks ago to chronicle my journey through pregnancy and once my son is born in September, I'll be sharing stories about him as well. My goal is for Baby Loudmouth to be a resource for moms, soon-to-be moms, and moms-to-be as it is very hard for me to find useful, realistic information online. Hope to see you there!