Hospital Packing List for mom, baby, and dad. Know what to pack to take to the hospital when it is time to deliver your baby!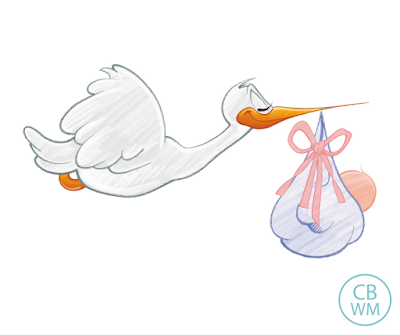 It is major baby-prep week here for me. In fact, if this girl comes the same timing as my other two girls, she will come today. So this week I am posting all things baby and baby prep. Today is the hospital bag.
With Brayden, my first, I scoured every suggested list I could find and packed accordingly. After he was born, I realized we had way too much stuff and then amended my list. When Kaitlyn was born, we had it all just right. When McKenna came along, we went off of our perfected list, but her labor was so much longer that we realized we would have liked some things we had packed with Brayden.
This is my current list of things I think I need for the hospital. What you will need will vary based on your own personal preferences and your hospital. My hospital seems to provide a lot of what is found on many lists, so I don't need to worry about it. If you are delivering in a hospital you have never delivered in, it would be a good idea to ask the hospital or a friend who has delivered there what to expect for your stay.
I would love to hear what you find essential for your hospital/birthing center/homebirth. Please share in the comments!
>>>Read: How To Create a Birth Plan (with Printable)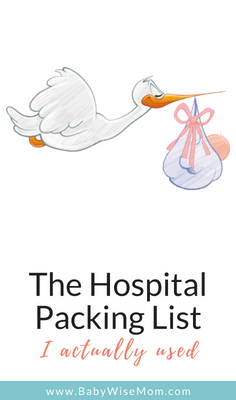 Hospital Bag Essentials For Mom
Scriptures
Phone
Phone charger
iPad
iPod
Book
Notebook and pen
Journal
Pillow
Earplugs
Toiletries
Underwear
PJ pants
Robe
Going home outfit
Boppy
Nursing bra
Lansinoh
Pump
Nursing pads
Camera
I have my entertainment items. My phone and various i-things along with my scriptures and a good book or two is more than enough to keep my mind entertained. My husband and I typically spend a lot of the time visiting with each other anyway, so I don't really need much. My notebook and pen are so I can keep notes of things that come to my mind. When I sit still, my mind starts planning.
I love having my own pillow with me no matter where I am sleeping. I even took my own pillow to Hawaii. I sleep best with my own pillow, so it comes along. I also sleep best at the hospital with earplugs to block out any hospital noise.
With Brayden, I didn't have my own PJ pants or a nursing bra. It was okay–I survived without it all, but by McKenna, I had those things with me and just liked it so much more. I like my hospital's gown just fine, but I like to have some pants on underneath and a robe is nice if you want to get up and wander about.
I have always had a boppy for each child, and I love it. The lansinoh and nursing pads are not necessary–the hospital has them–but I bring mine along "just in case." In case of what? I am not sure. I just do. The pump is something I bring because my pump hooks up to the hospital's several-thousand-dollar electronic pumps. I can use those for free, but it will cost my insurance about 100-150 dollars if I don't bring my own pump along.
The camera and going home outfit are obvious.
Oh, and let me just say, I shower every day at the hospital. I can never tell you enough how much I love to shower. Showering makes me happy.
Hospital Bag Essentials For Dads
Scriptures
Phone
Book
Pillow
Toiletries
Clothes
Underwear
PJs
My husband is obviously a little less maintenance than I am, but hey, I am the one who just gave birth right? He has no breastfeeding issues going on (among other things).
Hospital Bag Essentials For Baby
Carseat
Going home outfit
Blanket
Diaper bag
Fingernail clippers
This is really an area the hospital pretty much covers. I basically only need what I need for the drive home.
If you are having twins, see what else you might need to pack for twins!
That is my list. What is on your list?
See also: What you should pack in your hospital bag for delivering a baby
We are sorry that this post was not useful for you!
Let us improve this post!
Tell us how we can improve this post?