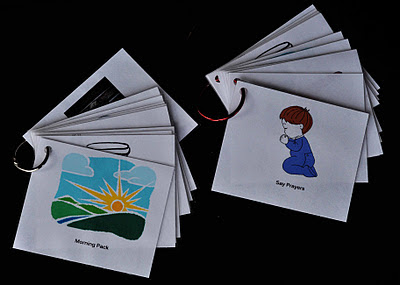 As I promised in How I Do It: Get Children Ready, here is the post on our morning chore cards.
I had previously been using chore cards to help aid in getting ready in the morning (see https://www.babywisemom.com/2010/09/chore-cards.html). This was very helpful in comparison to doing nothing, but things were still not as smooth as I would like. I had to put the cards in the correct order each night or each morning, and sometimes individual cards would "wander off" and we wouldn't know where they were. So I got thinking about how to improve this.
One idea I had was a laminated list of things and then have the child check it off as he/she did each task. But that would require leaving a marker within reach of little toddler hands, and I have a policy against little toddler hands getting ahold of markers unsupervised. We could also do a sticker chart, but I knew that would end in lots of stickers being used in the course of a year. You could put up a chart that the child just looked at–that is a definite possibility.
Being a list maker myself, I know great satisfaction comes from crossing things off your list, so I knew the children would enjoy having a way to "cross off" the completed task. That is how I got to the conclusion of using the chore cards we already had along with an O ring to keep them together and in order. Plus, an O-ring is easy enough to open if you later want to add an item, remove an item, or change the order of your items. I could keep this dynamic.
How I Made This
Supplies:
Paper
Printer or your fabulous artistic skills
Laminator
Scissors
Hole punch
O-ring
Method:
I Googled what I was looking for. So for prayer, I Googled "boy praying clipart." I then copied and pasted it into a Word document. I did that for each task. You could do the same, take pictures of the items in your home, or draw the pictures.
I then typed the word under each picture.
Next, I printed the pages.
I then cut out the pictures into individual cards. I made sure each card was the same size as the others.
Next, I laminated the cards. Then I cut the cards out again.
The next step was to punch a hole in each card in the same spot.
I then put the cards in the order I wanted, then secured the cards together with an O-ring.
Our Cards:
These are the cards we use.
Cover "page" card. I thought there was an excellent chance I would be making other packs, like for getting ready for bed. So I make a cover page that showed this was the "morning pack."
Go potty
Take a shower
Lotion body
Get dressed
Say prayers
Make bed
Brush teeth
Do hair
Eat Breakfast
See Mommy
How I Chose Order
I chose the order based on what made the most sense to me. Some things are pretty obvious, like you go potty before you shower, and get dressed after you shower. I then had things that didn't really matter grouped by where they would occur. So Brayden gets dressed in his room. Then he prays in his room. Then he makes his bed in his room. Then he goes back to the bathroom for brushing teeth and doing hair.
Kaitlyn's cards are a slightly different order. Her room is right by McKenna's, so I put making bed right before eating breakfast. This way, making the bed will come later in her routine and McKenna should be awake by that point.
In Practice
I LOVE these cards. They make the morning routine so much smoother. I really would like night pack, also, but I worry about over-using this and losing novelty of it. It seems to be good with chores to mix things up and keep them interesting. Don't be surprised if we have night cards soon, though.
Related Posts/Blog Labels:
We are sorry that this post was not useful for you!
Let us improve this post!
Tell us how we can improve this post?