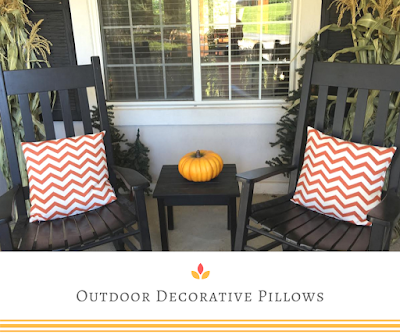 I have a neighbor who always has the cutest porch ever. So cute. She is a fantastic decorator and I am always inspired by her. My porch has always been a neighborhood hangout, so I have always been hesitant to do much decorating there. It is just easier for me to not really care about the things on the porch so if (when) things get ruined, I don't care.
The neighborhood is getting older, though, and with that brings more exciting places to hang. So I am starting to add some things. This post contains affiliate links.
My first step is these cute outdoor pillows. I didn't want to spend a ton of money on the outdoor pillow, and they can really get pricey! These were inexpensive. They are pretty flat; these are not pillows you will want for extreme comfort. They are, however, adorable! And for an outdoor decoration, perfect!
They have several color options. I got these for fall. I like them enough I want to get something for each season!
I also think I want to get a plaid blanket for each chair, but I need to find something very inexpensive to take that plunge.
Related Posts: