Gift ideas for preteen boys. Thirteen different Preteen gift ideas for boys you can give the tween boy in your life.
I still remember being around 11 years old one Christmas and having everyone tell me how hard it was to shop for me now that I was older. Preteen boys start to leave the world of toys and get a little more mature tastes. That can leave gift-givers feeling baffled and not sure what to get the child who isn't quite a child anymore. I have you covered! Brayden is in his last year as a preteen. This post contains affiliate links. This does not increase your cost at all.
LEGOs

Brayden has yet to outgrow a fascination for LEGOs. LEGOs has sets that are harder, so the same toy that thrilled your 2 year old boy can and will thrill your 12 year old boy. Through the preteen years, which are 8-12, a boy will grow through various sets. A classic set works for all ages. Once your child needs more of a challenge, LEGO Technic, LEGO Architecture, and LEGO Creator Expert are great steps up.
Nerf Guns

Among Brayden and his friends, probably the favorite game currently is Nerf Gun wars. They love to get together and shoot each other as much as possible.

Electronics

An iPod. A nice speaker like SONOS. Even something as simple as a watch can satisfy the tech-inclined boy.
Puzzle Toys

The Perplexus or Rubix Cube are two toys that can capture a boys attention. They are complex and take some thought. When Brayden got a Perplexus from my sister for Christmas last year, not only did it capture his attention, but my husband, my dad, and my grandpa were all hanging around for a chance to try it out. The Rubix Cube is an old favorite toy that fits in a jacket pocket. It is a great thing for a child to bring along and do when having to sit around.
Building Toys

Engino Mechanical Science, Zoob, Snap Circuits…these are all toys the boy who loves to build will still like as a preteen. These are, of course, in addition to the LEGOs. These are a nice variety to LEGOs and are very educational toys.
Binoculars
My kids all like binoculars. A preteen is able to have such a thing and not destroy them. Brayden has loved having binoculars for all sorts of occasions. Brayden likes them so much he convinced the other children they all love binoculars, too, without even saying anything. Just by liking his a lot.
Books
Book are a consistent gift at our house. Most preteens are into chapter books, so a great chapter book or even a series makes for a great gift. Brayden has had many series he has enjoyed over the years. I couldn't even list just a few key great books, but one series he has read many times is Eragon. This is a great one for the child who likes fantasy books. I have a lot in my Chapter Books for Boys Pinterest board.
Mad Libs
When I was a preteen, Mad Libs was a favorite of mine. The resulting stories are hilarious. As an adult, I love that it teaches parts of speech. For the boy who loves a joke, this is a fantastic gift. Mad Libs has a lot of books with different focuses of interest. Science, sports, animals…so peruse to see what your boy might like.
Sports Equipment
If the preteen boy in your life is into sports, consider getting him something for his sport of choice. Get a bag, practice equipment, nicer ankle guards (these really are really good ones!), swim fins…whatever your child's sport of choice, something to enhance that sport is a fantastic gift.
Kendama
A kendama is a unique but fun toy for a boy who likes a physical challenge. It is very portable for the boy being able to entertain himself in various places. My older three kids each have one of these and they all enjoy playing with them.
Klutz Books

Klutz books have things that appeal to all types. Paper airplanes, chain reactions, Star Wars, contraptions…you can easily find something your child would be interested in.
Specifics Gift Ideas for the Preteen Boy
Even though preteen boys are outgrowing toys, they are very much growing into themselves. What does the preteen in your life love? Building things? Sports? Animals? Reading? Writing? Skateboards? What is it he loves? Chances are high he loves a variety of things. Get something for him to help him out with his passion. If you know the passion but not what he needs from it, get creative. For the boy who loves sports, you can get him a variety of things for his favorite sports teams.
Experience Gifts
I love the idea of giving experience gifts. This can be a vacation, a season pass, or even just a one day out for fun. These can be great for older kids who understand that an experience gift is valuable and who just doesn't really need more things.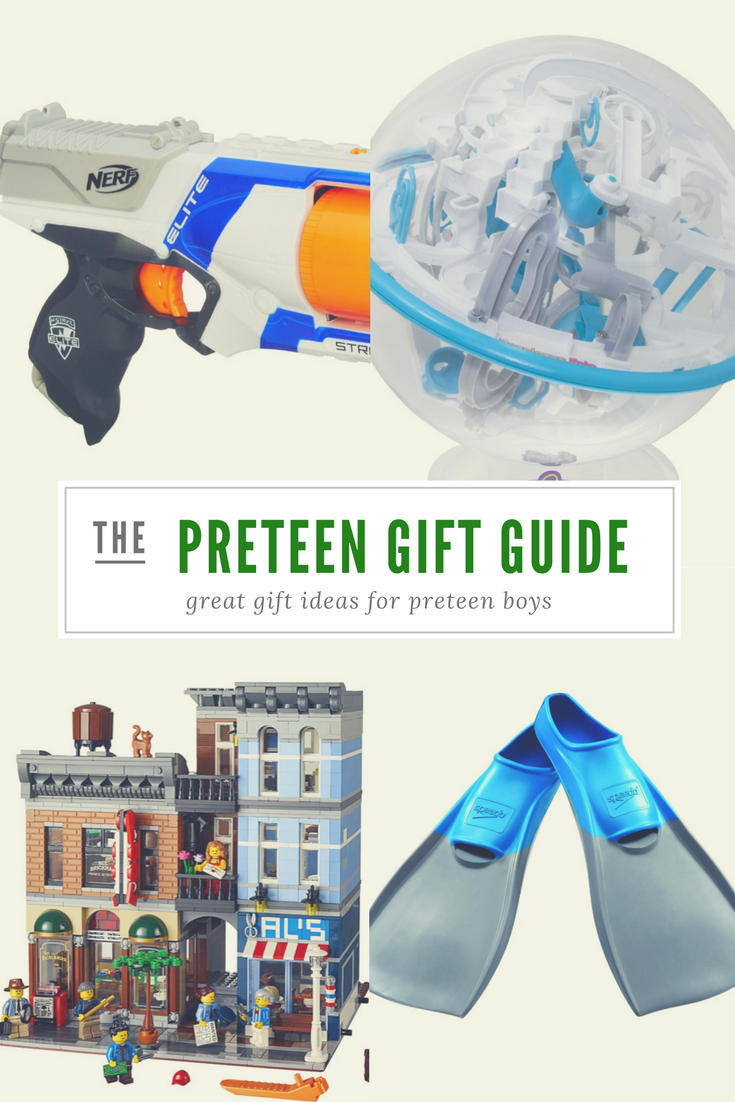 For more gift ideas for Preteen Boys ideas, see: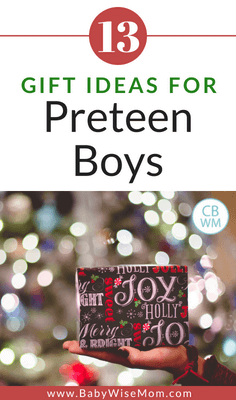 We are sorry that this post was not useful for you!
Let us improve this post!
Tell us how we can improve this post?