Any links to Amazon are affiliate links.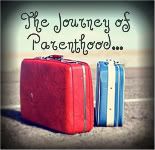 It's Babywise Blog Network (BFBN) Week again! All week, we'll be featuring blog posts from other Babywise-friendly blogs. The schedule is as follows:
Today's post is from Emily over at The Journey of Parenthood. Emily's post is on her policy for how things run in her home when she has a baby. Emily says,
While the first year is wonderful and filled with many sweet moments, lovely memories, and precious times it is also a tough time. Learning about your baby. Learning who they are, their personality, their likes and dislikes, their temperament, etc. There is a lot of guess and check and a lot of unknowns. Worries. Concerns.
It is also a year of sacrifices.
I find this to be so true, also. Especially about the sacrifice part. A baby requires sacrifice for every member of the family. I think we can often feel guilty about that, but as my husband pointed out to me when I was pregnant with Brinley, it isn't a bad thing for children to learn to sacrifice (see Pregnancy and the Guilt). Emily lists some ideas for how to make it work for all members of the family.
For posts on how I manage older children and babies, see Managing Baby Plus Older Kids' Activities. You can also see Adding Baby To The Family–A Balanced Approach, Welcoming Baby to the Family, and Babywise With Baby Plus Older Child.