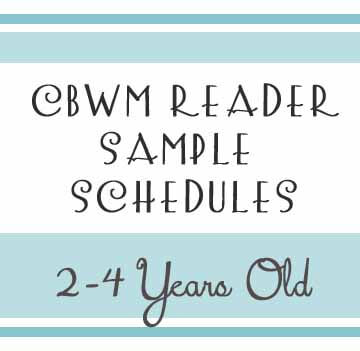 Comment on this post to add your individual children's sample schedules. Please include the age for the sample schedule. As you comment, I will organize the sample schedules into the main body of this post. Add them for any age; you don't have to do all of them.
2 Year Old
Jennifer H. said…26-month-old boy (this has been our schedule ever since he went to one nap per day):

~8:30 am – wake, eat, have diaper-less time (unless we're going out)
~12:30 pm – lunch
2 pm – get a diaper, take a nap
5 pm – wake
6 pm – dinner
9 pm – get ready for bed
~9:15 – 9:30 – in bed

After breakfast, and after his younger brother is napping, we have our Bible reading time; if we have errands to do, we do them around 10 am after his brother wakes up and feeds.

It's summer, so independent play time is often spent on the porch or on the deck with a few toys and sticks and rocks

Cindy said…2 yr old girl (25 months)

8am – wake up, diaper change, dress, eat breakfast
8:45-9:15 ish – independent play in room
9:30 – noon – either errands or we have a play date or go to the gym, park, outing, etc.
noon – lunch
12:45 – 3:30ish – nap
3:30 – snack, book time
4:30 – 6ish – lately we are watching your baby can Read DVD, then play time with mommy; sometimes we have a play date with other friends.
6pm – dinner
7pm – outside to water plants, check on garden, etc. (she has her own watering can so she helps mommy 🙂
7:30 – bath and get ready for bed, stories, prayers with daddy & mommy
8pm – bed

Mollie Energy said…2 Year Old Schedule

7am – wake up although she's usually awake earlier
8-9 – music and booktime plus 15 minutes of alone time in her room
9-11am – outings
11am – lunch and activity time
12pm – nap
2:30/3pm – wake and snack
3:15 – 4:15pm – roomtime
4:15-6pm – time with mom
6pm – dinner and bath
7pm – BED!

Dave and Elaine said…2 year old daughter

8:30 wake, breakfast, dress
9:30 – 10:30 Independent Play
10:30-11:00 Read books
12:30 Lunch
1:30-3:30 Nap
6:00 Dinner
8:00 Bath, pjs
8:30 Prayers, songs, bed

That is what is "set in stone". We also have Learning Time, Outside time, errands, chores with Mommy.

She has been on this schedule since about 18 months and is now 26 months.
2.25 Year Old
melissa said…
2.25 year old BOY6-6:30am wake-up
6:30-6:45am booktime
6:45am diaper change/dressed
7:30am breakfast
after breakfast: playtime
8:30/9:00am: morning activity, usually outdoors to a park, etc…
10:00am: Snack
11:30am: Lunch
12:15pm: diaper change; story
12:30pm: Naptime
3:00pm: Wake-up
3:30pm: Snack
3:45pm: Outdoor Walk or Indoor Playtime
5:00pm: Dinner then Family Time
6:15pm: Bath
then a quiet time activity in preparation for bedtime routine – Bible story, teeth brushing, prayer
7:30pm: To Bed!
The Greenfields said… 2.25 (26 months)7:15 wake/ milk & booktime in crib
7:45 up/ diaper change
8:00 breakfast
8:45- room time
10:00- 12:00 (we run errands, go do fun activity, have snack, hard to be precise in scheduling here because it changes every day)*
12:15 lunch
1:00 nap
4:00 wake / milk & booktime
4:30 up and activity (play outside or watch video)
5:30 dinner
6:30 bathtime
7:00 Praise music dvd
7:30 stories, songs, prayer
7:45 ish in bed

*2 mornings a week he goes to preschool from 9:30-12:30 (he then eats lunch and goes down for nap at 1:30)
** we live in the Middle East so outdoor playtime is difficult in the summer because of the extreme heat. We find indoor activities in the morning and after dinner he can play outside because it's cooler.
** he's still in crib if that makes a difference to anyone

Janelle said…2.25 Boy

7:30 Wake up and drink milk in his room with a book
8:00 Bath and get dressed (he loves the bath so he spends a lot of time in there)
9:00 Breakfast
9:30-10:00 Independent play
10:00-10:30 Help mom with a chore
10:30-12:00 Run errands or play outside
12:00 Lunch
12:30-1:00 Quiet play with Mom (we usually play with his train set or blocks)
1:00 Story time
1:15-4:00 Nap time
4:00-4:30 Snack time and learning time
4:30-5:30 Outside play
5:30 TV time or help mom with dinner
6:00 dinner and family time
7:30 Family scripture and prayer and bedtime routine
8:00 Bed

We haven't been following this schedule very well since summer started, but I began this routine when he turned 2 in March and I plan to get back to it when things settle down in the fall.

Jessica said…2.25 Year-Old Girl

7:00 – wake, OJ, TV time
7:30 – breakfast
8:00 – free playtime
9:00 – ready for day, errands, chores, art/craft time, etc.
10:00 – snack
12:30 – lunch
1:45 – 4:00/4:30 – nap
4:30 – learning time
5:00 – Daddy is home, schedule is "open"
6:00 – dinner
6:30 – Family time, play in yard, take a walk, etc.
8:30 – bath, snuggle, prayers and bed

During the school year, my husband is a teacher, the times listed are accurate. During the summer, however…give or take a good 30 thirty minutes

Shannon said…2 Year Old Girl (27 months) Summer Schedule

6:30ish: wake up, relax quietly
7:00: out of bed
7/7:30: breakfast & family devotions
8:00: get ready for the day
8:30: free play or walk outside
9:30 – 10:30: Independent playtime
10:30: Snack and learning activity
11/11:15: stories with Mom
11:30 – 1:30: nap
1:30: chores and training
2:00: outside play, structured activities, outings, play with friends
4:00: dinner, clean-up house, free play
5:00: bath
5:30: stories, prayers, devotions
6:00: bed

Emily said…26 month old boy
7:00 wake
12:45 nap (2 hrs)
7:00/7:15 bedtime, usually asleep by 7:30/7:45
2.5 Year Old
D & H said…
2.5 year old boy
7:30ish am wake up, get dressed, breakfast
9-11:30am Morning activities (may include independent playtime, playing at park, playgroup, errands, storytime, going to exercise group, household chores, church, etc.)
11:30ish am Lunch, free play if time, story, naptime
1-4ish pm Naptime.
After nap: Free play, sometimes a snack or a DVD
5:30ish pm Family dinner, then clean up and family time or more free play
7:30 start bedtime routine (PJs, song, family scriptures, prayer, brush teeth), in bed by 8pm.
Emily said…
2.5 year old girl
7:10 up for day
7:30 breakfast
10:00 roomtime
11:00 video time
1130-12:00: lunch
1:00 nap
3:30-4:00: up from nap
6:00 dinner time
6:40: bath
7:10: bed for night
Christina said…30 months:
7am-DWT
10- snack + milk
12pm- lunch
1pm- down for nap
4pm- up from nap + milk
6:45-7:15pm- bedtime routine (bath, teeth, reading, prayer)
7:15- down for night
2.75 YO Girl
745 Up, Potty, Dress, Teeth
830 Breakfast, Bible Story
900 Free Play w/sibling
1000 Potty, Room Time
1100 Outside or Play w/mommy
1200 Wash up, Potty, TV Show maybe
1230 Lunch
100 Free Play, Books
130 Potty, Nap
400 Up, Table Activity, Free Play
500 Dinner
530 Family Time
700 Bath, PJs
720 Snack, TV Show
745 Teeth, Story, Bed by 800
Amber said…
2.75 year old girl:
7:30 – wake, potty, breakfast, TV
8:15 – Bible time, potty
8:35 – roomtime
9:35 – gym or run with her in stroller
10:30 – playdate or home/free play, playtime with Mom & "help" with chores
12:30 – lunch
1:15 – free play
1:30/2:00 – potty/nap
3:30/4:00 – up, potty, juice
4:15 – learning time
5:00 – outside play or free play/maybe TV
6:00 – dinner
6:45 – family time, time with Dad
7:20 – bath time
7:45 – stories and prayer
8:00 – bed
Related Blog Post: