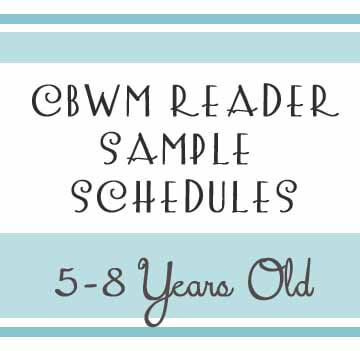 Comment on this post to add your individual children's sample schedules. Please include the age for the sample schedule. As you comment, I will organize the sample schedules into the main body of this post. Add them for any age; you don't have to do all of them.
5 Year Old
Jessica said:
5 year old GIRL
(This is our summer schedule, all play/learning activities are flexible.)
7:00 a.m. – wake
7:30 a.m. – breakfast
9:30 a.m. – snack
11:30 a.m. – lunch
12:30 p.m. – 1:00 p.m. – rest time
1:00 p.m. – 2:00 p.m. – time with Mommy
2:15 p.m. – snack
6:00 p.m. – dinner
7:30 p.m. – bath, snack (if needed), bed
Elaine said:
5 year old homeschooled girl (Kindergarten)
8am wake, breakfast, get dressed
8:30-9:30am Sibling Play
9:30-10:00 Bible/Science/Calendar Time (3yo sister included)
10-10:30 Room Time (3yo sister has preschool time here)
10:30-11 Reading/Phonics lesson
11am-12 Outside
12pm- Tv time/Lunch
1-2:30pm- Math, Handwriting, Read Aloud
2:30-4pm Rest Time
4-7pm Play, Dinner, Family Time
7pm- bath time
7:30 Bible story
7:45pm-bedtime
Emily said: 5 year old boy
7:10: wake for day
7:30 breakfast
10:00 room time
11:00 video time
11:30-12:00: lunch
1:00 nap time
3:00 up from nap, play in room
4:00 come out of room
6:00 dinner
6:40: bath
7:10: sister in bed, solo play time with mom and dad as well as reading time
7:45-8:00: bed for night
5.5 Year Old
6 Year Old
6.5 Year Old
7 Year Old
7.5 Year Old
8 Year Old
8.5 Year Old
We are sorry that this post was not useful for you!
Let us improve this post!
Tell us how we can improve this post?