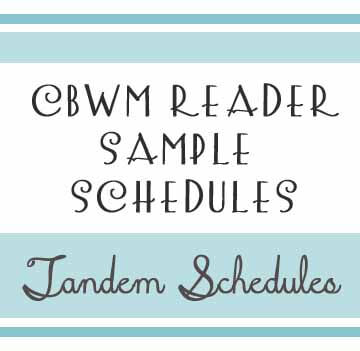 Please comment to share your tandem schedules. These schedules show how you juggled two children at the same time (there is a separate post for 3 or more). Share the age of each child and your daily flow. As you add these schedules, I will add them to the main body of the post.
MA Mom said…
4 year old GIRL and 13 month old BOY
7:30am wake up and breakfast
8:30am playtime with sibling
9:30am books then nap for BOY, activity time with mom for GIRL
10:15am snack for GIRL
12:00pm Lunch
1:00pm out and about (errands, playground, park, library, walk)
3:30pm books then nap for BOY, quiet independent time (may include nap)for GIRL
5:30pm dinner
6:30pm playtime with dad
7:30pm bath
8:00pm books with mom
8:30pm bed
Sara said…
11 month old girl and 3 year old girl
7:00am wake up; play in mommy/daddy's room while daddy gets ready for work
8:00am breakfast
9am baby naps/big girl does "school" with mommy (preschool workbook – she looooves tracing right now), reading/storytime, coloring, painting, puzzles
11am outdoors/pool time
12pm lunch
1pm baby naps, quiet time for big girl
3pm run errands, go for walk, etc.
5pm dinner
6pm baths
7pm bedtime for baby
8pm bedtime for big girl
Patricia said…
Big girl 21months and baby 3monts.
7.30-8 Big girl wakes up, breakfast
8.30 baby wakes up nurse and bath time, big girl dvd time
9.20 baby goes to sleep
9.30 Bath time big girl
10 learning time crafts and activities on the table
11-11.30 baby wakes up nurse-massage-and playing solo time, playing solo time for big girl
12-12.30 Baby goes to sleep, eating fruit for big girl and nap
13.30 Baby wakes up nurse-reading time-see clouds and flowers outside
14.30 baby goes to sleep and big girl wakes up lunch time
15h learning time with the computer songs of the week, abc reading, powerpoint carisa…and reading time
16h baby wakes up nurse while big girl plays with trays, then sibling playing time.
16.30-17 outside for a walk, baby will nap on the prum
18h back home time with daddy oftenly a ride on a bike, while I prepare the dinner and feed the baby. Baby will look at me while preparing dinner
18.30-19 dinner time and possible nap for baby (she's loosing this one)if baby don't sleep dinner time all together.
19.30 night time for big girl
20-20.30 depends if she naps or not night time for baby
6 baby will nurse and go back to sleep
Kristy Powers said…
4 year old and 14 month old:
7:00 breakfast for all
8:00 chores with 4yo, IP for 14mo
8:30 Spanish Time and read-aloud both
9:00 AM snack
9:30 chores and reading w/4yo, nap for 14mo
10:00 dinner prep, garden, misc. w/4yo or he gets free play
11:00 lunch for all
11:30 help me with housework or errands/outings
1:15 learning activities w/4yo, 14mo plays with "school toys", also read-aloud
1:45 rest time for 4yo, nap time for 14 mo, hobby, housework, and computer time for me
3:30ish PM snack
4:00 outside play for all
5:00 computer or TV time for 4yo, IP for 14mo, I get dinner on table
5:30 family dinner
6:15 bath for boys
7:00 bedtime for 14mo
8:00 bedtime for 4yo
(time with DH)
Kristy Powers said…
I also posted this old one recently on the Google group, so here's for a 3yo and 1mo:
7:00 3yo and I eat breakfast and get dressed
8:00 nurse 1mo, diaper change and dressed, take a short walk
8:30 3yo and I do chores, 1mo nap
9:00 TV Time for 3yo (I pumped)
9:30 IP for 3yo, I did housework
10:15 Devotions for me, silent time for 3yo
10:30 1mo nurse, tummy time, IP for 3yo
11:30 1mo down for nap (prob. before 11:30), clean up for me and 3yo, TV Time for 3yo
12:00 lunch and clean up for me and 3yo
12:30 Outside or workbook for 3yo, then read books to him
1:00 3yo nap, my nap
1:30 1mo nurse, smile time
2:00 If awake, 3yo had roomtime, 1mo went down for nap
3:00 Get up 3yo, snack with him, learning activities
3:30 3yo and I clean together
4:30 1mo nurse, outside or coloring time for 3yo, prep dinner
5:30 1mo would be down to nap, dinner for the rest of us
after dinner, playtime with Daddy
7:00 1mo up and nurse, bath, down to bed
8:00 3yo bedtime
10:00 DF by bottle with DH, or me nursing
1:00 or 2:00 nurse
5:00 or 6:00 nurse
mary said…
2 Year Old, 6 Month Old
7:30 all wake up
8 am breakfast
8:30-9am all play together till daddy leaves for work
9am 6 month nap
9-11:30 2 year old, play/learning, IP, outside play, snack
11:30 6 month nurse
12pm lunch
12:30-1pm sibling play
1pm naptime for both
3:30 6 month nurse, 2 year old snack
4pm go out, swim, parks etc.
5:30 dinner 6 month catnap
6:30 6 month wakes up all play and baths
7:30 6 month nurse, daddy and 2 year old read
8pm bed
Penny said…
Most of this schedule applies to 2 children only, as the oldest is at school. I have posted our weekend schedule under "Reader Schedules: 3 Children or More"
6yo boy, 3.5yo girl, 18month boy.
School days:
6.30am: dad leaves for work
6.30 – 7am: 6yo gets dressed in uniform, and everyone up for breakfast
7: 6yo chores (teeth, school bag, wash breakfast dishes), 3.5yo toilet, 18month old potty, mom prep school lunchbox, and supervises everyone
7.15: mom & 3.5yo bathroom, then 3.5yo gets dressed then roomtime
7.30: mom dresses 18mo then roomtime
7.40: mom gets dressed
7.50ish: everyone leaves for school
8.30ish: play in school playground
9ish: mom, 3.5yo & 18mo return from school; sibling play while mom hangs out laundry
9.30: morning tea
9.45: 18mo roomtime, 3.5yo outside play, mom preps dinner (love that slow cooker!) & plans lunch
10.30: 3.5yo roomtime, 18mo free play, mom housework and email, then prep lunch
11: mom plays with 18mo (1-on-1 time)
11.30: lunch
12.00: 18mo highchair activity, 3.5yo chores (empty dishwasher), mom cleanup
12.15: 18mo nap, mom plays with 3.5yo (1-on-1 time)
12.45: 3.5yo nap
1pm – 2.45pm: MUM RESTS!!!! (devotions, email, reading)
2.45pm: everyone up for school (unless carpooling day)
3.30 – 3.45: everyone home, 6yo unpack bag and change clothes, mom prep afternoon tea
3.45ish – 5: sibling play outside, mom housework, laundry and/or couch time with dad depending on when dad gets in
5: 3.5yo bath
5.15: 6yo pack up outside then reading homework, 18mo free play (will re-introduce playpen time here), mom last-minute dinner prep & supervise homework
5.30: 6yo bath, 3.5yo chores (set table or packup toys)
5.45: 18mo bath, others tv time
6pm: everyone for dinner
6.30: teeth, potty, then quiet time; dad dinner cleanup, mom supervise children
6.45: 18mo bed, others quiet reading time followed by evening devotions with mom & dad
7ish: 3.5yo bed, 6yo reading in bed
7.15: 6yo lights out & sleep
7.45ish: dinner cleanup finished, mom & dad FREE TIME!!!!
Outings/socialising are normally between 9-11.30ish. Errands are generally run after school between 4pm – 5pm. I try to have at least 3 'home days' per week.
Shannon said…
Almost 4 year old girl (E) & 15 month old girl (M) – this is our summer schedule. Things will change in September when DD1 goes back to preschool three mornings a week and in October I will need to post in the 3 or more children thread because we are expecting a little boy at the end of October.
This is our goal, but with DD1 in the weaning process to no nap and DD2 also weaning to 1 nap we often have to improvise. On no nap days for DD1, bedtime is earlier 6/6:30.
7:00: Get M up & free play while I prep breakfast
7:30: E & DH get up & breakfast as a family with devotions, prayers, and bible study
8:15/8:30: bath for girls
9:00: Free play/sibling time, Mom & Dad have couch time
9:45: M nap, DH leave for work, E IP, Mom devotions, prayer, and bible study
10:45/11: M awake, E clean-up from IP
11:00: Outside time
11:45ish: lunch
Sometimes lunch & outside time is reversed if we are really hungry
12:15/12:30: M IP, E winddown for nap
12:45/1: E nap
1/1:30: M & Mom play & training time
1:45/2:00: M nap, Mom housework & rest
3/3:30: E up from nap & play & training with Mom
4:00: M up, outside, errand, or other activity
5:00ish: dinner
5:45ish: free time after dinner clean-up
6:00: DH gets home, Mom & Dad have short talking time
6:30: PJ's, teeth, maybe TV for E, M winddown for bed
6:45/7: M in bed
7ish: E stories & quiet time
7:30: E bed
As for playdates, we will do them in the am if they are our house. In that case, E has IP after her nap. For the most part out of the house activities are done in the afternoon after M wakes from her nap.
Jodie Wilson said…
Sample Schedule for 2-year-old and 1-year-old (13 months apart)
7:00 a.m.: Wake up/dress/milk
8:00 a.m.: breakfast
8:30 a.m.: Independent playtime (room time for 2-year-old, pack-and-play time for 1-year-old)
9:00 a.m.: 1-year-old nap; 2-year-old chores/free play
10:00 a.m.: t.v. time or storytime
10:30 a.m.: 1-year-old wakes up; outdoor play or errands
11:30 a.m.: lunch
12:00 p.m.: story time
12:30 p.m.: NAP TIME (both kids go down)
3:00/3:30 p.m.: Wake up; snack time
4:00 p.m.: Blanket time
4:30 p.m.: Learning time/free play
5:00 p.m.: TV time / free play
6:00 p.m.: Dinner
6:30 p.m.: Bathtime
7:00 p.m.: Daddy time / wind down time
7:30 p.m.: Bed time (my 2-year-old goes to bed at 7:30, but usually does not fall asleep till 8/8:30. He needs some time to settle down.)
Ashley Katsuyama said…24mo old (B)& 4mo old (R)(both boys)
7:20 – (B)wake, dress, milk
7:30 – (R)wake, dress, bottle (B) plays in nursery.
7:50 – (B) Breakfast
8:15 – (B) chores & Roomtime, (R) hang out with mom in bouncy seat
9 – Park/Class/Gym, (R) will sleep for most of the time
11 – Free play
11:30 – (R) Bottle (B) Video
12 – lunch
12:30 – (R) Nap
12:45 – (B) Nap
3 – (R)up and bottle
3:30 – (B) up & sibling play
4:30 – (R)nap & (B) learning time
5:30 – (R) playpen time (B) video
6 – dinner
6:40 – baths, bottles
7:30 – bed!!Dave and Elaine said…
Schedule for 3yo and 11 month old
8:00 DD2 wakes and has bottle
8:15-9:30 breakfast for all and then Free Play
9:30am DD2 nap, DD1 RoomTime
10:30am-11:30am DD1 Learning Time & Book Time
11:30am DD2 wakes
11:30am-12:00 DD2 Independent Playtime and then bottle, DD1 Tv Time (This is when I prep lunch)
12:00-12:30 Lunch
12:30-1:15 Outside Time (if it is not too hot!!, lately we've just stayed indoors and all played together)
1:15- come inside and have book time with DD2 (DD1 is also present – she still enjoys looking at baby books)
1:30 DD2 nap
1:30-2pm Nap routine with DD2: books, potty, sing songs
2-4:30 naps for both
4:30pm – free play DD1, bottle DD2
5pm – we all play together while waiting for daddy to get home, or run errands
6pm dinner
7pm bathtime DD2, Daddy time DD1
7:30pm bottle DD2
7:45pm bathtime DD1, in bed DD2
8:15pm Bible story, songs with DD1
8:30pm DD1 in bed
MHO said…
Schedule for 3 year old and 1 year old.
7:00am = Wake-Up, Breakfast & Chores (Both)
8:30am = Family Worship (Both)
9:00am = Nap (1 year old); Family Worship continued (3 year old)
9:30am = Phonic & Math Activities (3 year old)
10:30am = Family Outing (Both)
12:00pm = Lunch & Chores (Both)
1:00pm = Reading Time, followed by nap (1 year old); Independent Reading Time (3 year old)
1:30pm = Reading Time, followed by nap (3 year old)
3:30pm = Snack, followed by Independent Playtime (Both)
5:00pm = Dinner & Chores (Both)
6:00pm = Reading Time, followed by bed (1 year old); Still completing chores (3 year old)
7:00pm = Reading Time, followed by bed (3 year old)
rachel hockey said…
Schedule for 3.5 year old girl and 1.5 year old boy
7:45am wake up, breakfast, coloring or free play
9:00 start independent playtimes, boy in crib for 40 min, girl in room for 50 min.
10:00 errands/Bible study (for mom at church)/play dates/walks, etc.
11:30 lunch
12:30-3:30/4:00 nap for boy
1:00-3:00 nap for girl
3:00pm TV program for girl, then a snack around 3:30
4:00-5:00 sibling playtime, sometimes outside or in bedroom; I am back and forth between playing with the kids and making dinner at this time
5:00 dinner for family
6:00 play with dad
6:30 bathtime
7:30 boy in bed; girl gets alone time with mom and/or dad until her bedtime at 8:30
Miranda said…
3 year old Boy, One year old Girl:
7am: Both up, breakfast, devotions, tidy up kitchen, change clothes
8am: Go outside (it is HOT here), followed by baths (3x/week)
9:15am: 1yr old nap, chores w/ 3yr old
10:15am: 3yr old Learning Time/Activity
10:45am Wake 1yr old up, free play/housework
11:15am: Lunch all, clean up
12pm: Roomtime (3 yr old does 40 min, 1yr old does 25min)
12:45pm: Reading time/ready for nap
1pm: 3yr old nap, 1yr old mommy time/books
1:30pm 1yr old nap
3 or 3:30pm: Both up, snacktime
4pm: Errands, all play together, etc
5:30pm: Freeplay while making dinner
6pm: Dinner, followed by family time
7-7:30pm (depending on naps): Bedtime both
Amanda said:
For 6 month old and 22 month old
7:00. Nurse, dress baby
7:30. Toddler up and dress, breakfast
8:15. Baby nap
8:30. Toddler free play
9:00. Chores with toddler
9:45. Outside
10:30. Structured play with mom
11:00. Baby up, nurse, solids. Toddler independent play
11:45. Baby play, toddler lunch
12:30. Nap for both girls
3:00. Baby up, nurse, solids
3:30. Toddler up, sibling play
4:30. Baby nap, dinner prep, toddler free play or high chair time
5:30. Baby up, dinner as a family, family time
6:00. Baby bath and bedtime routine
6:30. Nurse and in bed by 7:00
6:45. Toddler bath and bedtime routine (hubby starts this and we finish together)
7:30. Toddler bath
***hubby travels/ works late a lot. This is our evening when I am alone:
5:30. Baby up, dinner
6:00 bathe girls together- baby gets dried off and dressed in bathroom while toddler plays in tub; baby plays while I dress toddler
6:30. Toddler watches "praise baby" DVD while I nurse; room is dark except tv
7:00. Baby in bed; read with toddler, finish bedtime routine, bed by 7:30
Related Blog Post:
We are sorry that this post was not useful for you!
Let us improve this post!
Tell us how we can improve this post?