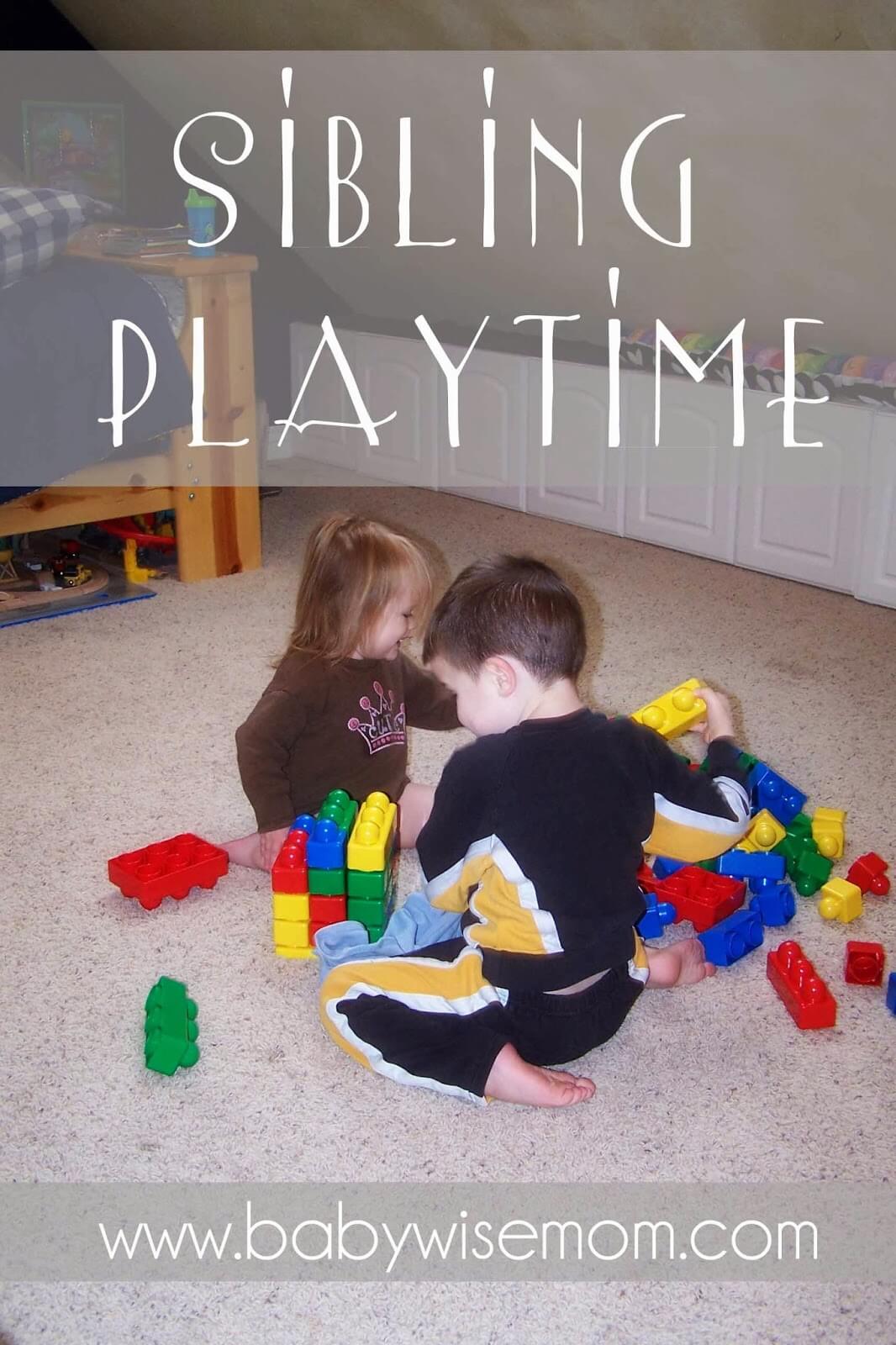 Sibling playtime is when you have your children play together. I wanted to give a "plug" for it.
While Brayden (now 2.5 years old–33 months) wasn't jealous at the addition of Kaitlyn, he wasn't necessarily in love with the idea, either. Over time he grew to like and love her, but he still wasn't extremely interested in her. Kaitlyn (now 10 months old), on the other had, absolutely adores him and always has.
A few months ago, I was trying to think of ways to strengthen their bond and to get Brayden into playing with his little sister. It occurred to me to try Sibling Playtime. This is mentioned in Toddlerwise and beyond.
Each day after lunch, we would all go upstairs and have "sibling" playtime. I don't think either child is old enough to be left alone with each other, especially in the beginning stages, so I stayed with them. I was amazed at the fast improvement I saw in their relationship. After only a couple of days, Brayden would ask to play with Kaitlyn. He finally saw that she could do more than take up the time of Mommy and Daddy.
He now will play with her without it needing to be part of the routine. He will take her and read stories to her. He will try to teach her the alphabet. He loves to make her laugh and play silly games.
Also, I can now bustle in and out of the room if needed. I can get little odd chores done while they have sibling playtime. I still wouldn't leave them alone together for more than a few minutes at a time, but they know what is appropriate and what isn't. They do eventually need to play without "Mommy Hawk" over them so they can learn to interact without a referee (though admittedly one is rarely needed). We are taking it slow, and it is working wonders. There is little that warms my heart more than watching my two children lovingly spend time with each other.
We are sorry that this post was not useful for you!
Let us improve this post!
Tell us how we can improve this post?