Parenting the Strong-Willed Child is a book on how to help children be obedient who are otherwise difficult to get to comply. The authors, Forehand and Long, include a short section on sleep for the Strong-Willed child.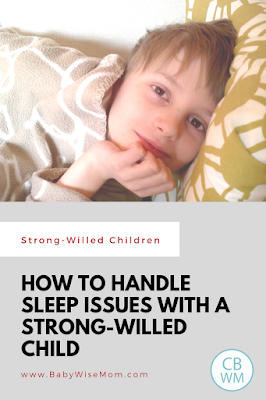 They point out that it is hard for a child to establish consistent wake and sleep cycles unless things are consistent with bedtime and waketime (page 229). They suggest you have a ritual of 10-20 minutes in the same order.
They caution to not eliminate the nap prior to age four.
They really encourage parents to teach children to sleep on their own early in life. The authors say they have met with many teens and pre-teens who still need a parent to fall asleep (page 234). They say if you want a child to know how to sleep on his own, teach him early in life.
If your child comes out of bed, they suggest you take him back to bed without words and without anger. Once he is in bed, firmly tell him to stay there (page 232).
Sometimes children get scared at night. Use imagination to your advantage. Tell your child "It's my job to keep monsters out of this house." We have used that one before! You can also create a monster repellent. They suggest an air freshner with a paper taped over it and an X on the front over a picture of a monster. Some parents use a squirt bottle with glitter inside–use your imagination!
These are all simple topics that can really have a lot of discussion on their own (see related posts below for more discussion). Sleep is important for any child, and it is always important for good behavior–even for adults! Even adults are nicer when they have enough sleep. These simple admonitions will help your child to sleep well: sleep on her own, have consistent bedtimes and waketimes, have nap for as long as your child NEEDS it not WANTS it, handle attempts to get out of sleep quickly and firmly, and address fear. These are tips that are helpful for any child!
Related Posts/Blog Labels:
We are sorry that this post was not useful for you!
Let us improve this post!
Tell us how we can improve this post?