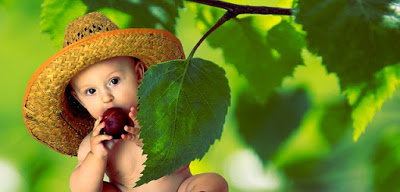 As far as when you stop baby food, a lot of that is up to you and your baby. There are a lot of things you can't feed a child until they are one for safety issues. Even after they turn one, you have to be careful as far as choking goes.
The answer to this question would depend on when your child starts eating finger foods and how good they are at for safety reasons. Some start at 6 months, some aren't ready until 10 months or later. Brayden and Kaitlyn both started finger foods at 7 months, but I still fed Brayden baby food until after his 1 year checkup. Even after that he had babyfood on occasion. You have the control that way–you know they are getting enough fruits and veggies. Not to mention it is so much cleaner…I have already mentioned my OCD on that issue. I think Kaitlyn is working to cure me of it because she can be a messy little eater….
Anyway, I would say most start to move to just whatever the family is eating around a year. Brayden eats whatever we eat. Enchiladas, veggies, spicy, bland, it doesn't matter. He likes it all. I think Kaitlyn is far more interested in eating whatever we are eating than her mushy baby food. She loves to eat finger foods but drags her feed with the baby food. Move when your baby is ready for it. And you can do it gradually over time.
For more information on what to feed your pre-toddler, see the Feeding Your Pre-Toddler post.
We are sorry that this post was not useful for you!
Let us improve this post!
Tell us how we can improve this post?