How to celebrate New Year's Eve with kids. Family activities and ideas to ring in the new year and party with your children.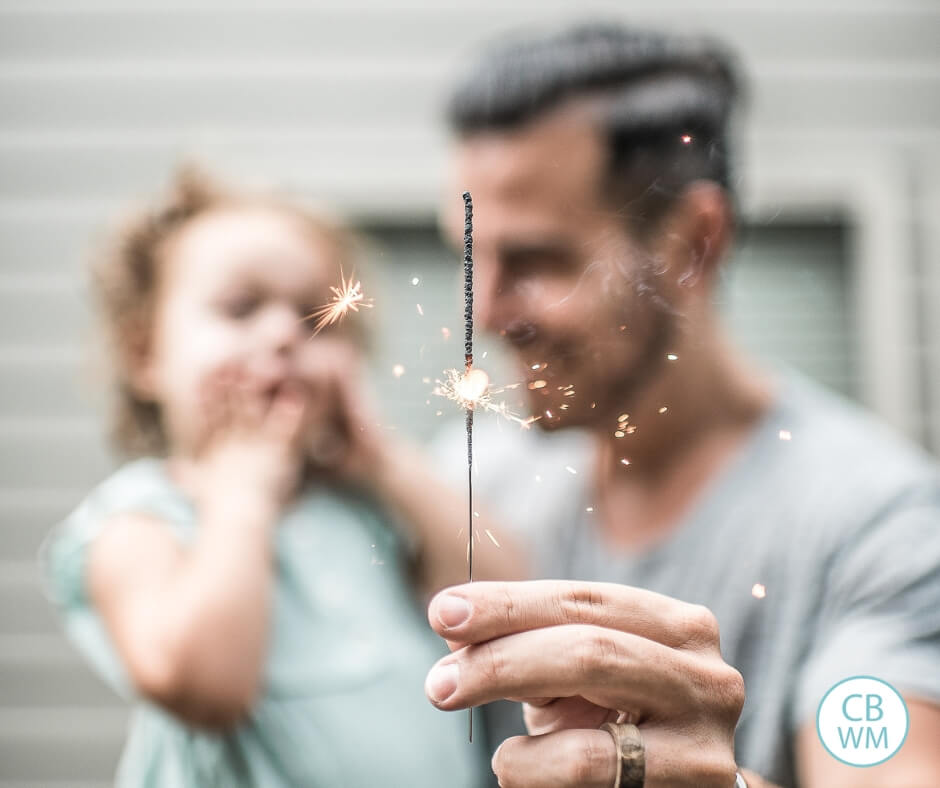 Life changes a lot when you become a parent. A big change is your social life. This becomes obvious when you are sitting at home on a Friday night about ready to call it a night at 9 PM.
New Year's Eve is another big flashing sign that your social life has drastically changed since you became a parent.
New Year's Eve doesn't need to be boring just because you are a parent. You may not be partying in New York City, but you can have even more fun with your little ones at home. Here are some fun ideas for how to celebrate New Year's Eve with kids.
Ideas for Celebrating New Year's Eve with Kids
I asked readers what they do to celebrate New Year's with kids. Below are their responses.
Have a Simple New Year's Eve Party
You can find ways to do a simple New Years Eve party with your kids. You can have a great New Year's Eve celebration even if it isn't as grand as you imagine a New Year's party to be.
You can make your party simple or grand. You could make a round pinata to resemble the big ball and break it open, do a balloon drop, make cookies, get noisemakers, or have a dance party (a glow in the dark dance party is always a hit! Kids love glow sticks). Here are some more ideas.
Masha said: We're Russian and new years is a BIG DEAL. The entire country celebrates, biggest party of the year, Santa (Father Frost) comes on New Years not Christmas, etc etc. Having said that, for my children we do special dinner, sparklers, dance party, talk about new years, etc. But they still go to bed pretty much on time. 4 and 1, too young to stay up. But then the parents get a sitter and go party 😄😀.
Olga said: I'm Ukrainian, and it's the same as Russian New year here. Huge celebration, fireworks an midnight, but I go to bed early since I have my first son 5 years ago )) I'm an early riser and it would be a torture to stay up later than 12 for me. We have to families over for a party, but it was over by 9 pm. I washed up the dishes and crashed ))
Celia said: We had a couple of family friends over and let the kids stay up til midnight. We had appetizers, played games, and watched movies. The night actually went very smoothly.
Whitney said: We were at my parents having game night with them + my sisters and their families so mine went to bed late! Back to business tonight and thankfully everyone's been happy today!
Tara said: Mine are 12YO and 9 YO. Stayed up til midnight with friends. Had an afternoon nap on NYE before heading out. Quiet day at home on NY day.
Lacey said: Let my 6 six yr old stay up with us but the 3 yr and 18 month old went to bed.
Celebrate at Noon
I love the idea to have your event at noon. You can celebrate the holiday at noon instead of midnight. Many people call this "happy noon year
".
Mary said: We had a "Noon Year Eve" party this year. It was so much fun and we will definitely be doing this again next year.
Fun food, sparkling grape juice balloons and my oldest even simulated the ball drop. Good time had by all!
Use the Netflix Countdown
Netflix has a countdown you can watch at any time. This is a great way to celebrate and ring the New Year in on your own time.
Lacey said: We have a "party" with them early … fireworks, Netflix countdown, toast with cider and whatever dessert was they choose that year. Then we usually host a chill adult party at our house – games, fire pit, etc. This year we all got sick so we canceled our dinner plans, ate in and did the usual celebration with the kids but then went to bed early. Super sad to not celebrate with friends, but it all worked out. Other years, Steve is at the fire station so the kids and I toast and I binge watch girlie shows/movies 🙂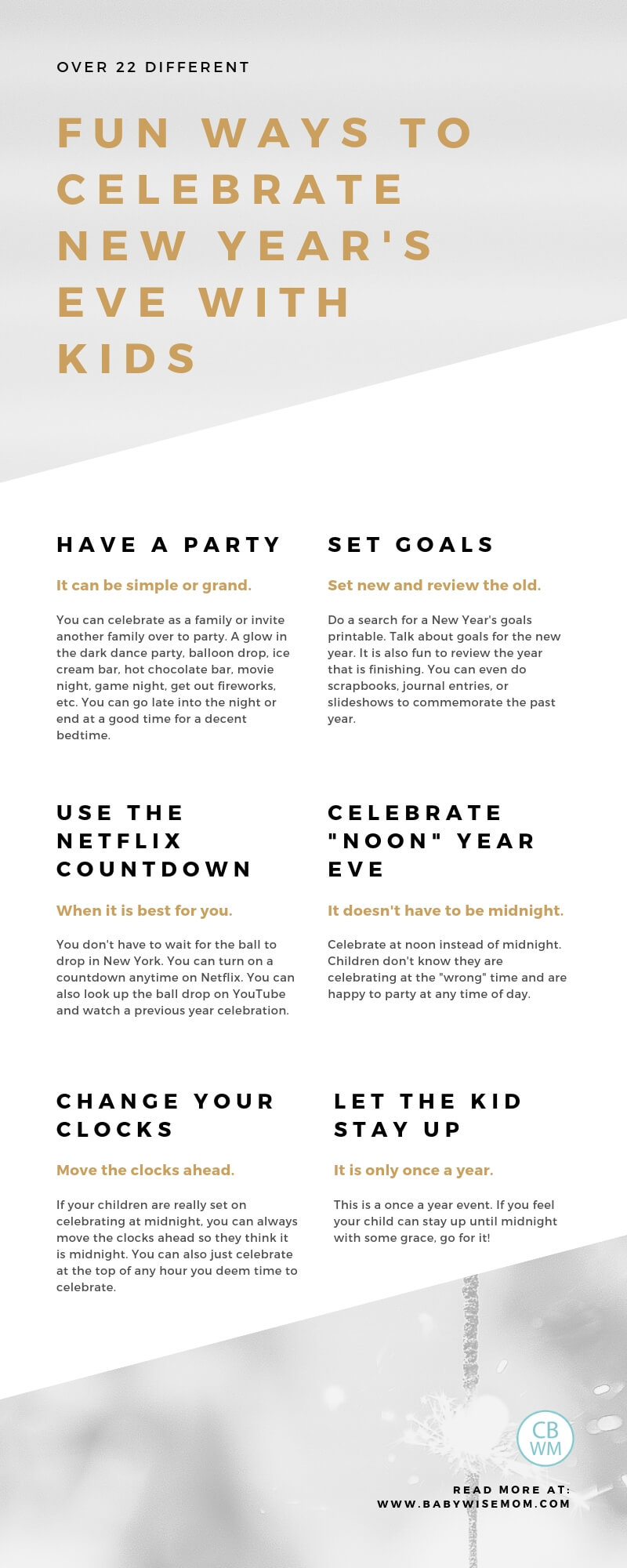 Change Your Clocks
If you do not have Netflix, you can try this little trick. Move your clocks up so your kids think it is later than it is. We have friends who do this with their kids. They do not have to watch a countdown; they won't know it exists unless you tell them.
If moving your clocks is too much of a hassle (which I would find it to be), you can celebrate at the top of any hour. The New Year can be celebrated at 7 PM.
Let the Kids Stay Up
It happens once a year. Parties are fun for kids. You might consider just letting them stay up late for this one night. You could also let your kids have a sleepover together.
Lacey said: We actually let the kids stay up until 12 this year! They had a blast with family. Like you said, tough day on Monday. My husband said "why don't we ever learn" lol.
Invite a Family Over
You can invite a family over to have a celebration. You can do a hot chocolate bar or ice cream bar. You can have an early party, a party that ends at midnight, or just do some simple fun together.
Diedre said: We had a couple of families over for dinner, all of whom had kids around the same age as ours (2-6 years old). The adults sat and visited while the kids ran wild both inside and outside (we're in AZ, so the weather was nice enough to be outside). I think the kids were all still awake and having a great time until after 10 pm.
Today (New Year's Day) we got to sleep in until almost 9 am (first time in YEARS!), and have had a fairly good day, with minimal crankiness from the kids. Honestly, I'm a bit shocked at how well they handled the late night last night and the tiredness today.
Set Goals
We love to do a year in review and set some goals for the New Year. You could also scrapbook or craft to celebrate the year that has just finished. Here is a link to a free printable we have used in past years. If you search "New Years Goals printable" on Pinterest, you will find a lot of ideas. You could also spend some time making a vision board, which kids find really fun!
---
Read: How To Use a Vision Board To Help Kids Set Goals
---
Natalie said: I found a little year in review worksheet online last year that I did again with my 5 year old this year. We watched a couple of the Netflix countdowns and I showed her a YouTube video of last year's NYE ball drop in NYC (although you could barely even see the ball dropping so it wasn't that exciting). Then she went to bed and I was asleep by 11…which is late for me! Not that exciting or different from before we had kids! 😂
---
Read 4 Reasons You Should Set Goals
---
Find Events Close to You
You can do a simple Google search or look in a local paper to find some local events close to you. You might find something fun and family-friendly to attend. I know around here, they do a First Night activity for kids.
Don't forget about crowd-sourcing your Facebook friends for ideas, also.
Do Nothing
You do not have to do something grand for New Year's. Do not feel bad if you do nothing.
Jen said: We did business as usual. After the holidays and schedules sorta wonky I feel like it's a good time to get back into routine. My husband and I watched movies and had a stay at home date … best of all my 5 month old sttn for the first time. Hoping this is a new year trend lol
Katy said: They go to bed as usual… we did, too. Not much for a party here!
Erica said: Business as usual here! Kids went to bed on time, husband and I were in bed by 10:30. I'm sure at some point we'll do a little celebration, maybe count down early, but all 3 of mine are 4 or younger, so I don't see it as a big deal right now.
Katie said: Business as usual. Our only tradition is sparkling cider with dinner. That's literally it. I like that we are leaving room for the kids to think of traditions they'd like to have when they get older, because this is not a holiday where I have any opinion on that, except that everyone else is welcome to stay up until midnight but I will definitely be going to bed at a normal hour. I agree with the commenters who said everything is crazy enough after the Christmas holiday.
Kristina said: Business as usual. Maybe when the kiddo is closer to 7 or 8 we will do something
Christina said: Same ol' business as usual here. My hubby was a little disappointed that I couldn't make it to midnight. Sorry, dear, but I'm a mom!
Kim said: I've found that when we let our girls stay up they are grumpy and fight a lot the next day. So they went to bed as usual and I barely stayed up until midnight. Hubs went to bed about 11:30.
Have Adults Over
This isn't with kids, but just because you have children doesn't mean you can't have fun with friends. You can put your kids to bed and have friends come over around 8 or 9. Ring in the new year together playing board games, Karaoke, Rock Band, Guitar Hero, Just Dance…
We celebrate with friends each year and have done all of these things. Everyone brings something to eat and we have a grand time.
Conclusion
There are many fun ideas for how to celebrate New Year's Eve with kids in this post. I hope it sparks some ideas for you for how you want to celebrate, even if it is just business as usual!
Related Posts