How to use encouragement as a discipline tool. You can encourage your child to correct your child into changing behavior.
Every time I read one of the -wise books, I find it interesting how something new strikes me. Right now I am reading through On Becoming Toddlerwise again. As I have read through, I have been struck by the idea of encouragement.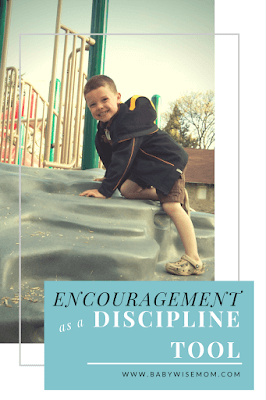 "…certain behaviors will always be followed by disappointing consequences, and other behaviors will be followed by praise and encouragement" (Toddlerwise, page 96). Perhaps some of you are like me. When your child first starts doing what you tell him to, you offer praise and encouragement. As he continues to be good and obedient, however, you start to become lax in the encouragement department. You start to take this obedience and good behavior for granted. As you do this, you continue to offer the consequences and punishments for poor behavior.
Is that a problem? I absolutely think it is a problem. People operate best with positive reinforcement. When you take the encouragement from your child and maintain the punishments, there are not positive words to keep him going. He can become frustrated and feel like he can never be good enough no matter how hard he tries.
Think of yourself. Chances are you can think of plenty of things you do that seem un- or under- appreciated. Those thank yous and kind words from friends, family, co-workers, strangers, etc. keep you going.
Some of you are better at giving compliments and encouragement than others. I am one who is not as good at giving compliments and encouragement. I think them, but I don't verbalize them like I should. Every so often Brayden will say to me, "That is a good boy to XYZ, huh." I chuckle. He reminds me when he is in need of encouragement.
We must be conscious of encouragement. We must let our children know when they have made a right decision. We must let them know that we notice and appreciate how hard they are working. Be complimentary of them. This will give them the fuel to keep working at improving themselves.

We are sorry that this post was not useful for you!
Let us improve this post!
Tell us how we can improve this post?