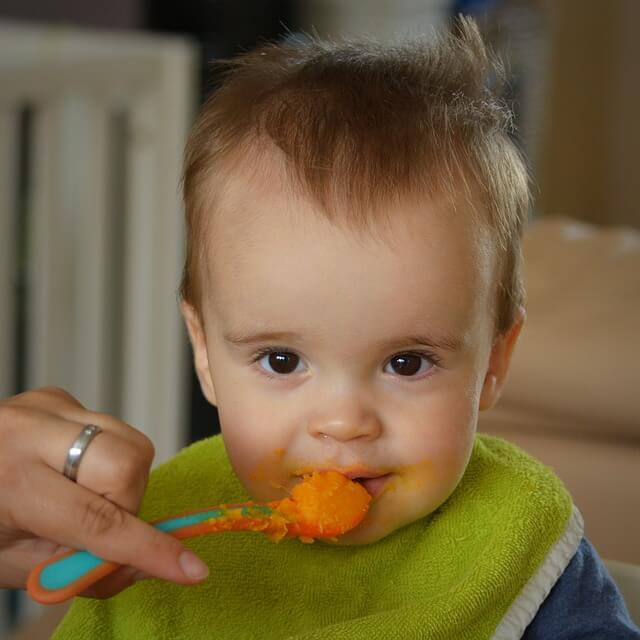 It can be  hard to keep track of what your baby ate at the last meal. If you want a varied diet, you want some sort of system and routine to follow. Here is what I do:
Breakfast: Cereal and fruit
Lunch: Green veggie and fruit
Dinner: Yellow veggie, cereal, and fruit
I have heard that nutritionists recommend you try to eat all colors of the rainbow in your fruits and veggies. That is why I assigned a color of veggie to each meal. I try to get the other colors in with the fruits each day.
Reader Questions:
dollyjustice

said…
I love your blog and have been reading it religiously! Thank you for starting this. I have often said that there needs to be a "Guide to

Babywise

for Dummies!" Question – when did you introduce meats(

babyfood

)? And when you did, did you offer them at dinner only?February 16, 2008 4:49 PM


Plowmanators

said…
I am glad you like the blog!I actually didn't start meats until after

Brayden

was a year old, and even then he didn't have it often. There was no reason for not having it often other than he really didn't like it. I remember his 2 year appointment. His doctor was asking about the foods he ate, and

Brayden

really didn't eat meat at all. The doctor was quite

surprised

. Since then, he has grown to like meat more, though it is still his least-often food group eaten. When he does eat meat, it is at dinner. We don't really eat meat at breakfast or lunch.Up until about 2.5 YO, he usually would only eat meat that was cooked to a very tender point–like from a

slow cooker

. So, to make a long story short, I haven't really been good about meat! :)February 16, 2008 8:19 PM


dollyjustice

said…
Thank you so much. I have just began introducing meats this

week

. My dd is 9 months old. So far, she has loved meat. She must get it from Daddy! I am really enjoying your blog. So far, we seem to be in line with each other on everything.

Babywise

rocks and you do too!!!THANK YOU! Its nice to have someone out there to bounce baby ideas off of for my sanity's sake!
February 17, 2008 6:51 PM

SCHarveys

said…
Question about introducing veggies…Do you still do cereal 3x a day? e.g., at lunch, do I do cereal, then veggie, or just veggie. Today was our first day of veg; I did cereal at breakfast, veggie at lunch, and will do cereal for dinner I guess. Is this right? If so, when do you add the veggie to dinner? After starting the fruit, or should I be doing that already tonight? The books are unclear on this, at least to me…but I'm no genius at this stuff! Thanks so much for your help!
March 18, 2008 11:09 AM


Plowmanators

said…
That is a good question. First, you can really do what you think is best for your LO. But here is what I did.When there is still just one color of veggie, I still keep 3 cereal feedings in the day. I then add veggie to lunch and dinner. Once two colors (or you could do just two types) of veggies are added, I do two veggies at lunch with no cereal, but still have cereal at breakfast and dinner. Once fruit is introduced, I do cereal and fruit and breakfast, then fruit and veggie for lunch, then cereal, fruit, and veggie for dinner. Some people maintain cereal 3 times a day. Have fun with your introductions! I love to watch babies try new foods.
March 18, 2008 11:17 AM
Mom2Cohen said…
So the pediatrician just told us no more cereal for Cohen because he doesn't poop on his own while he is eating it. So, now I am confused about what to feed him since I am only just now starting veggies. Any thoughts?
March 18, 2008 11:21 AM


Plowmanators

said…
In that case, I would do veggies three times a day until you get to fruits. You will likely just need to add more fruits and veggies than kids who eat all three things.
March 18, 2008 1:40 PM
We are sorry that this post was not useful for you!
Let us improve this post!
Tell us how we can improve this post?