What Age Should You Start Feeding Solid Foods to Your Baby. How to tell when your baby is ready for solid foods. Reasons to wait to introduce solid foods.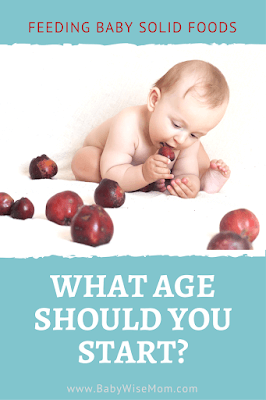 Like many things when it comes to parenting, the age of when to start solids can, not surprisingly, become a hot topic where feathers get ruffled and people get defensive right away. Ultimately, the exact age is up to you, your baby, your baby's doctor. That is who should have an opinion on it.
I personally started all of my children at four months.
Reasons to Start Solid Foods
Here are my reasons to start solids (and some reasoning I had for starting at 4 months):
If your baby is ready and eager. My first was beyond ready (in his mind) at four months. When your child is so eager, it makes it much easier to get them doing it. The older a baby gets, the harder it is to get them to do new things.
The thing I loved the most about starting solids at 4 months was that I could take things really slowly. At 6 months, your child NEEDS food other than milk. So there is a bit of a stress to get things going quickly. With my kids, I did rice cereal for a month before I moved on to start introducing veggies, then fruits. This way you can really be slow and watch carefully for any possible allergies or problems. You can also have the art of eating down by the time they are 6 months.
Reflux. Solids are said to help reflux, and they dramatically helped

Kailtyn

. But I know of one baby who it didn't help, so it is no

guarantee

.
Reasons to Wait Starting Solid Foods
Now the reasons to wait to introduce solids:
Number one is a history of food allergies in your family.
It is just one more thing to do. Adding solids to a meal (even just a tablespoon of rice cereal) significantly lengthens mealtime until they get the hang of eating. So that can be inconvenient. Of course, this in inevitable. You will start solids some day.
You have to get the meals in when you are vacationing or out and about. It is no longer just a matter of finding somewhere to nurse or mixing up a bottle.
They need only milk until they are 6 months. I have read that you risk giving inadequate nutrition if you do solids and the baby doesn't get the milk they need. BUT, I think if you follow the guidelines in

BW

2 for starting solids, you really don't run that risk.
Signs Baby is Ready to Start Solid Foods
If you want to start solids, look for these signs of readiness:
Physically are the "can sit supported" and "can swallow" food things you can read about anywhere that has info on if a baby is ready for solids.
Mentally–they want it. They watch you eat. It looks like they are coveting your food. They smack their lips when you eat. They open wide when you feed them…they are mentally in the game, so to speak.
In the future, here are my plans as far as solids go. Any child who is aching to start like Brayden was will start at 4 months. Any child with reflux will start at 4 months. Otherwise, I think I will start at 5 months. I like to start in advance of the physical need for more than breast milk because I want to be able to take things slowly and not worry about introducing foods fast enough. I like to take changes slowly with my kids. The reason I would wait until 5 months is it just takes longer to feed them solids–so it is totally a convenience thing.
Do your research. Talk to your doctor. Analyze your baby. Trust your gut.
More Posts on Solids:
We are sorry that this post was not useful for you!
Let us improve this post!
Tell us how we can improve this post?