Babywise and Twins. Tips from three Babywise twin moms about how to do the Babywise schedule with twins.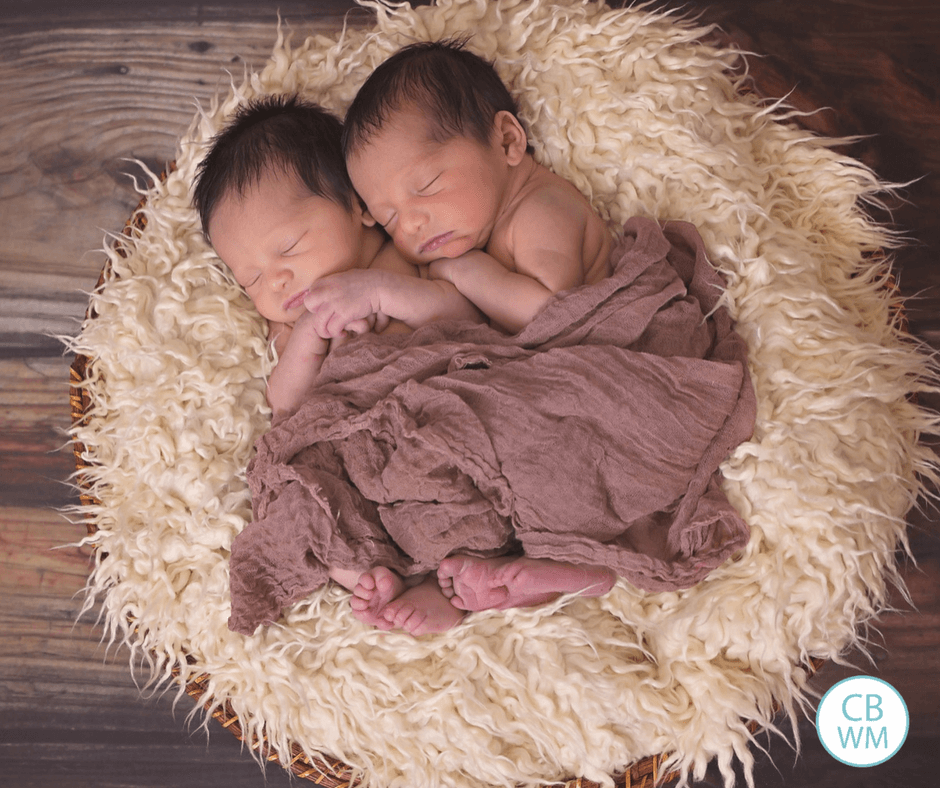 Okay, I have no experience with Babywise and twins. I do, however, know some moms who do. I asked them for some advice, and here is what they have to say.
Keeping Twins on Same Schedule
"The biggest complication to doing Babywise with twins, I think, is when one baby wakes up early or gets tired early, because it is pretty important to keep them on the same schedule. For instance, with the '45 minute intruder', the book says to try to feed the baby to see if its a hunger issue. But I feed them at the same time and don't want to wake the other baby early just to see if the first is hungry. So I usually hold off the early waker until either her sister wakes up or has at least had a decent nap.
Similarly with going to sleep. One of my girls gets fussy really quickly when she's tired; it's impossible to miss her sleep window. And she falls asleep very fast. Then I get her sister, who seems to be still be wide awake. I often regret having to put her down for a nap because the first one was tired. So in a way, having the two forces me to stick to the schedule a little more. I've had friends who said they had trouble doing Babywise because they couldn't bring themselves to wake a sleeping baby; I'm constantly waking a sleeping baby because if I didn't, they would be on separate schedules." drbc
Keeping Twins on Separate Schedules
"We are basically on separate schedules. I have a full time nanny so that helps. With our medical complications there was no way I could keep them on the same schedule. Hannah had to eat every 2 hrs and I was trying to keep Noah at every 3 hours. We started Babywise late, too. (6 months old, 3 months corrected age—before that they just did Babywise naturally as that was the NICU routine but it didn't involve any CIO b/c all they basically did was eat and sleep). I wish I could have kept them on the same NICU 3 hr schedule from the beginning but that didn't happen. [Last month], they began to naturally conform their schedules (even their naps!) to about 15 minutes. I put them to bed at the same time but they often wake at different times and need their naps at different times. Noah stays up longer in the morning whereas if I miss Hannah's window, I'm scr**ed.
They are also on different eating schedules because of size. Hannah only eats 4 (sometimes 5) oz every 3 hrs. Noah eats 6-8 every 4 hrs. But they both only stay awake 2 to 2.5 hrs in between naps. Both are still at 3 naps. I try to keep in mind that they are individuals and have different sleep/activity needs. Noah sleeps more but can stay up longer; Hannah eats more frequently and takes shorter naps. If I have to go anywhere I wait until Hannah wakes up from her nap, regardless of what Noah is doing b/c Noah can eat/sleep in the car whereas Hannah refuses to do either in the car or anywhere but home. So I try to do the Babywise thing with them individually." Lauren
Keeping a Strict Schedule
"There are definitely some challenges with twins. The thing that helped me the most was actually following more of a clock schedule because otherwise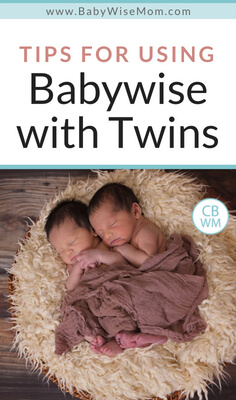 you end up trying to decide if you should wake one baby to eat just because the other one woke early, etc. Since my girls are big and healthy, at 3.5 months I knew they could go 3 hours between feedings. Since their afternoon naps are short, we end up with wake time before and after the feedings, but this seems to be working all right for us
. They are definitely fussy and higher maintenance than when we fed them whenever they woke up, but then our schedule would spiral into short little cycles."
I applaud all mothers who have twins. It would not be easy. These are some tips from moms who have twins, although they all gave some different advice. Hopefully you can get something from one or all three and apply to your own situation.
One reason I see twins being hard is because of what Lauren said. Each baby is an individual. You have to figure out two little strangers at the same time.
Something drbc said is so true to me. She said she needs to stick to the schedule in order to care for both babies. I have found that true with my two children. It is more important for me to have Kaitlyn follow her outlined schedule because I have two to care for. There is some flexibility available, and definitely more for me than a mom of twins simply because Brayden is older and can wait for things if he needs to.
Kudos to all moms of twins out there. Don't forget to refer to the chapter in On Becoming Babywise on twins. Good luck in your endeavors!
And please, if you have good tips for moms with twins, post them in the form of a comment.
*Note that the comments have been edited for grammar, punctuation, and spelling if necessary.
Get the Babywise Book series here
We are sorry that this post was not useful for you!
Let us improve this post!
Tell us how we can improve this post?