One of the hardest things about mornings can be getting dressed for the day–especially if you are going somewhere first thing in the morning. Parenting The Strong-Willed Child
has some great tips for making this step easier on the family. In this post I share those ideas along with others I have found help over the years. With school starting (or started for some of you), this might be helpful to think about right now! These tips work whether you are leaving for school, going to dance class, headed off to work, or simply leaving to run errands in the morning.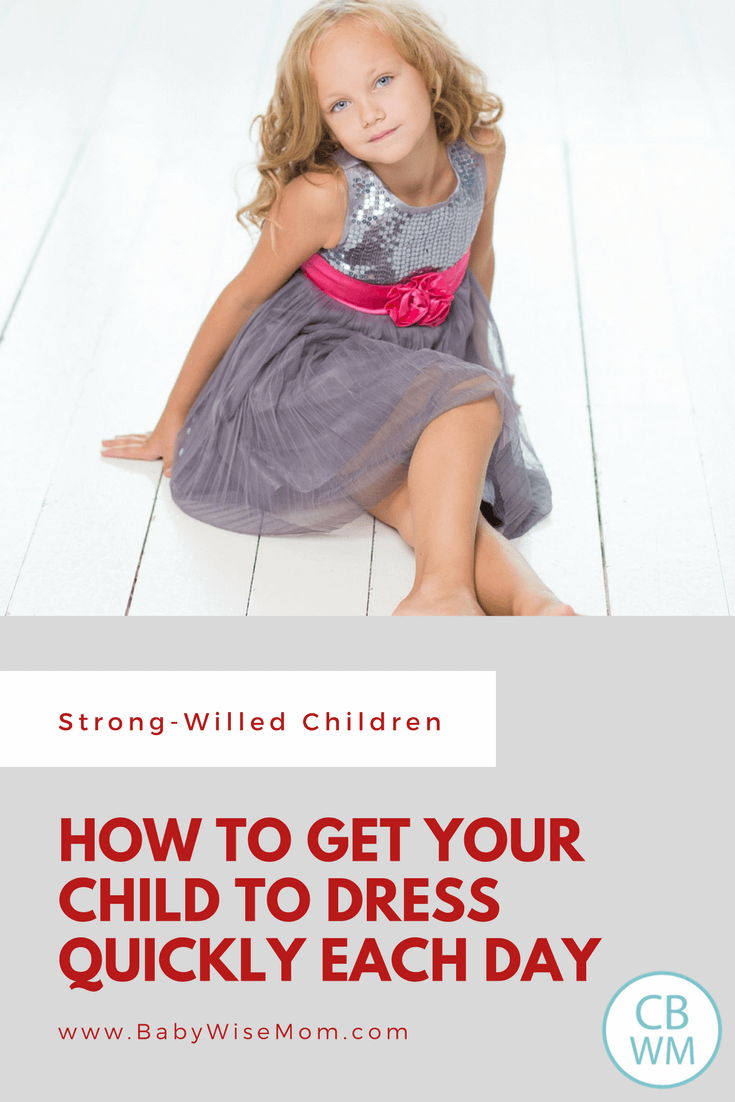 Lay Out Night Before (PSWC page 225)
I have been doing this for years. It is especially helpful for older children who are getting ready and can dress themselves. I lay the clothes out on the ground. I put underwear first, right side up. I then have the shirt face down and upside down so the child can pick it up and put it on correctly. Then the pants right side up, and finally socks.
A great thing about having clothes out the night before is that it leaves no room for debating what will be worn that morning as you are hurrying to get ready. It is a great time saver all around. It also makes it so the child can be rather independent. There is no need for the child to wait around for you because the clothes are already set out.
Give Plenty of Time (PSWC page 225)
You want to leave enough time for getting ready that there is no need to rush. You need to be able to be patient. Figure out how long your child needs on the longest day. I know that I have to get Brayden up by 7:30 in the morning so he can have plenty of time for showering, dressing, other getting ready tasks, and eating breakfast. If he is a bit faster, then he has time to play. We both get pretty stressed if he sleeps past 7:30. No one likes to be rushed, and I don't like nagging.
Get Dressed Before Breakfast
This is something suggested in PSWC and the -wise books. We never really did this until Brayden started school. I must say, if you have somewhere to be in the morning, doing this makes the morning so much smoother! I was pretty surprised by that because it shouldn't really make a difference when you do it, right? But it does. I am not sure why. I don't know if the child is motivated to hurry to get dressed so he can go eat or what. I do really like that you get ready and then eat for as long as you like. There is no cutting off eating for your estimated amount of time needed to get ready and there is no rushing through the getting dressed process because you spent too long eating.
Walk Away
If your child is capable of dressing himself, walk away while he gets dressed. Tell him to get dressed and then go find something to do. Brush your teeth. Help another child. Set out breakfast dishes. Gather book bags. Read a book. Close your eyes and rest. Do anything other than hover and nag.
Play Games
PSWC suggests you play "Beat the clock" to help your child be faster. The -wise books talk about "3 Candy Speed." I typically do a "bet you can't shower faster than I can." You could time your child and see if he can get faster the next day. Come up with what works for you. You might want to mix it up every so often.
Related Posts/Blog Labels:
We are sorry that this post was not useful for you!
Let us improve this post!
Tell us how we can improve this post?