Hysterectomy: Preparations and Recovery for this surgery. What recovery is like, tips for a smooth recovery, and how to prep for surgery.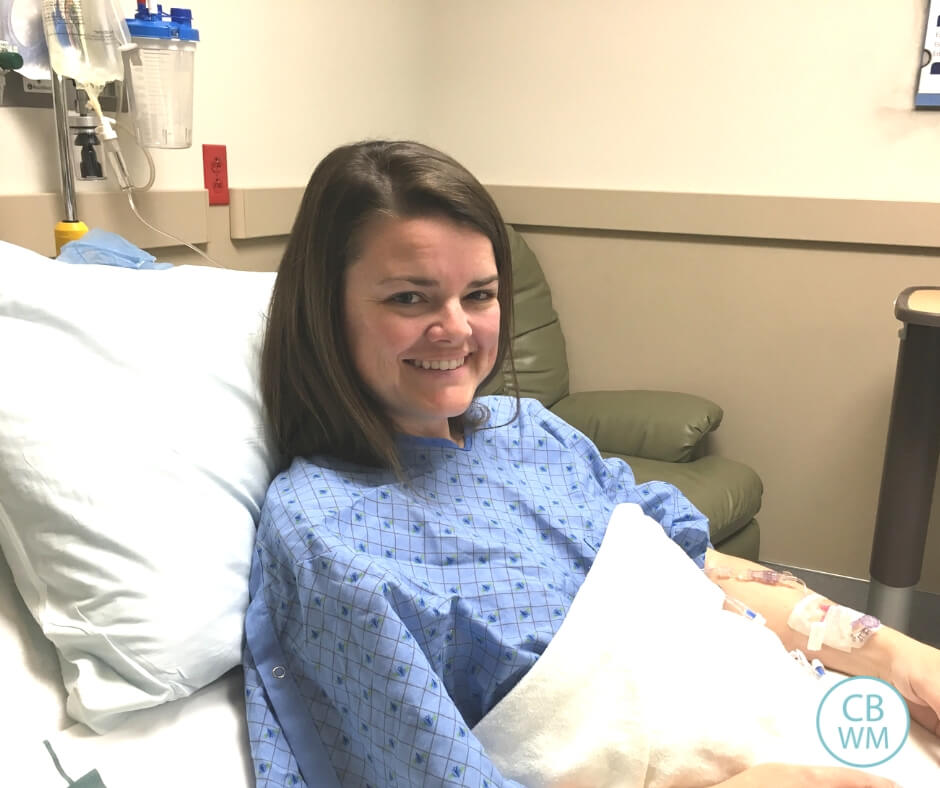 Last fall, I had a routine visit to my OBGYN. This was a yearly visit I faithfully keep every year.
That simple visit started a whirlwind couple of weeks.
The exam was not normal. I had several follow up tests and exams to try to see what exactly was wrong and what to do about it.
In the end, my OB recommended a hysterectomy. I found myself scheduling this unexpected surgery for just two short weeks later.
This surgery was harder than I anticipated. I would never recommend getting it unless it was necessary. Here is my journey with recovery, tips for a smooth recovery, how to prep for surgery, and what to pack for the hospital.
My Hysterectomy Recovery Process
Recovery from a hysterectomy is rough. It is hard not just physically, but mentally and emotionally.
It was hard for me to just sit around. Recovery wasn't just a get better slowly thing. It was a get better, then a little worse, then a little better, then way worse, then a little better, than worse than ever, then way better…you get the idea.
I have detailed the process below. If you want a basic summary, here it is.
They say to expect 6 weeks of recovery time. They mean it. Some might recover a little faster and others might take a bit more time, but do not plan on being "yourself" sooner than 6 weeks. Clear your calendar and expectations for 6 weeks. You can add things in if you feel up to it as time goes on.
Several years ago, I tore the ligaments in my foot. That was hard to sit around so much. This was not as hard mentally for me.
When it was just my foot, I mentally and physically wanted to do so many things. With this surgery, I had no desire to do other things. My body did not want to work out. No way. It hurt too much to miss that.
That was nice in a way. It wasn't as mentally difficult to be bedridden. In saying that, however, it may be that since I have been through something similar, I knew what to expect and had already been there. I had faced that challenge and gotten through it, so it wasn't a big deal the second time.
Detailed Hysterectomy Recovery Process
Monday: I had my surgery in the mid-morning on Monday. There was a lot of pain that day. It was actually a lot more painful than I expected it to be. I think I was expecting something similar to birth pain and it was more intense than that. I stayed in the hospital that night.
Tuesday: My pain was in better control Tuesday. I was discharged around 2 PM in the afternoon Tuesday. My plan was to stay in my bed for the first day or two. My bed is SUPER comfortable. It is an Intellibed with a memory foam topper…it is heavenly. I was sure that was the place for me.
Well…it wasn't. That night I slept horribly. I couldn't get comfortable for some reason. Any time you need to move in that bed, you must use your abs to move around. There is just no way around it. Ab usage is painful after a hysterectomy. I ended up moving out to the couch.
Wednesday: Wednesday I felt pretty miserable. After no sleep the night before, I didn't feel so hot. The pain was intense. My body hurt. My low back was hurting a lot from being on the table during surgery. Then you are on your back for recovery…it wasn't pleasant. I spend time on the couch and a lazy boy. I varied my location a few times in the day to vary my pressure points on my body.
My friend who is a physical therapist came over and brought me a TENS unit to use. LIFE CHANGING! They don't know exactly why it works yet, there are a few theories, but it essentially uses some electric pulses to stimulate your nerves and muscles to provide pain relief that is drug-free. I started using it around the swollen area of my low-back each morning and evening. It helped so much with the back pain right before I went to bed. I highly recommend a TENS Unit and you can get one on Amazon for $25.
I slept much better that night and slept on the couch.
Thursday: This was Thanksgiving. It was a decent day. This is the day the gas pain kicked in. Oh the pain! You read how gas pain is as bad as anything else with abdominal surgeries. It is true. I started working toward more moving that day. I have a FitBit and took about 2,500 steps that day. Walking really helped with the gas pain.
That night, I slept in my bed. I actually slept quite well that night.
Friday: Friday was similar to Thursday. I upped my step game and went for 3,000 steps. It felt good. The more walking was more tiring and I got a couple of naps in. On this day, my kids all commented separately that I was walking more normally. I was slower than my usual self, but the walk was normal–it didn't look pained. I hadn't realized it had looked pained before that!
Gas pain was present. This was my last day with narcotics for medication. That night, I slept amazingly well.
Saturday: Saturday marked our first outing. We went a few miles to my parents' house for Thanksgiving. It was just a couple of hours, but it definitely took its toll. My doctor told me I would be able to do things, but that it would wipe me out. She said your body gets very tired after surgery, so if you have something you need to do that day, it needs to be the only thing.
Well, I also went for 4,000 steps that day. That plus the outing was too much. The outing was good for the soul. I felt in good spirits. But by the end of the day, my pain was high. The gas pain was horrendous. I also hadn't had a chance for a nap with the outing. I didn't sleep much that night. I also woke in the night with a cough as a cold moved in.
Coughing plus hysterectomy equals OUCH!
Sunday: Sunday I got ready to head to church. Brayden was playing the piano in sacrament and I didn't want to miss it. So I went there for an hour. Then I decided Sunday would be a day of rest and I kept my steps to 2,000. I also realized that stool softeners cause extreme gas pain, so I stopped taking that and by the end of the day, I felt much better. I sucked on cough drops all day and pumped my Breathe essential oil to help prevent coughing. I had some bad coughing fits Sunday, but things chilled out. I slept pretty well that night.
Monday: Monday I felt much improved. I took my step goal back to 3,000. My pain eased a lot that day. It was still there, but a noticeable improvement. I was able to put most of my laundry away (just my own–there wasn't much. Living in pajamas doesn't dirty a whole lot!).
Tuesday: Tuesday started off good. I kept my steps goal at 3,000. I had to be at the elementary that day for an hour, so I was sure to get a nice hour-long nap in before going and took it really easy that day.
Further Weeks: As the weeks went on, my recovery was much like a spiral. It would seem like things were getting better. Then they seemed worse. Then they seemed better. It wasn't a slow and steady march toward better each day.
After a few weeks, things started to just slowly improve rather than spiral. If I had a day where I had to do things and got tired or sore, I recovered much faster. I aimed to be around 4,000 steps a day.
At four weeks post-op, I was still in a lot of pain if I was out at a child's event. That week, my kids happened to have a lot of events like Christmas sing-a-longs, talent shows, and piano recitals. I would get SO SORE! I told my husband I couldn't imagine being all great and healed by six weeks out. I still aimed for around 4,000 steps a day.
My husband works in the medical field and has designed a method for hysterectomies. He told me he didn't think I would be just fully better by six weeks. He said I would continue to have days that just did me in for a long time.
Weeks 5-6 had a lot of rapid improvement. I started taking actual walks at week 5 rather than just doing the elliptical and I felt like a real walk seemed to really help healing progress. It could have been just the right timing. During this time, I picked up to 5-6,000 steps a day.
6 Weeks Post-Op
At my 6 week post-op, I told my doctor I would still feel sore and really tired when I did things. After my exam, she told me I was still not healed and that explained the soreness and fatigue. I still had sutures. She estimated I would have two more weeks before my body healed. UGH! After waiting for 6 weeks, you do not want to hear you have two more weeks after that.
She did remove my lifting restrictions at that point and told me I could do anything that didn't cause pain. She didn't recommend I do squats or anything that put a lot of pressure on the pelvic area.
8 Weeks and Beyond
By 8 weeks, I did feel a lot better. My fatigue was much improved. I started doing more intense workouts and really hitting that 10,000 step mark each day. It was exhausting at first, but my body built up the stamina quickly.
The next issue that popped up was tailbone, or coccyx, pain. I knew this was a potential side effect of surgery.
As soon as it started, I did some good old google searching and found that it is common from things getting inflamed around the tailbone and causing pain and pressure. Anti-inflammatories can help. Sitting too long can cause problems. So I had to watch that pain and try to move around and not sit at my computer in a chair too long each day.
Recovery just takes a long time. A hysterectomy is a major surgery, so expect a full recovery to take some time.
I felt like it took until 6 months post-op to move about my day without having a physical reminder that I had surgery.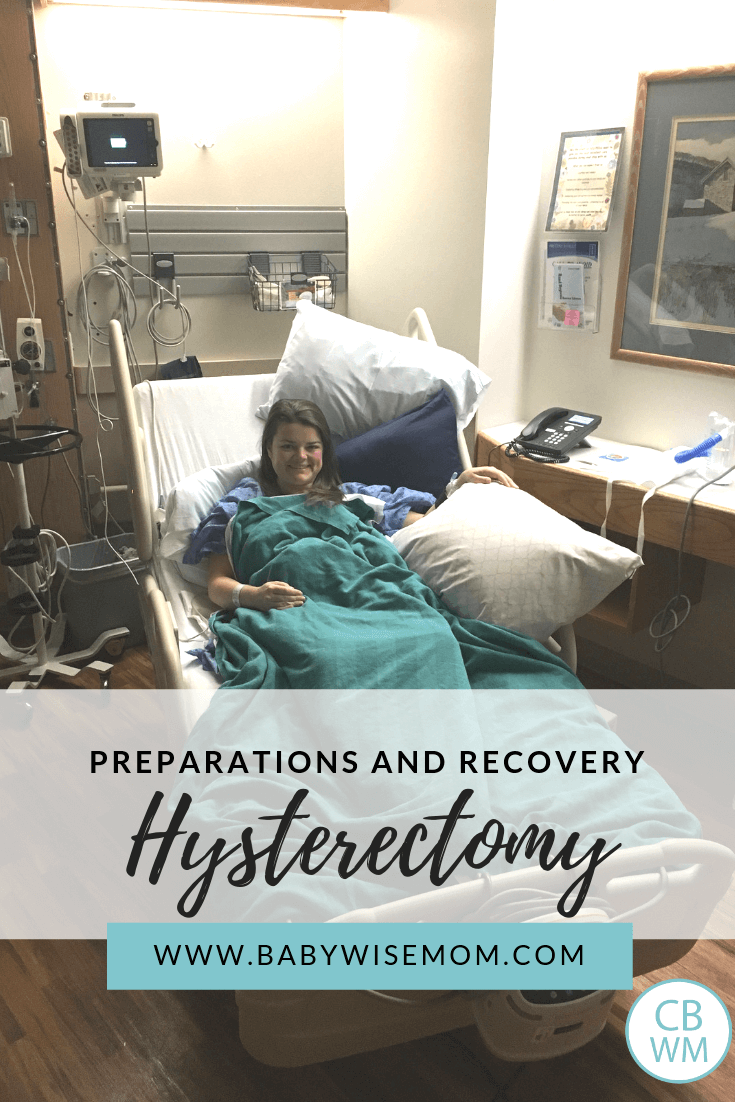 Key Recovery Elements
There are many things you can do to make your recovery from your hysterectomy better. Here are some ideas.
Walk. Walking is an important part of recovery. You need to walk to help yourself heal. It helps the healing process, it helps get the gas out, and it helps prevent blood clots in your legs. It also helps you to give your body some relief from being in a sitting or relaxing position all the time. It very quickly starts to hurt the body!
Like I said above, once I started going for real walks at five weeks post-op really seemed to help with the recovery process. I was recovering in winter in Northern Utah, however, so I couldn't always get out and walk in the weather. I would do elliptical exercises to keep me moving.
As I walked more and more, I felt physical improvements hastening.
Avoid Constipation. Being constipated is not a great idea when you have sutures in the pelvic area. Right away, I started drinking prune juice. At every meal at the hospital, I had prune juice. At home, I had 8 ounces of prune juice in the morning and night for the first few days, then moved to every morning for several weeks.
I also took stool softeners for a week. That was too long! I ended up having extreme pain in the intestines. I could NOT figure out what was wrong. I had the impression to check my discharge papers and saw that pain was a side effect of the stool softeners. I discontinued use and the pain went away.
I then remembered after I had my first baby, my OB told me then to take the stool softener until I had my first bowel movement and then stop. So stool softeners can help but don't take them too long.
Warm liquids can help with constipation as can walking.
Manage the Pain. There is a lot of different pain after a hysterectomy. I expected it to be similar to childbirth pain, but it wasn't. The obvious pain is in your abdomen where the uterus was. The uterus is attached to many different things and your doctor has to detach it from all of that. The area is inflamed and in pain.
You will also have pain tied to however they got in and out of there. You will have incisions that need to heal somewhere.
You will also have lower back pain associated with being on the surgical table. There were times this pain was stronger than the actual area of the hysterectomy. There is a lot of pressure put on the lower back when you are in surgery. My back swelled significantly. I found a Tens Unit super helpful for managing that pain. You can get them off amazon.
You will also have gas pain and intestinal pain.
Your body will get sore from sitting in one position so much. You can't comfortably be in a lot of different positions for a while, so you start to get sore.
You will also have pain from the insufflation. The medical team will have used insufflation to expand your abdomen to make the work of removing the uterus easier. That gas lingers and causes some discomfort. Some people find the pain from that is greater than the surgery. I had one day where things were quite uncomfortable, but it wasn't worse than the surgical pain.
All of that to say you will have pain and will want to manage it well. Take pain meds as needed. Use a tens unit. Move around every once in a while so your soreness isn't as bad. Do not overdo it.
Get Rest. My doctor told me the most noticeable thing after a hysterectomy would be the fatigue. Your body gets so very tired trying to heal from this surgery! I read you need 1,000-1,2000 extra calories a day as you are in the heavy days of healing. Compare that to 300 extra calories when pregnant and 500 extra calories when nursing. You will be starving and you will be tired. You need that rest to keep your body healing. Get enough sleep. Take at least one nap a day for the first 1-2 weeks.
My doctor advised me that I would be able to do about one thing a day for a while. She said if I had something I needed to do, to make sure I saved my energy for that.
After a couple of weeks, the energy starts to slowly return. However, your energy will be low for as long as your body is healing.
Pelvic Floor Strengthening. I developed bronchitis a few months post-op. That led to lots of coughing. This led to a very weak pelvic floor.
I visited my OBGYN because I could tell some prolapse was happening. I went to visit her so she could get a baseline in case things got worse.
She told me it is very common after having a cough to have a weak pelvic floor and just not coughing would help strengthen it over time. Even so, I didn't want to risk things getting worse, so I visited a physical therapist who specializes in women.
From that visit, if I could tell you anything, it would be to DO YOUR KEGELS! I feel like we women are told that, but we don't grasp how important it is to make this a daily thing, no matter what. But ESPECIALLY after a major pelvic surgery.
Doing the Kegels can help you so that when you get those coughs, you are able to cough in a way that doesn't lead to prolapse.
Prolapse can get quite bad. As I filled out the questionnaire while waiting for the appointment, I realized it can get to the point of interfering with urinating, among other things. Take it seriously and take care of yourself. If you start to have issues, get help right away.
Must-Have Recovery Items:
I kept my recovery items in a little caddy so I could carry these things around with me from spot to spot. Sitting still gets painful, so I would vary where I sat to help change up where the pressure was concentrated on my body. I used one I already had, but Amazon has a lot of options if you don't have one.
Pain Relief. You need to be prepared to manage your pain. If you are in pain, you will not be able to fully relax and rest, which will impede your progress as you heal.
Acetaminophen and ibuprofen are what I relied on. I had a prescription for a few days, but I moved off of that ASAP and just focused on these two medications.
A TENS Unit was a lifesaver for me. This is not medication but provides some stimulation to muscles and nerves. It has been found to be as effective at pain relief as prescription medication. I used this on my lower back where I had pain from being on the operating table. Do not place it on your abdomen without consulting a doctor or physical therapist first. This unit helped me so much to use less medication and get through painful back pain. We borrowed a TENS Unit from my friend who is a physical therapist but liked it so much we bought our own from Amazon. This is not the one I borrowed, but it has worked well.
Things to suck on. I had little candies to suck on. I got them in anticipation of having some potential throat discomfort from the breathing tube, but I didn't have any issues from that. I did often find the candies helpful, though, and would recommend having something for your recovery time.
Ice. Ice was my favorite thing. It felt so good to have some ice on my abdomen. Ask for it in the hospital. I also asked to bring home some of their ice bags before I was discharged, and they lasted me about a month. They do sell ice bags on Amazon.
Heating pad. Some women like a heating pad best as they recover from the surgery. I came to like heat about week four. I did really like heat on my back. I would definitely recommend you have a heating pad on hand for your recovery.
Activated charcoal. Activated charcoal is super handy for gas pain. Initially, you have pain from the procedure in obvious ways. Pretty soon, you have insufflation gas pain and gas from your stool softeners. This pain can be as intense as anything else. Have some gas aids to help you through this pain.
Cough drops. Cough drops were a necessity for me to help prevent my coughing fits. There were times I even had to wake up in the middle of the night and suck on one to stop a coughing fit. Again, coughing plus hysterectomy equals ouch. Having a breathing tube can lead to lung issues, including pneumonia. Even if it isn't cold season, have a bag of cough drops on hand to help out in case you start coughing.
Cold medicine. I would have some cold medicine on hand for the same reasons I outlined for the cough drops.
Sleep aids for when narcotics are done. Narcotics make you sleepy, so they can help you be tired enough to sleep even through the pain. Something like Tylenol PM or ZzzQuil can work well.
This is about more than just wanting sleep. You need to be able to be in a deep enough sleep to go into deep sleep cycles. That is when the body physically repairs itself.
Tissues. Have tissues on hand for obvious reasons.
Earplugs. Ear plugs are super helpful at the hospital so you can try to sleep. It is also helpful at home to hear less during the night and during any attempted naps. I sleep much lighter when I am in pain, so the extra bits of help are necessary.
Hand lotion. Keep hand lotion nearby so you can moisturize those hands when needed. O'Keefs is my favorite hand lotion for moisturizing without grease and smell.
Oils. If you use essential oils, have your favorites ready to be used. I liked some lime and/or lemon for my water. I liked DigestZEN for gas and nausea. I liked breath for lung issues.
Prune juice. I drank prune juice right away in the hospital. Every breakfast and every dinner at the hospital then continued at home for a few days. Then I cut back to breakfast for a few weeks. When you go under anesthesia, everything stops running, including your bowels. It can take time to get running normally again.
Entertainment. You are going to spend a lot of time sitting around. A whole lot. Have some things planned out that you enjoy that can be done sitting around. Sudoku, coloring pages, books to read, logic puzzles, computer, crochet… anything you can do while reclined and relaxing will be helpful to have on hand. This logic puzzle book was my favorite.
Comfy clothes. You need some comfortable clothes to wear for a while. I lived in sweatshirts and pajama pants. You want pants that have a loose elastic at the waist so you don't have pressure there.
Comfy socks. Along with my comfy clothes came comfy socks.
Fitbit. My Fitbit came in so handy to track my steps. Then I could see how many steps were helpful, how many were too many, and adjust each day with that information. It was an easy way to push myself enough. If you would like an activity tracker for recovery but aren't typically a Fitbit person, McKenna has this inexpensive tracker that we have been happy with that is about $30.
What to Prep Before a Hysterectomy Surgery
I didn't have a lot of time to prep before my surgery. I only knew it was happening for a couple of weeks before it happened. There were some things I was able to prep ahead of time and others I didn't have time for.
Just think through things you typically do and try to have those all taken care of before your surgery. Clean what needs to be cleaned. Prep meals. Prepare as you prepare for a baby. We changed all of the sheets in the house right before surgery, did the laundry, cleaned the house, got books, stocked up on groceries…we had a long list of tasks.
Also, think through things that seem to make life easier. For example, when I get my hair cut, my hair is easier to do for a while because it is all fresh. When I get my eyebrows waxed, I don't need to do any eyebrow maintenance for a couple of weeks.
I was not allowed to wear nail polish during my surgery, so be clear on that before getting a manicure. I didn't ask about toenail polish. I think it would have been fine because I wore socks during the surgery but ask about that, also.
As you are shopping, be sure you have some nice moisturizing lotion. I was instructed to shower the morning of the surgery and then not use any product–no hair product, no lotion…nothing. So I did a nice moisturizing face mask the night before in hopes my face could last a while without lotion. It helped a lot.
Take care of errands that need to be run. Get appointments in that you need to do. Do all you can to clear your calendar and list for the next 6 weeks.
Hair cut
Eyebrows waxed
Epilator
Clean house
Freezer meals
Errands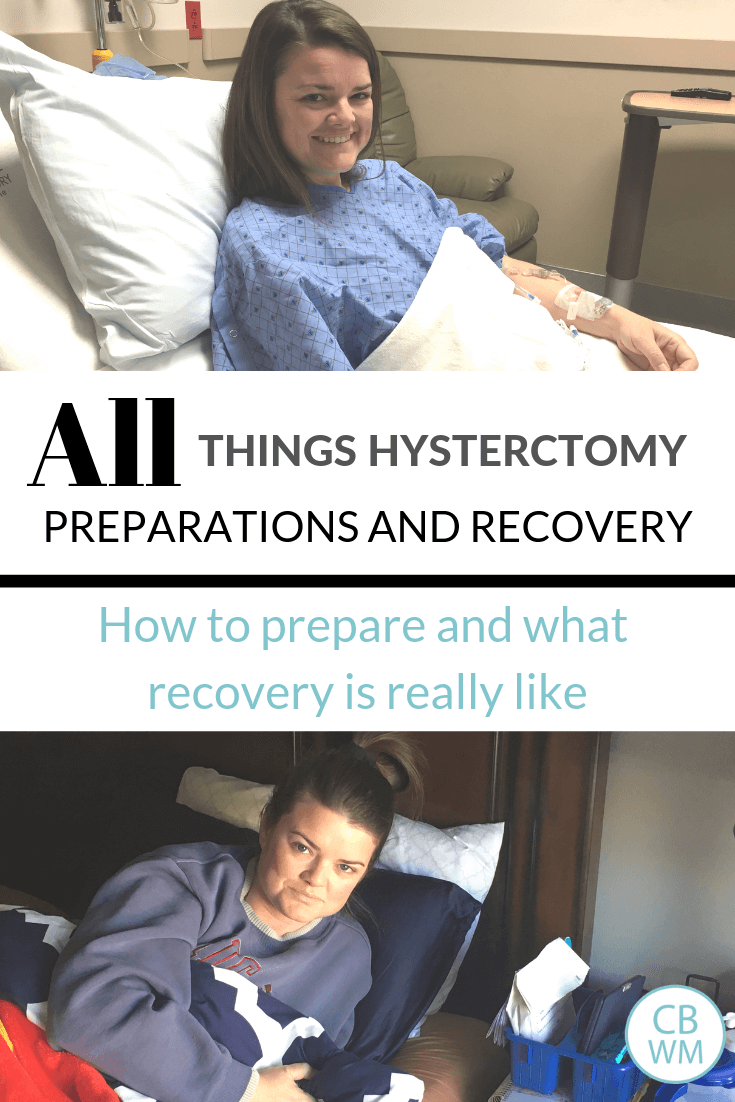 Hospital Packing List
The things you will like for the hospital are very similar to a postpartum hospital packing list. Here is what I had on my list:
Lip balm
Socks
Pajamas (but I stayed in hospital stuff)
Underwear
Slippers
Pads (but my hospital had these, so it was not necessary)
Toothbrush and toothpaste
Brush
Robe
Deodorant
Glasses
Hair elastic/scrunchie
Lotion
Phone charger
Phone
Meds you are already prescribed
Nail file
Kindle/books
Earplugs
Pillow
Gum
Cough drops and/or hard candies
Conclusion
A hysterectomy is a major surgery. I envisioned it to be similar to recovery after childbirth, but it was a lot more intense. You are missing an organ and the body has to heal from that.
Give yourself plenty of grace to get the rest you need. Do not push yourself too fast. Do not go back to work or back to tasks before you are ready; once you do it, you will feel obligated and others will expect you to do it.
You only get one chance to heal correctly the first time. Make sure your body is set up for success for this process. Good luck!