Tips to really succeed at parenting your strong-willed child. The strong-willed child can be difficult, but you can follow some simple steps to make parenting easier.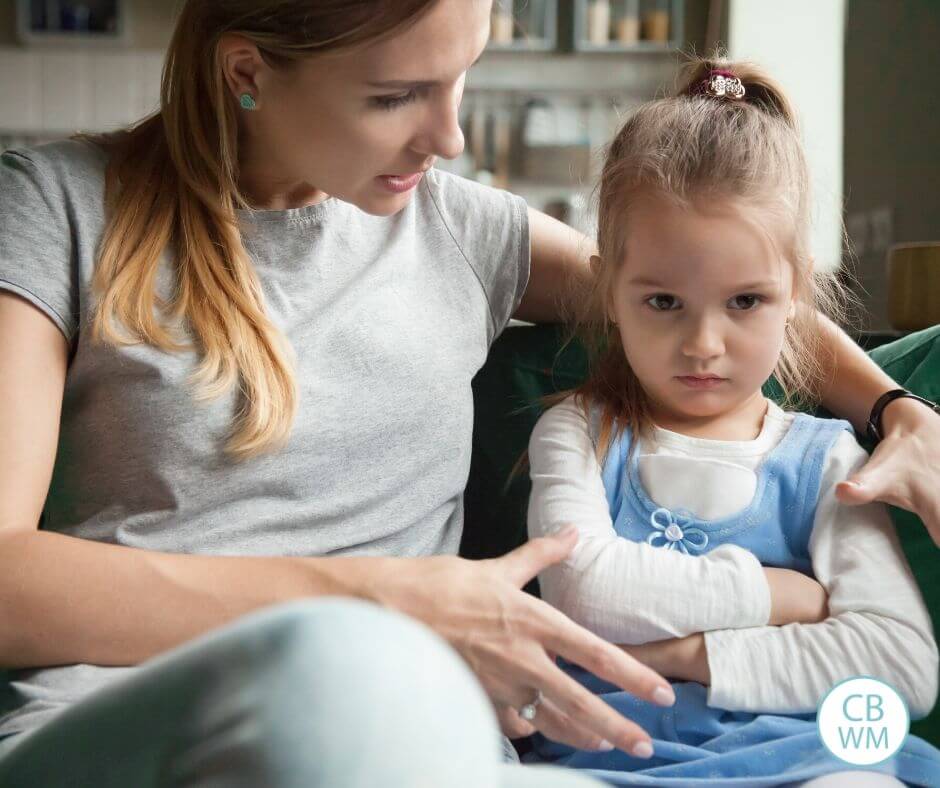 In this post, I give an overview of the program for helping a strong-willed child outlined in Parenting the Strong-Willed Child by Forehand and Long. This post will outline the five-week program in the book, but it is absolutely in no way a substitute for the book. This lets you know what the book contains, but doesn't tell you how to execute things. This is the what, not the why or how.
Parenting The Strong-Willed Child: Program Outline
This program is meant to be taken one week at a time. In the book, they ask that you do not read ahead to see what is coming up next week. They want you to take it one week at a time.
WEEK ONE: ATTENDING (page 61)
With attending behaviors, you are describing what your child does without questions or directions. You can also imitate behavior. You should be enthusiastic and positive. Your child's agenda is important, not yours.
Here is an example of what attending behaviors would look like. You would sit down with your child while he plays with his blocks. You would say things like, "You are building a tower of blocks!" "You are putting the red block on now!" Sound cheesy? Do you think you would feel silly? You probably would at first.
A great benefit I see with attending behaviors is that you are for one spending time with your child. This is time spent that is fun for the child because you aren't telling him what to do. You are just talking about what he is doing. It teaches you to describe behavior without attaching value statements to it.
WEEK TWO: REWARDS
During week two, you start to add rewards to the system. Verbal rewards are the most important rewards. You want to praise the child and label the desired behavior, "Thank you for picking up the blocks!" (page 76). You want to use an enthusiastic tone of voice.
You can also use physical rewards. You might pat your child on the back or give him a wink. Hugs and kisses can be good, but should be used more to express love than as rewards for good behavior. Forehand and Long suggest you add 20 more physical rewards a day than you currently do.
You can also have activity rewards. These might include playing games, going for a walk, or reading a story. When you do these activities as rewards, try to get on the child's level and play on that level. If you don't know what your child would like to do, ask him.
You can use toys or treats as rewards, but you should always accompany them with your praise and attention (page 78).
There is often discussion of encouragement vs. praise vs. rewards in these parenting books by psychologists. Some say one is better than the other. Forehand and Long say debating it is basically an issue of semantics (page 83). I would agree with that; however, I think no matter what you call it, there is a good way and a bad way to go about it. The average parent is not concerned with exactly what to call something, but it is important to know what is good to do and what is ineffective to do.
Forehand and Long say to use rewards immediately after the appropriate behavior and initially, reward the behavior every time it happens. Reward only behavior you want to be increased. For further discussion on this idea, see Encouragement vs. Reward.
WEEK THREE: IGNORING
During this week, you start ignoring certain behaviors you want to end. Forehand and Long say that when you ignore, you should have no physical or verbal contact. They also say no eye contact (though other books strongly say to never withhold eye contact). You might ignore tantrums, crying, whining, pouting, and arguing.
At first, expect the behavior to get worse. This is something that has worked in the past, so if it stops working, the child will try harder to get it to work again. It will help if you tell your child, "From now on, when you whine, I will be ignoring the whining."
Forehand and Long caution that ignoring will only be effective if used in conjunction with attending and rewarding. They also say to just choose one behavior to ignore at a time, then after several days, add a new behavior to the list. Tell your child when making changes–before the problem occurs.
WEEK FOUR: GIVING DIRECTIONS
During week four, you will be learning how to properly give directions to your child.
First, you don't want to give vague directions. "Be good" is vague. "Share toys with your sister" is specific.
You also don't want to give chain directions. You might tell your child, "get dressed, brush your teeth, comb your hair, and come downstairs for breakfast." Your child might not have the ability to remember and follow so many directions. (page 105). Give instructions one at a time.
You also want to avoid directions in the form of a question. "Do you want to go to bed now?" is not a direction. Not many children would answer yes!
Don't follow your instructions up with a reason. Your child might forget the instruction by the time you are done with the reason. If you want to provide a reason with your instruction, then give the reason before the instruction (page 107).
So now you have a basic idea of what not to do. What should you do?
Get attention
Make eye contact
Use a firm voice (not loud or gruff)
Use simple and specific instructions
Point to things as appropriate
Use "dos" rather than "

don'ts

"
Reward compliance
Be willing to gain compliance–if you are going to instruct, be ready to be sure your child obeys
Forehand and Long point out that children actually need fewer instructions than we give them. Only offer the necessary instructions. I found myself telling Brayden to pull up his underwear whenever he was done using the bathroom–even when he was four! He didn't need to be told to pull up his underwear 🙂
WEEK FIVE: TIME OUT
In the final week, you introduce the time out. By now, you are spending time with your child. You are noticing the good and complimenting for it. You are ignoring bad behavior and giving better instructions. Now you are ready to offer consequences for poor behavior. Your child has been set up and prepped for good behavior.
The first thing to remember about any punishment is consistency. You don't punish sometimes and not others. Forehand and Long suggest using the time-out. They have a very specific method for the time-out and say if followed, the process has been proven to work through their research (page 119). They have specific locations, sequences to follow, amount of time, and whether or not to give warnings (depends on the behavior). It is not a complicated process in the least. In fact, it is quite simple.
One important point made by Forehand and Long is that you don't need to lecture during or after a time-out. You can say, "You had a time out because of X," but that is not the time to delve into a discussion on the merits of the behavior.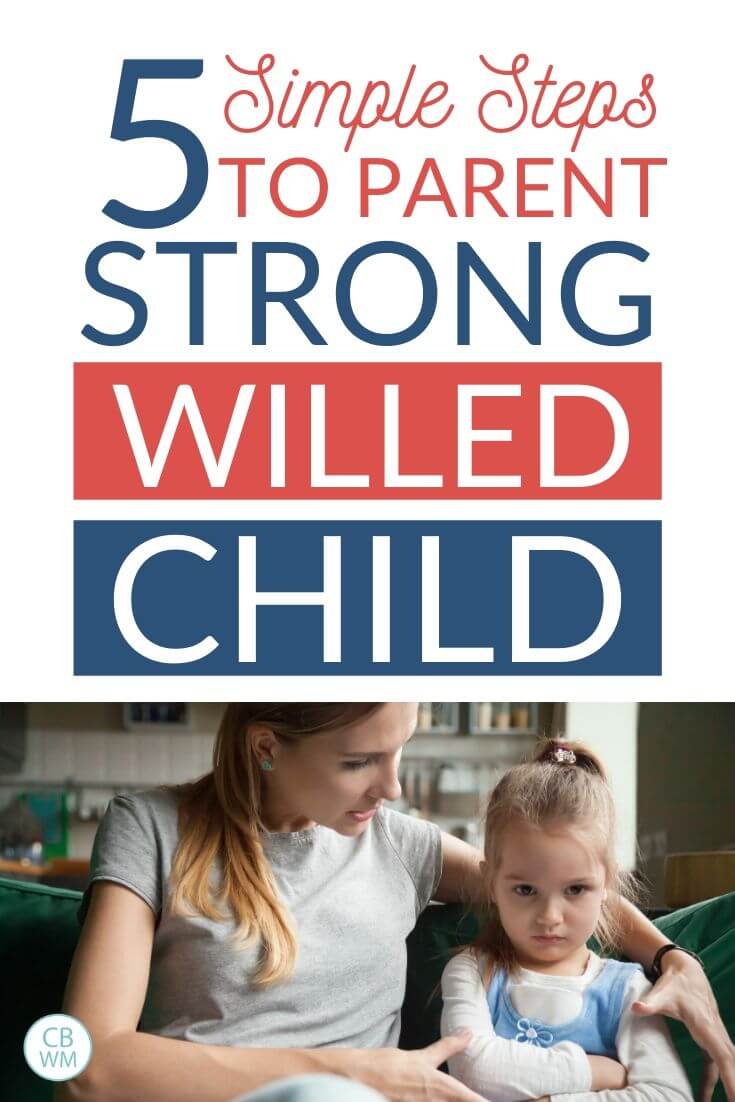 CONCLUSION
There you have it. There is the program. For each week, they have a weekly plan. You start with X number of minutes once a day and work up from there. This is literally a step-by-step program. I am sure for many of you, that would be quite desirable.
RELATED BLOG POSTS ON STRONG-WILLED CHILDREN
We are sorry that this post was not useful for you!
Let us improve this post!
Tell us how we can improve this post?