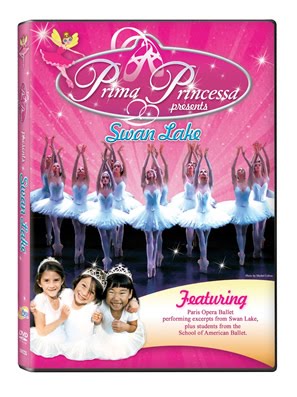 This post is written in partnership with Prima Princessessa. All opinions are my own.
Website: http://primaprincessa.com/
Oh my goodness. I LOVE Prima Princessa. We did a giveaway for them about 1.5 years ago. My girls fell in love with the Swan Lake DVD, so for Christmas last year, we bought them the Nutcracker. And I am giddy to know that there is a new Sleeping Beauty. Guess what is on our Christmas list?


So of course when Prima Princessa contacted me about doing another giveaway, I said yes! I of course want to give another one of you the chance to win a copy of the Swan Lake DVD!


So let's enter.
For Your First Entry:
Become a follower of this blog. Then leave a comment. If you are already a follower (the thing where your cute face pops up with all the other cute faces of people following), comment telling me so.
Sample Entry
I am a follower!
For Your Second Entry:
Go to the Prima Princessa website. Look around and come back and comment telling us you think the neatest feature is of the website.
Sample Entry
I love the list of ballet schools! Very useful!
For Your Third Entry:
"Like" this blog on Facebook. Already do? Tell me so. Comment saying you follow through Facebook.
Sample Entry
Hi! I am now follow through Facebook!
For Your Fourth Entry:
Blog about the giveaway with a link to this post! You need to have a blog in order to blog about it. Once you have posted your blog, leave a comment with a link to the blog.
Sample Entry
I blogged it! valscreations.blogspot.com
For Your Fifth Entry:
Grab my button and put it on your blog. Then leave a comment saying you did so with a link to your blog. Already have it? Comment saying so.
Sample Entry
I grabbed it! valscreations.blogspot.com
For Your Sixth Entry:
Tweet about the giveaway. Then comment saying you did so. Include your twitter ID (not mine)
Sample Entry
I tweeted it! @valplowman
For Your Seventh Entry:
"Like" Prima Princessa on Facebook! Then comment saying you did so.
Sample Entry
I liked it!
There you have it! Good luck to everyone! And if you don't win, you can find this DVD on Amazon.com
.
Entry Rules
You must leave a comment in order to have an entry.
You must leave a separate comment for each entry. This is not so I can get lots of comments–it is because it makes it a million times easier to choose a winner. It takes less time, and less time is good. Plus, it makes sure I don't miss an entry.
You don't have to do all seven entries…for example, if you just want to follow this blog, you can just do entry one.
One entry per comment.
Up to seven entries per person.
You must fulfill the rules of each entry for each entry to count. If I see the entry is not valid (did not meet entry requirements), I will disqualify your entry. Trust me, I check.
Entries will be accepted until 11:59 PM Friday, October 28 Mountain Standard Time.
The winner will be randomly selected at random.org
The winner will be announced Saturday, October 29.
If you would like, you can add your email address to your entry. If you are the winner, I will email you to let you know. You do not need to add your email address in order to win. I understand not everyone wants to share their email addresses with the world. I will announce the winner on the blog, so you can check the blog Saturday to find out if you won.
Once the winner is announced, you will have one week to contact me or another winner will be chosen. Be sure to check back. The only thing worse than not winning is to win but not realize it in time!
US Shipping addresses only please
We are sorry that this post was not useful for you!
Let us improve this post!
Tell us how we can improve this post?