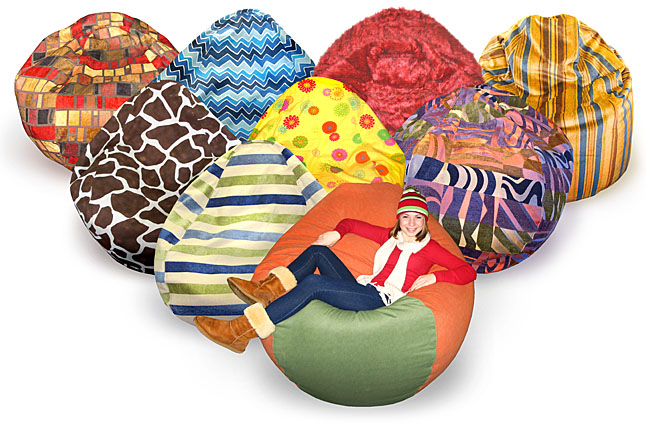 This post is written in partnership with Heavenly Bean Bags. All opinions are my own. 
Item: Bean Bags
Company: Heavenly Bean Bags
Website: HeavenlyBeanBags.com
Contact: Valerie (not me)
What child doesn't love a bean bag? I have fond memories of bean bags from childhood. Fond as they are, I also don't remember them being particularly comfortable.
Well! That has all changed with Heavenly Bean Bags! We were on our way out the door to the park one day when our bean bag arrived. We opened it up and the kids loved it. They decided to put the park off for a few minutes so they could spend some time with the bean bag first. After a few minutes, I got my turn. I was shocked at how comfy it was. When my husband got home from work, I had him try it out. Yep, comfy. This is something I wouldn't mind sitting in to watch a movie if I needed to, so I know it is comfortable enough for kids for sure! Here is Valerie's story:
Years ago, when I was a freshman at Samford University, I loved shopping in Birmingham's Galleria. Every time I went to the mall I would tire myself out and eventually find myself in my favorite store, The Bean Bag store. Being a poor college student and all, I knew I could not afford a bean, much less a bean bag chair. However, the owner of the store was incredibly kind and he let me sit in a bean bag chair and chat with him for hours at a time. One day he asked me why I had not bought a bean bag chair yet. I responded that I was broke. He went into deep thought and a few minutes later he asked me if I liked to baby-sit. I said, "definitely!" Well to make a long story short, I baby-sat his three precious children in exchange for a wonderful navy blue loveseat bean bag chair. It quickly became a popular gathering spot for the girls in my dorm and I loved it so much that I eventually ended up working at the Bean Bag store. I worked there on and off until I graduated from college.
Afer graduation I moved to Maine and worked at Chop Point, a wonderful Christian school and camp. I really loved it, but eventually had to move on. I got involved with a local church and helped create a youth ministry, but I found myself with very little time to spend with the kids and with a huge stack of bills. I began to seek a way to support myself without working 50 hours a week and all of the sudden I remembered The Bean Bag Store. I gave the owner a call, and he said it would be ok with him if I started my own business here in Maine. So here we are. I can't even begin to explain how excited I am about the whole thing. I never stopped loving my navy blue bean bag chair, and now my love for the product makes it really easy to sell. I can not end this story without giving all the credit to Jesus Christ, who knew he had a perfect plan for me (Jeremiah 29:11) though I had no idea what it was.
My children have had fun wrestling the bean bag, jumping on the bean bag, and snuggling up in the bean bag to read stories. We have loved ours.
Heavenly Bean Bags has all sorts of bean bags. Large to small. Loveseats to ottomans. There are six sizes to choose from! They also have lots of fabrics available, from polyester, to vinyl, to suede, to my personal favorite, the microfiber. They also have fun animal prints and color morphing fabric. They even go the extra mile. They will make a bean bag from fabric you supply if you want. You really can get the perfect bean bag to match your decor in your home.
These bean bags are made in the USA. Seams are triple stitched. One of my favorite features is that you can buy a removable cover. Then you can take the cover off, wash it, and put it back on. This also means you can change the cover down the road if you decide you no longer like neon pink. You never know. Some day, that might not be your favorite anymore 😉
We of course have to mention BABIES ARE NOT TO BE LEFT UNATTENDED IN/ON BEAN BAGS.
And Valerie is making it easy for you to get one of your own. Not only is there a giveaway, but a discount! The winner of the giveaway will win one small polyester recliner in the color of your choice! She is also offering a 10% discount. To get the discount, make your order by phone and mention this blog. You can get this discount through April–last day is April 30, 2010.
On to the contest! Per tradition, we will offer you seven chances to enter to win a beanbag of your own.
For Your First Entry:
Become a follower of this blog. Then leave a comment. If you are already a follower (the thing where your cute face pops up with all the other cute faces of people following), comment telling me so.
Sample Entry
I am a follower!
For Your Second Entry:
Go to heavenlybeanbags.com. Look around and come back and comment telling us which color you will choose if you win.
Sample Entry
If I win, I will choose chocolate. I love chocolate.
For Your Third Entry:
Become a fan of the Heavenly Bean Bags Facebook page. Come back and leave a comment saying you did so.
Sample Entry
I became a fan!
For Your Fourth Entry:
Visit the Heavenly Bean Bags Facebook page. Write on the wall and tell them what your favorite fabric is that they carry. Come back here and comment saying you did so.
Sample Entry
I commented on the wall!
For Your Fifth Entry:
Become a fan of this blog on Facebook. To become a fan, follow this link. Already a fan? Tell me so. Comment saying you are a fan.
Sample Entry
Hi! I am now a fan on Facebook!
For Your Sixth Entry:
Blog about the giveaway with a link to this post! You need to have a blog in order to blog about it. Once you have posted your blog (any blog will do), leave a comment with a link to the blog.
Sample Entry
I blogged it! valscreations.blogspot.com
For Your Seventh Entry:
Change your status on Facebook to talk about this blog giveaway with a link to this review. Leave a comment saying you did so.
Sample Entry
I changed my status!
ENTRY RULES
You must leave a comment in order to have an entry.
You must leave a separate comment for each entry. This is not so I can get lots of comments–it is because it makes it a million times easier to choose a winner. It takes less time, and less time is good.
You don't have to do all seven entries…for example, if you just want to tweet about it but don't want to enter through the other methods, you can just do entry seven.
One entry per comment.
Up to seven entries per person.
You must fulfill the rules of each entry for each entry to count. If I see the entry is not valid (did not meet entry requirements), I will remove your entry.
Entries will be accepted until 11:59 PM Friday, April 16 Mountain Standard Time.
The winner will be randomly selected at random.org
The winner will be announced Saturday, April 17.
If you would like, you can add your email address to your entry. If you are the winner, I will email you to let you know. You do not need to add your email address in order to win. I understand not everyone wants to share their email addresses with the world. I will announce the winner on the blog, so you can check the blog to find out if you won.
Once the winner is announced, you will have one week to contact me or another winner will be chosen.