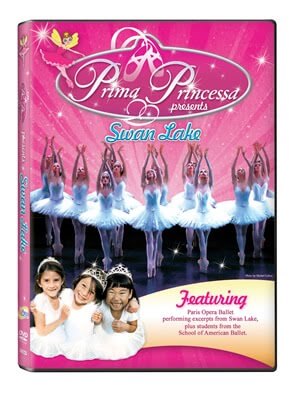 This post is written in partnership with Prima Princessessa. All opinions are my own.
Item: Ballet DVD
Company: Prima Princessa
Website: http://primaprincessa.com/
Kaitlyn really seems to like to dance. She has a lot of natural rhythm and she really enjoys it. So when Stephanie, co-owner of Prima Princessa, contacted me about their Swan Lake DVD, I was intrigued. I am definitely no ballet expert…by any means…but I know if something is fun and useful for my little girl.
We got the DVD and stuck it in. Stephanie had told me, "Kids can't resist putting on their ballet tutus and dancing along, watching our shows over and over and over again." I wanted to put this statement to the test, so I had her sit on the couch just like we always do for movies. I sat down also and we started the show.
At first, I was a bit concerned. Kaitlyn has a good attention span and all, but the show included dancing from the world-famous Paris Opera Ballet performing excerpts from Swan Lake. I wondered how she would like that. You know the whole stereotype of ballet being boring to watch…
She was interested from the start. The show is narrated in a child friendly manner by a cartoon fairy ballerina along with fun, fast paced dance-lesson-montages featuring students from the School of American Ballet, the official academy of the New York City Ballet. It also has little girls dancing around doing their versions of the ballet–and happily, they look like 3-6 year old girls would, not like professionally trained ballerinas (you, professional for a 3 year old 🙂 ). In my mind, this makes it much more child-friendly for the family sitting at home watching the DVD.
Before long, Kaitlyn asked me if she could get her tutu on. She also wanted some dress up shoes since the ballerinas on stage had shoes. So she had her shoes and tutu and danced along. She was even able to follow the story line told by the cute little narrator. When it was over, she wanted to do it "again, and again, and again."
When she saw her Daddy for the first time that day, it was the first thing she talked about. She really enjoyed it.
The website is pretty neat, too. Stephanie says, "Our ballet web-site is quickly becoming The Complete Ballet Resource: with listings of 100s of ballet schools and summer camps, a ballet dictionary, listings of where to buy ballet tutus, free ballet coloring pages and much more."
Here is a bit about the series:
The producers of the "Prima Princessa" DVD series, Stephanie Troeller and Mary Kate Mellow, are both mothers of dance loving daughters, who were the original source of inspiration for the series. Each DVD in the series has the cartoon fairy ballerina Prima Princessa escort a group of pre-schoolers on a magical journey to see a live performance of a classic storybook ballet, delightfully narrated so children may fully understand the plot. Between acts, they return home and in fun colorful montages of toys, animals, and kids, they learn ballet steps from students at the School of American Ballet, the official academy of the New York City Ballet.
The creative duo is motivated by a deep desire to bring the beauty and wonder of ballet into the lives of young children who otherwise might not have that opportunity. Their goal is to inspire a trend in children's programming towards the arts, where we raise the bar of entertainment to be culturally and intellectually enriching as well as just plain fun. Judging by the more than 175 amazing reviews of the Prima Princessa DVDs, children, parents, and critics agree that Prima Princessa is well on her way.
.
Are you interested in trying this out for your little one? Prima Princessa is giving a way a copy of their Swan Lake DVD! You will have five chances to win a copy. Due to the business of summers, you will also have two weeks to get all of your entries in. Here is how to enter:
For Your First Entry:
Become a follower of this blog. Then leave a comment. If you are already a follower (the thing where your cute face pops up with all the other cute faces of people following), comment telling me so.
Sample Entry
I am a follower!
For Your Second Entry:
Go to the Prima Princessa website. Look around and come back and comment telling us you think the neatest feature is of the website.
Sample Entry
I love the list of ballet schools! Very useful!
For Your Third Entry:
"Like" this blog on Facebook. Already do? Tell me so. Comment saying you follow through Facebook.
Sample Entry
Hi! I am now follow through Facebook!
For Your Fourth Entry:
Blog about the giveaway with a link to this post! You need to have a blog in order to blog about it. Once you have posted your blog, leave a comment with a link to the blog.
Sample Entry
I blogged it! valscreations.blogspot.com
For Your Fifth Entry:
Grab my button and put it on your blog. Then leave a comment saying you did so with a link to your blog. Already have it? Comment saying so.
Sample Entry
I grabbed it! valscreations.blogspot.com
For Your Sixth Entry:
Tweet about the giveaway. Then comment saying you did so. Include your twitter ID (not mine)
Sample Entry
I tweeted it! @valplowman
There you have it! Good luck to everyone! And if you don't win, you can find this DVD on Amazon.com
.
Entry Rules
You must leave a comment in order to have an entry.
You must leave a separate comment for each entry. This is not so I can get lots of comments–it is because it makes it a million times easier to choose a winner. It takes less time, and less time is good.
You don't have to do all six entries…for example, if you just want to like this blog on facebook but don't want to enter through the other methods, you can just do entry three.
One entry per comment.
Up to six entries per person.
You must fulfill the rules of each entry for each entry to count. If I see the entry is not valid (did not meet entry requirements), I will remove your entry. Trust me, I check.
Entries will be accepted until 11:59 PM Sunday, July 11 Mountain Standard Time.
The winner will be randomly selected at random.org
The winner will be announced Monday, July 12.
If you would like, you can add your email address to your entry. If you are the winner, I will email you to let you know. You do not need to add your email address in order to win. I understand not everyone wants to share their email addresses with the world. I will announce the winner on the blog, so you can check the blog Saturday to find out if you won.
Once the winner is announced, you will have one week to contact me or another winner will be chosen.