Parenting on a Schedule Can Be Hard. There can be rules to follow. You don't go anywhere you just feel like it. Even so, the difficulty is worth the benefits of a schedule.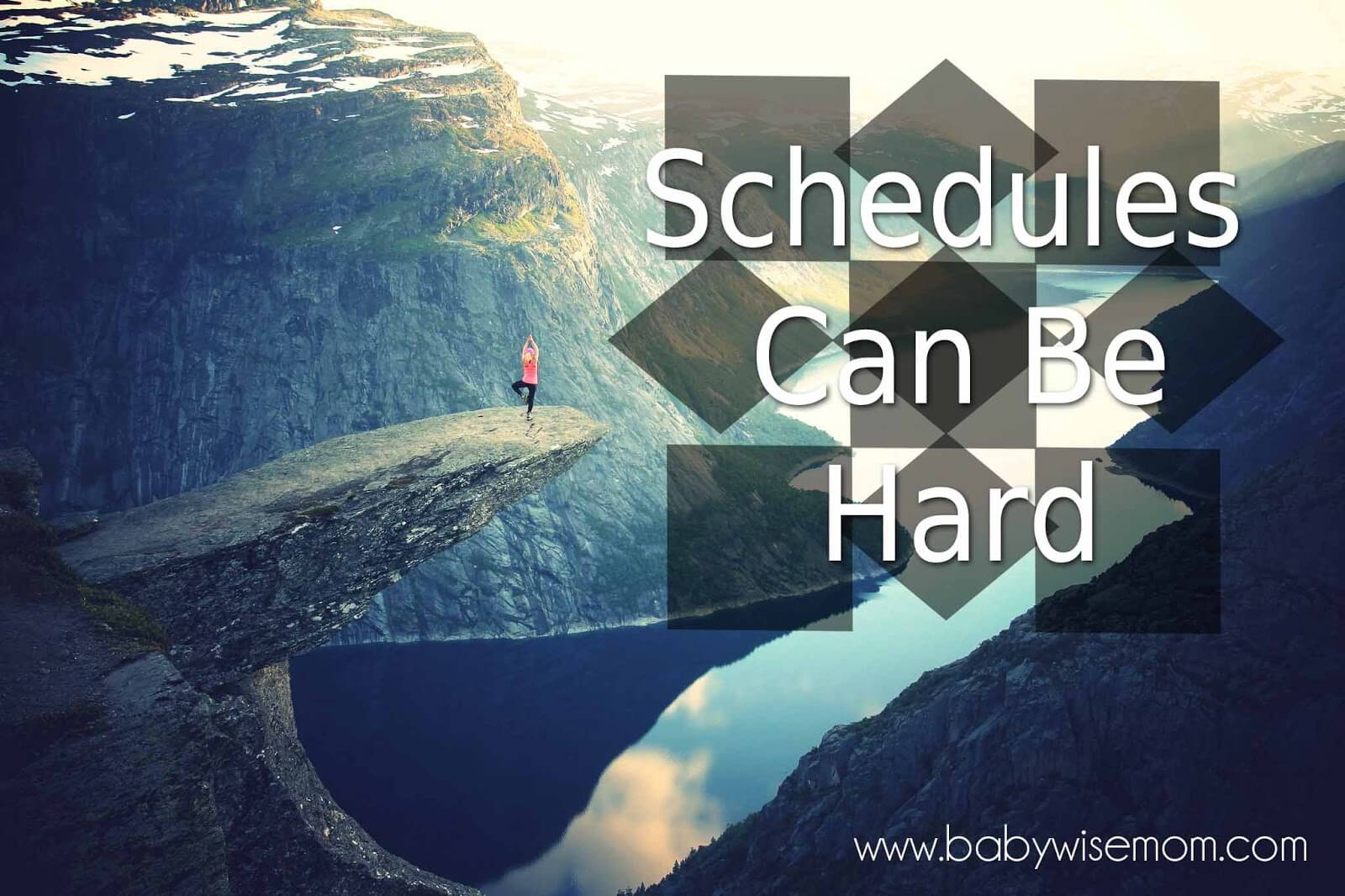 Do you ever feel like the fact that your baby is on a schedule makes your social life more difficult? I feel that way sometimes. Our kids have naptimes and bedtimes. Because of that, we don't stay out as long as other moms/families.
Once a week, we have a park day with a large group of moms. We are usually the first ones to leave so we can go home and take naps. It has been that way since Brayden was a baby. At night, if the fun isn't happening at our house, we miss out on it early because our kids need to go to bed.
That is the way life is with a schedule. We all know the many benefits of the schedule (read here for some Benefits of Structure and Routine ), and we believe in the schedule. We are willing to sacrifice our social lives in order to give our children the best. That is part of being a parent. However, that doesn't mean we are always happy about it or that it isn't hard at times.
The schedule doesn't mean we never tweak it. Sometimes we stay at the park later that day than usual even though that doesn't fit the schedule. Some nights, we are out later than bedtime. The kids are flexible. But we know we can't do that every night.
Let me assure you, non-schedules are also hard, but for different reasons. What has spurred my thoughts today? Well, this past weekend we went and camped at a lake with six other couples. Two of the couples don't have any children yet. Four do.
While there, Kaitlyn (15 months old) went to bed a little later than usual, but not by much. She also took her two normal naps. Everyone was shocked that she sleeps so well. They were all impressed. She was a happy little girl the whole time, as usual. Brayden (3 years old) went to bed a couple of hours late and didn't take a nap at all, but he is old enough to have that much flexibility every so often. By the end of the day, he wasn't as happy as usual, but not bad. He just wanted to relax (very unlike him) and go to sleep (also unlike him). Honestly, everyone there felt the same way :).
So what about the families without schedules? Two families had older children (teenager and pre-teen)–they were fine. Two families had toddlers. The younger toddler cried and was clingy all day. The mom couldn't figure out what was wrong with her. She wouldn't sleep at all. The older toddler (he is older than Brayden) did okay. He is accustomed to no schedule. But he also got meaner as the day went on.
This family has a son 6 months older than Brayden and a daughter 7 months younger than Kaitlyn. As I was talking to the mom about schedule/non-schedule lives, I came to see that her non-schedule life is hard too. Hard for different reasons. Her social life is in full swing. But there is no predictability in it. There is no routine. They have their challenges because of it. For them, that is what works and what they prefer. For my family, that wouldn't work. That is just not the way my husband and I are.
My point is, as you lament your limitations because of the schedule, keep in mind the benefits that come because of a schedule. My husband and I enjoyed ourselves on this trip. Kaitlyn was perfectly happy the whole time. She slept well. Brayden slept well (at sleeping times) and was good and obedient. People who live without schedules have their own, unique difficulties. You just have to know yourself and know which difficulties you want to deal with. As a parent, you will always have them.
Also, be aware of the things you can do to alleviate some of those difficulties associated with a schedule. One is you can get a babysitter. This is especially easy for scheduled kids. Your kids go to bed by, say, 8 PM. So you hire a sitter to come over at 7:30. You help get the kids to bed. The sitter is there so the kids know there is someone different in case they wake up for any reason. Then you leave and go have fun for the night. You come back home at your appointed hour. You have worried little about your kids because you know they are just sleeping. The sitter had an easy time and is very willing to come back again.
Another thing we often do is host at our house. That way we can put the kids to bed and still do stuff afterward.
Life is always different with kids, for good and bad. You can come up with ways to still have fun and enjoy your position in life, with and without your children. Yes, schedules can be hard and limiting, but so can non-schedules. For me, parenting on a schedule can be hard, but it is absolutely worth it.
Read more on schedules here: