Summer fun is coming our way. I can feel it and I am READY for it. In preparation for summer, I am doing some thinking ahead. I have tried the "free and easy" summer approach before, and that didn't go so well. That was fine and dandy for the short-term, but we need some structure. Included in that structure is time for fun, free-play, and relaxing.
You can set your structure up as loose or tight as you wish. Do what works for your family this summer. Notice I said this summer, not all summers. You will find some summers, you can be more go with the flow, while others, you will need a pretty tight routine to keep everyone happy and pleasant. That means you only need to worry about works now, not try to find a one-size option for the rest of you child's childhood.
You can do things away from home–you can do a summer camp. You can do a stay-cation or vacation. You can have fun with benefits at home. You can teach your child some new life skills. You can implement daily sustained silent reading (FABULOUS!). You can also plan fun things just at home. Here are some things we have recently acquired that we love for summer fun. This post contains affiliate links. This does not increase your cost at all.
Balls

Balls are great for backyard family fun. If you don't have a backyard, they are great to take to the park for fun, too!
Soccer Ball: For Christmas, Kaitlyn wanted, above all else, a really nice soccer ball. Well…I wasn't interested in spending $$$$ for a really nice soccer ball for a 9 year old. I consulted with her coach and he recommended a nice one that doesn't break the bank.
A Waboba Surf Ball is so fun for playing in any type of water. We have done the pool and the lake with great fun all times. This ball bounces on water. At McKenna's birthday party, this ball was the big hit.
A dodgeball is super fun for playing all sorts of games, like kickball, four square, and dodgeball. This is a great type of ball if your child doesn't have a specific sport interest because it can be used in a variety of ways.
Whatever your children are interested in right now, get a ball for that sport and have fun with it.
Sporting Equipment

Balls aren't the only way to have fun outside. There are a lot of other ideas out there.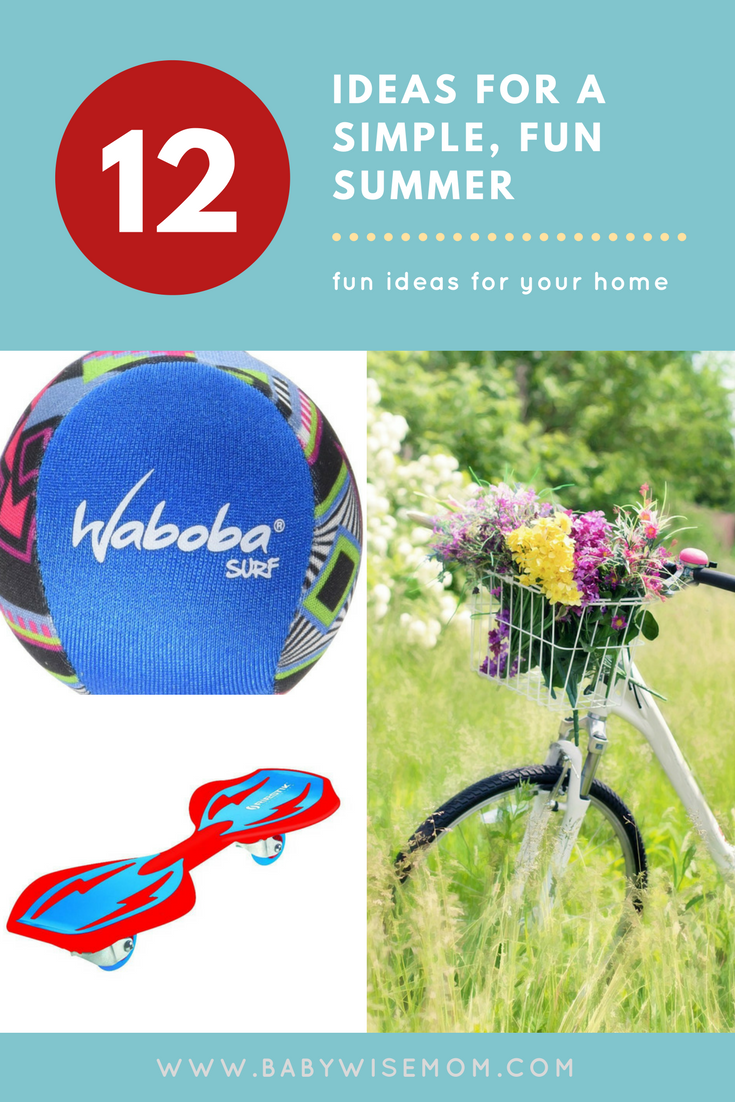 Outdoor Space
If you are spending time in your backyard, you will enjoy having a few amenities to make things a little easier for yourself.
Mosquito killer. I didn't know this was a possible thing until last year. It made a huge difference! This just makes the time we spend outside so much more enjoyable for me and for those of my children who are allergic to the mosquitoes!
Bistro table. Having a little sitting area to eat a snack, drink a smoothie, or read a book is so nice for your outdoor space. This is the little bistro table we have.
Outdoor movies. We love to do outdoor movies at night during the summer. It is such a fun way to spend some time and the kids think it is amazing. It is more exciting than a movie theater! My kids love having friends over for late-nights to do outdoor movies. You need a projector (we have had this one for two years and still love it), a screen (or sheet or white tarp–we used this white tarp until a neighbor gave us his old screen), a dvd/blu-ray player, and speakers. My husband bought some outdoor speakers over the winter so we can have the speakers all set up so he doesn't have to set all of that up every time we have a movie night. Before that, we just used an old stereo.
Garbage can: A reality of outside time is garbage happens. Life is made a little easier if you have a garbage can out there, and we all need little things to make life a little easier. This is the one we have. We have been testing it and really like it, so I will be getting a couple more since our yard is pretty large.
Ice cream scoop: Come on now. You need a great scoop to eat that ice cream this summer. This is the one we have and I really like it. It washes in the dishwasher and is easy to use. If you want an easy way to make ice cream at home, this is the ice cream maker machine we have and it is fantastically easy.
Related Posts/Blog Labels (click on images to read post):