How to create your own DIY Emergency Preparedness Binder. Get tips for what to include and how to track it all.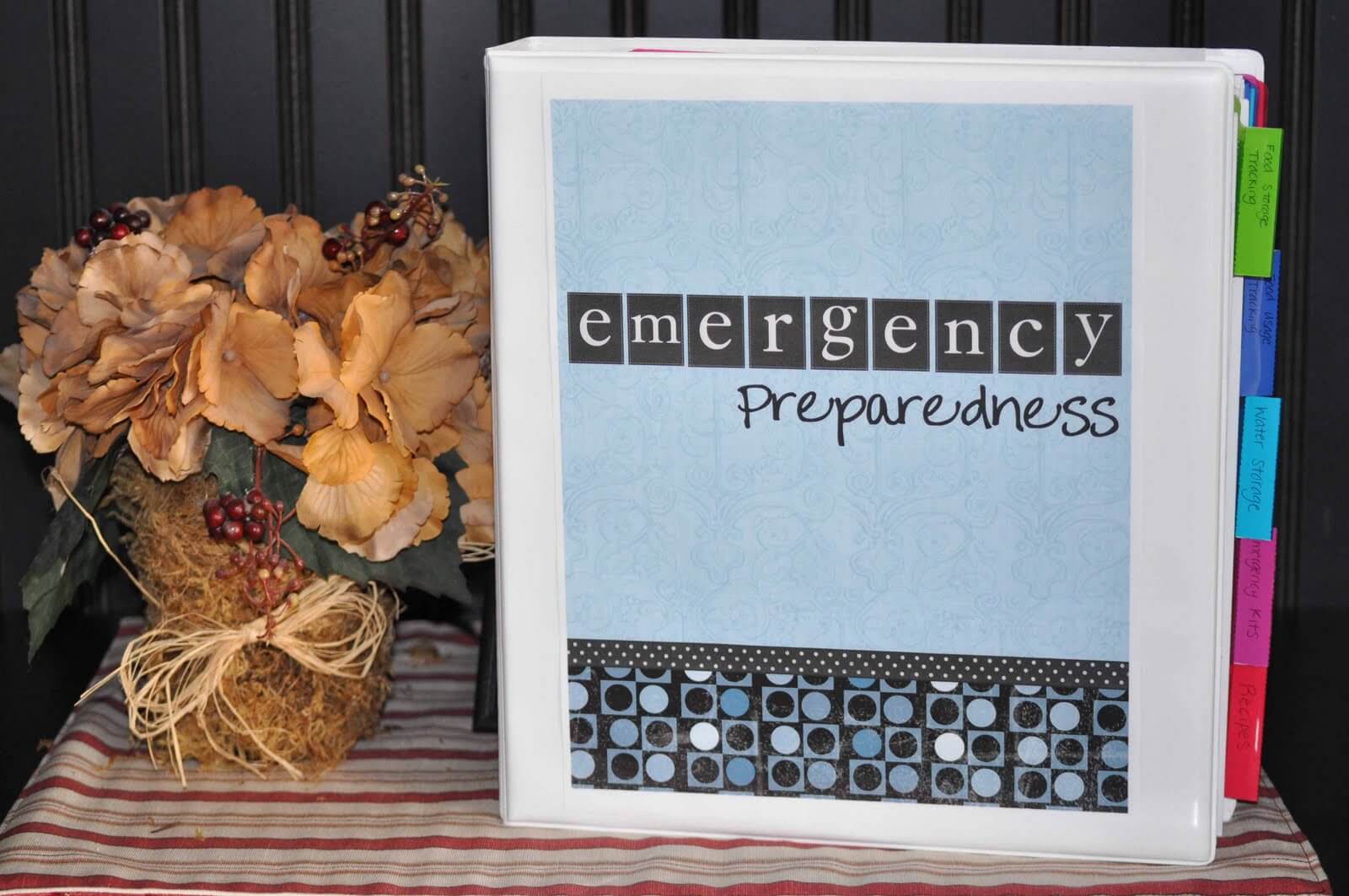 For a while now, I have been working on making an emergency preparedness binder
. I wanted to have a place to keep everything organized and tracked. I am not at perfection (I am sure it will take me years), but I think I am far enough to share my progress so far so you can get thinking about how to track your own emergency preparedness items.
When you open my binder, the first thing you see is my 6 Month Check List. I like to review things every six months. So this is as list so I know if I have done it all and to remind myself what I am doing. On my list are:
Check smoke detectors
Food storage inventory
72 Hour kit updates
Safe Inventory
Finance Inventory
Car Kits
I build these things up slowly, so every six months I do an inventory and give myself a goal for that next six months.
I then have five tabs for five different sections. They are Food Storage Tracking, Food Usage Tracking, Water Storage, Emergency Kits, and Recipes.
Food Storage Tracking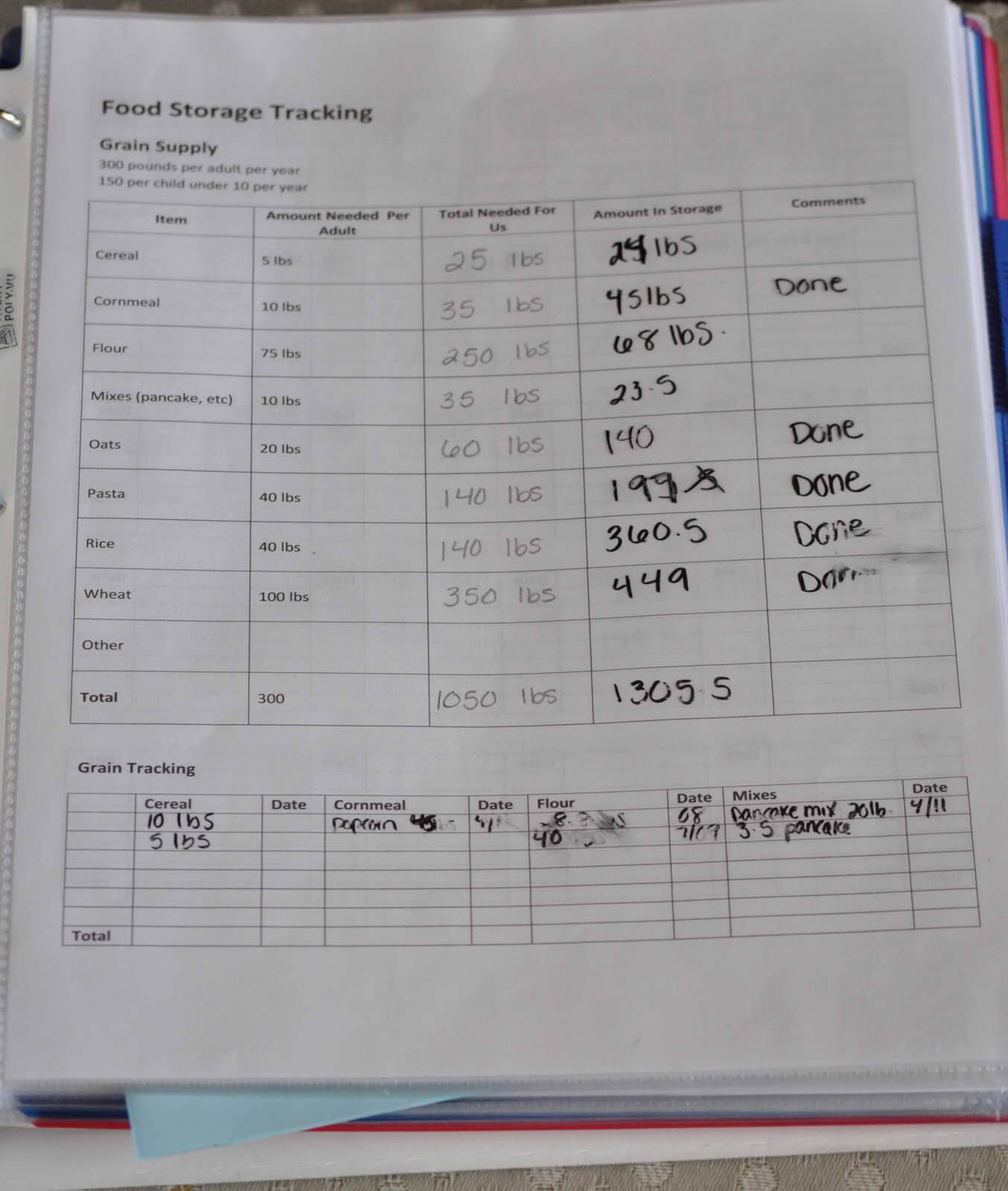 The first section is my food storage tracking. In this section, I list every major group of food (grains, legumes, dairy, fats/oils, sugars, fruits, etc.).
I start by calculating how much we need for our family for one year (OH! PS–our new goal is one year of food storage–we are almost done!).
I then count and track how much our family has stored at the time. This is all in one table. Then I can easily glance at my table and see what I still need.
I then have more tables where I can list what I have bought since the calculations so I don't have to update numbers constantly.
Food Usage Tracking
The next section is my food usage. This is where I attempt to figure out how much of any given category we eat in a year. This is my plan.
I evaluate how much we have. So say on April 1, I do my evaluations. I write down our total pounds of each category.. So say for rice I had 360 pounds.
Six months later, I evaluate again. So October 1 I do evaluations (inventory). October 1, I have 300 pounds of rice left. So that tells me we went through 60 pounds of rice in six months. My guess would then be we would use 120 in a year. But I would do an inventory in another six months because eating habits change in winter and summer.
This is my attempt to make sure we store what we use and eat–and that we store the correct amounts.
My mom makes fun of me for some of the things I store. She tells me I won't be making cookies if I am in a "food storage usage" position, but I am here to tell you, cookies will be made! (Party at my house in case of natural disaster).
Water Storage
My next section is water storage. I have water storage guidelines (how to safely store, how to purify, and how much to store). I also have water storage tracking sheet here.
Emergency Kits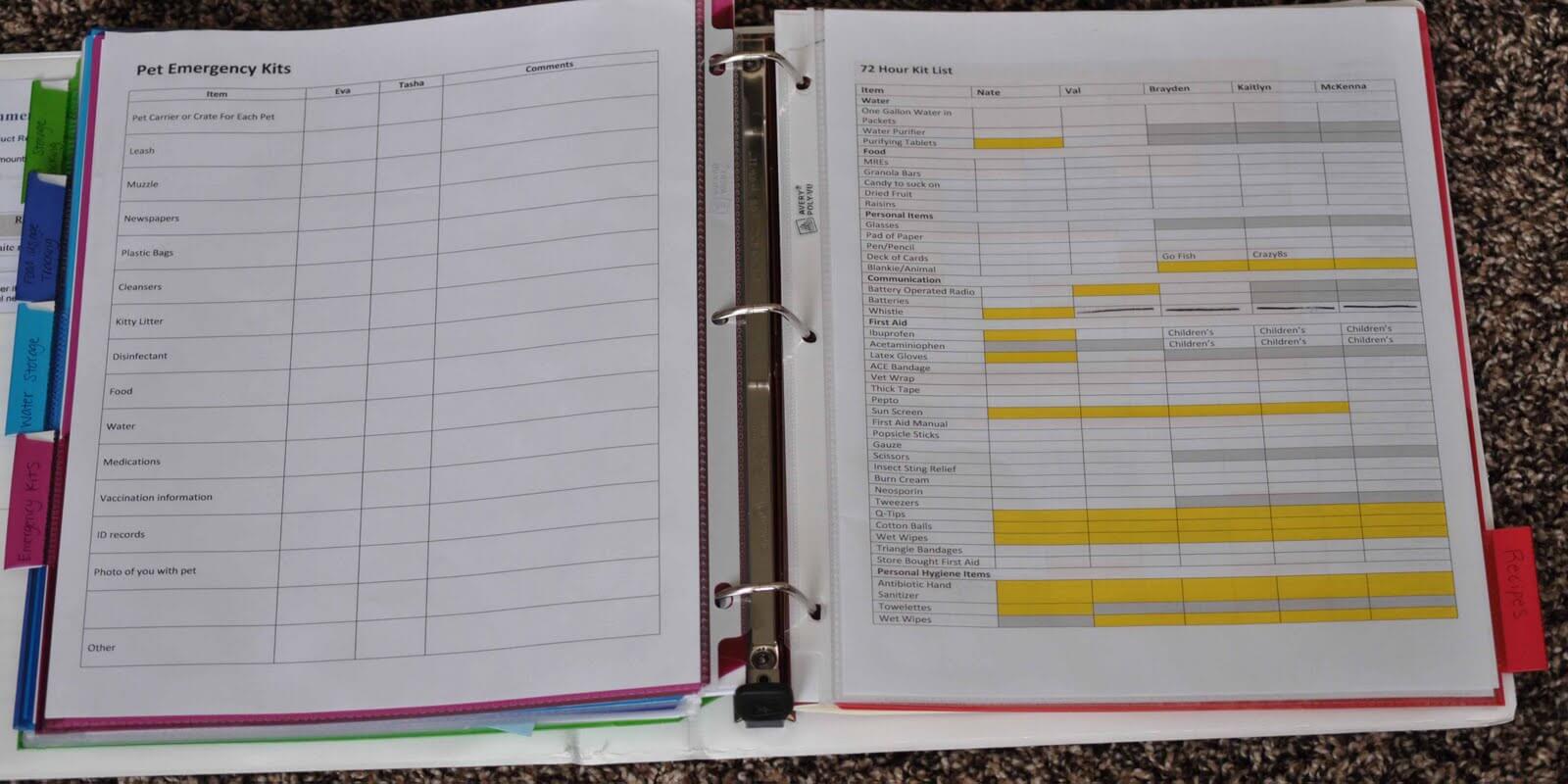 The next section is a broad one: emergency kits. This includes our emergency car kits, our pet emergency kits, our 72 Hour Kits, and our Important Documents list.
I have a table made for each type of emergency kit. It includes what we need and places to mark off what we have.
My trusted documents list includes a column for our 72 hour kits, various safes, and trusted contact.
Recipes
Last, but not least, is recipes. This is my collection of foods you can make entirely from food storage items. This way, we will be able to use everything we have stored. These are beyond my every-day usage–just food storage recipes.
Details
I hate to print paper over and over, so I am always trying to find ways to print once and use repeatedly. I have made several books that I have printed, laminated, and use a wet-erase marker on and it works really well.
But I figured my emergency preparedness needs would be more dynamic that that–meaning to laminate and bind something would lock me into something that I might want to change 6 months from now.
So I went with page protectors. I figured the wet erase would work on those, too. They work, but not well. They smear easily (see my picture under "food storage tracking")–at least on the page protectors with no texture to them. So I might try writing in pencil and erasing until things look bad enough I need to print a new paper.
Conclusion
There you have it! I would absolutely love to hear how you keep track of your food storage and emergency kits/documents! Please share ideas!
Related Posts