The very best chocolate cake recipe you will eat, and it is zucchini! You will love this delicious way to use up your squash.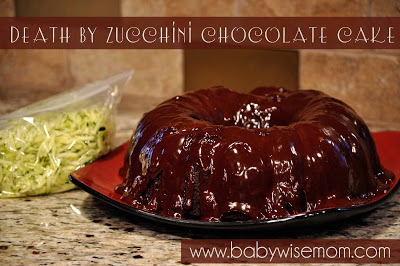 Best chocolate cake EVER. Best. And I do not say that lightly.
Best.
This is so rich. And it isn't one of those recipes where you have chunks of zucchini in it still. But I am sure to tell my kids there is zucchini because I want them loving and appreciating the vegetable.
If you grow zucchini, you know you have to get creative in using it (and if you don't, but know someone who does, casually mention you don't grow it…they will claim you as their own and deliver it to you regularly).
I found this on Pinterest–here is the direct link.
Death By Chocolate Zucchini Cake
 Source: The Repressed Pastry Chef
Ingredients
For the Cake:
1/2 cup butter
1/2 cup vegetable oil
1 3/4 cups granulated sugar
1 teaspoon vanilla
1 teaspoon baking soda
1/2 teaspoon baking powder
1/2 teaspoon salt
2 large eggs
1/2 cup sour cream or yogurt
2 1/2 cups Flour
2 cups shredded zucchini
3/4 cup Hershey's Special Dark Cocoa Powder
1/2 cup Hershey's Special Dark chocolate chips
For the Ganache:
1 1/2 c. Hershey Special Dark Chocolate Chips
Approx. 1 1/4 c. Heavy Whipping Cream
Instructions
Add all ingredients into the bowl of a stand mixer, reserving the zucchini and chocolate chips, and mix with a paddle attachment until a smooth batter forms.
Using a large rubber spatula, fold in the zucchini, and then the chocolate chips.
Grease a bundt cake pan liberally with shortening. Dust with cocoa powder.
Spoon batter into the pan. Bake at 325º for 45-55 minutes, until toothpick inserted comes out clean.
Let cool in pan for about 15 minutes. Then flip onto plate.
For the Ganache:
Place chocolate chips in a microwave safe bowl.
Pour the whipping cream in until almost level with the chocolate chips.
Microwave for 1 minute.
Whisk until smooth.
Spoon over the cake before serving.
NOTE–we tried this with white chocolate chips for the gnache instead of dark chocolate. My husband liked it better, but I didn't. I think peanut butter chocolate chips would be fun, too.
Other Recipes on this Blog