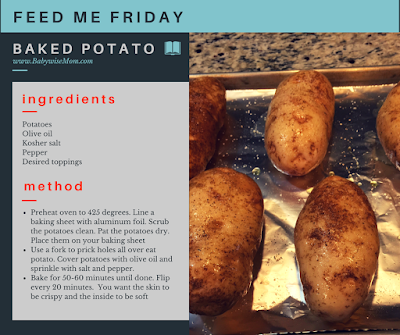 I am all about feeding my family for cheap. I typically spend right around $100 a week on groceries to feed my family of six. I accomplish this by meal planning, buying things when they are on super sale (like, I am the crazy lady buying 30 jars of spaghetti sauce at a time), and by trying to have inexpensive meals every so often. My trouble with this goal is that I like variety in my diet. I seriously have a hard time eating the same food for dinner within 30 days. If I made spaghetti for dinner last week, I can't do it next week. It needs to a be a month or more after last week.
During the winter, however, I make baked potatoes twice a month. We live very close to the southern border of Idaho, and we get a 50 pound bag of potatoes for $10. Pretty awesome! And pretty cheap. I have to swallow my issues with the 30 day rule and embrace the baked potato.
A few months ago, I came across a life-changing way to bake a potato. I have always really liked baked potatoes. It isn't uncommon to see me ordering that as my potato choice in a restaurant. But if I am going to eat it twice in one month, it needs to be fantastic. Amazing.
I found it.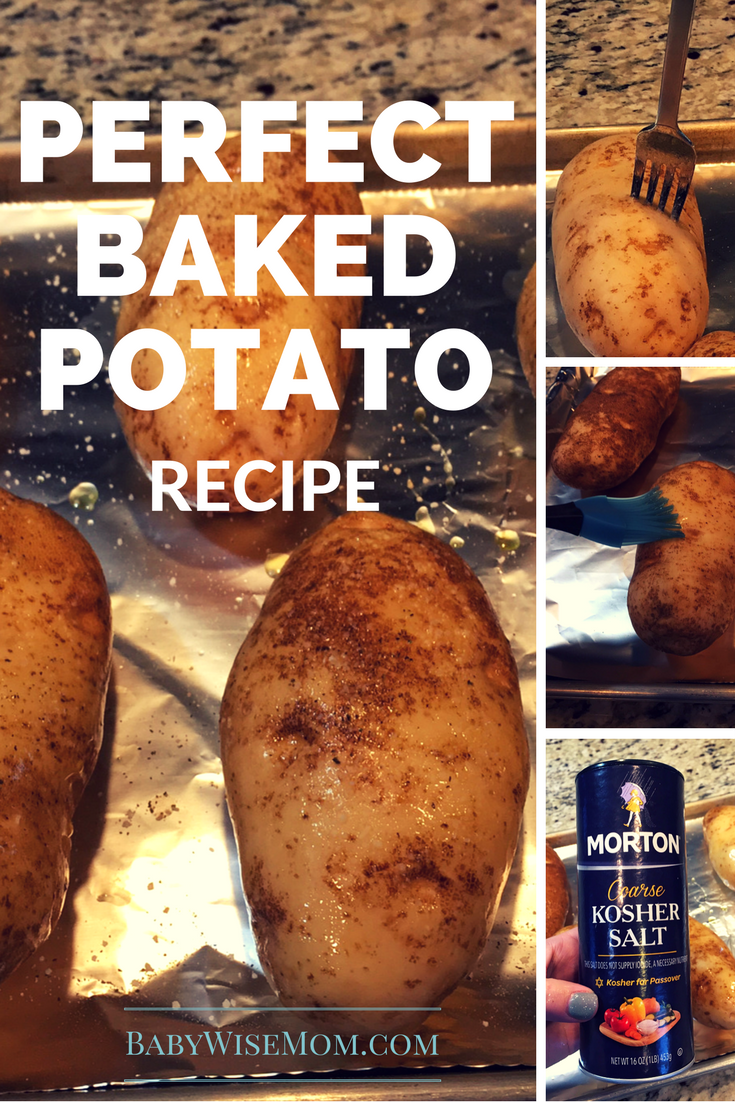 You must know about it.
So here I am.
Ingredients:
Potatoes (I use Russet)
Olive oil
Kosher salt (this is the life changing part)
Pepper
Desired toppings
Method:
Preheat oven to 425 degrees
Line a baking sheet with aluminum foil
Scrub the potatoes so they are nice and clean
Pat the potatoes dry. Place them on your baking sheet
Use a fork to prick holes all over eat potato
Get a little bowl and pour some olive oil in it. Get a baster (affiliate) and coat olive oil all over each potato. You can of course just use your hands if you want to
Sprinkle the potatoes with salt and pepper. I sprinkle one side then flip and sprinkle the other. I think this is the key step to getting delicious potatoes.
Bake for 50-60 minutes. Flip every 20 minutes. I bake for at least 60 minutes. I do six potatoes at a time, and our potatoes are pretty big. I either squeeze the potato to see if it is done or I poke it with a fork. You want the skin to be crispy and the inside to be soft
Serve:
To make getting the inside out easier, squeeze the potato all over before you cut it open. If it is super hot and you can't wait for it to cool down some, you can press it with a fork.
Cut the potato in half. Scoop out the inside.
Put your favorite toppings. We like butter, sour cream, cheese, chili, bacon, ham, peas, broccoli, salt, and pepper (not all of those things at the same time! But it is your potato…)
I also load some toppings into my potato skins. That is my favorite part of any baked potato! My favorite is just butter and sour cream.