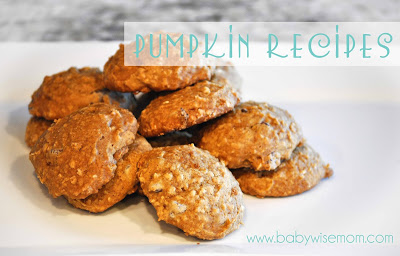 I super-love pumpkin recipes. Super. I know it isn't a major favorite of everyone out there–my dad doesn't think vegetables should be mixed with desserts, but I love them! And as against pumpkin dessert recipes as my dad is, he even concedes the ones I am sharing with you today are delicious. And you really need several ideas because if you open a big can of pumpkin, you will need several recipes to use it all up!
Pumpkin Cookies
This is the best pumpkin cookie recipe! I took these to my Sunday School class full of 16 year old boys and they were gushing over how good they were–this is significant because 16 year old boys usually just eat without commenting on flavor. It also makes a ton–I get 5-6 dozen out of this recipe. That is enough to take treats around to your neighbors!
Ingredients
4 cups unsifted flour
2 cups oats
2 tsp baking soda
2 tsp ground cinnamon
1 tsp salt
1 1/2 cups butter, softened (I make these with 1 cup applesauce and 1/2 butter)
2 cups packed brown sugar
1 cup granulated sugar
1 egg
1 tsp vanilla
1 can (16 oz) pumpkin
1 cup chocolate chips (but I just use the whole bag)
Steps
Combine dry ingredients a mixing bowl
Combine wet ingredients in a separate mixing bowl
Add wet ingredients to dry ingredients. Mix together. (When I make this, I just throw it all into my Bosche at once and let it mix it up).
Drop onto greased cookie sheet.
Bake at 350 for 20-25 minutes.
Pumpkin Shake
For each shake, you need:
1 scoop softened vanilla ice cream
1 T canned pumpkin
1/2 cup milk
Dash of cinnamon
Mix ingredients together and then eat!
Pumpkin Latte
For each latte, you will need:
1 cup milk
1 T vanilla
1 T sugar
1 T pumpkin
1/8 tsp cinnamon
pinch cloves
pinch nutmeg
tiny pinch ginger
Whisk ingredients together and heat in a saucepan.
Pumpkin Spice Ice Cream Sandwiches
This is my favorite pumpkin recipe. It is from Our Best Bites
http://www.ourbestbites.com/2008/10/pumpkin-spice-ice-cream-sandwiches/
Pasta With Pumpkin Alfredo
Pumpkin recipes don't have to be just desserts–it goes really well with pasta too! We enjoyed this recipe from Our Best Bites:
http://www.ourbestbites.com/2008/11/pasta-with-pumpkin-alfredo/
And by the way, the regular alfredo sauce recipe linked in that recipe is AMAZING.
Do you have a pumpkin recipe you love? Please share!
Other Recipes on this Blog