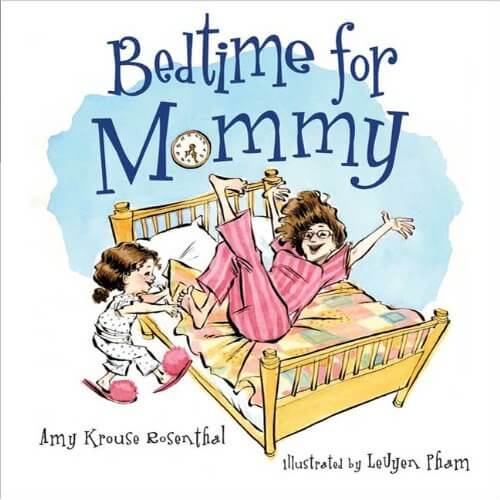 Item: Children's Book: Bedtime For Mommy

Author: Amy Krouse Rosenthal
Illustrator: LeUyen Pham
Website: BedtimeForMommy.com
I was given a free copy of this book so I could review it for you before talking about it. All opinions are my own.
If you read this blog, you know that I am a huge advocate of reading to children. I grew up loving to read, and even as a child I knew that was thanks to 1)my parents reading to me and 2)seeing my parents read their own books all the time.
So I am so happy to review this newly released children's book! This book is very fun. The first night I read it to Brayden, he laughed and laughed the whole way through. This book is a role reversal book where the daughter puts the mommy to bed. Brayden loves that "The girl is in charge of the Mommy!" I like this book and definitely recommend it to you. Now, on to some additional info on the book, the author, and the illustrator:
It's time to stop working for the night. Put on your pajamas and go to bed. Did you brush your teeth? Okay, you can have five more minutes to read Bedtime for Mommy by Amy Krouse Rosenthal illustrated by LeUyen Pham, but then lights out.
In this reversal of the classic bedtime routine, a little girl puts Mommy (and then Daddy) to bed. New York Times bestselling author Krouse Rosenthal and illustrator Pham coax laughs and love out of life's common moments—even the exasperating ones. Bedtime for Mommy brings the struggles of bedtime to light with humor both kids and adults will understand and appreciate. For more information on the book, its creators, and the Bedtime for Mommy consumer contest, visit http://www.bedtimeformommy.com/.
Amy Krouse Rosenthal is the bestselling author of the Little Pea, Cookies: Bite-Size Life Lessons, Spoon and Duck! Rabbit! Her books for adults include Encyclopedia of an Ordinary Life and The Belly Book. She is the creator of the interactive film project The Beckoning of Lovely. Her blog, Miss(ion) Amy K.R., launched in January 2010 by WBEZ, Chicago's NPR affiliate, where she has been a longtime contributor. She lives in Chicago with her family. Visit her online at http://www.amykrouserosenthal.com/.
LeUyen Pham is the award-winning illustrator of Julianne Moore's Freckleface Strawberry books and Alexander McCall Smith's Akimbo series, as well as author and illustrator of Big Sister, Little Sister. She lives with her family in San Francisco. Visit her online at http://www.leuyenpham.com/.
Here is a short review from Patricia Austin of Booklist, the review journal of the American Library Association.
Eschewing the typical scenario of readying children for bed, Rosenthal tickles toddlers' funny bones with a role-reversal tale in which the child gets Mommy ready for bed. Working at her computer, papers askew, a harried and bespectacled mom pleads for five more minutes. Wearing a self-satisfied smile, the freckled child times her and then pushes her up the stairs to her bath. Pham cleverly submerges Mom in a bubble bath while the determined child scrubs her toes. Mom then gives thumbs-down to several attempts at picking tomorrow's outfit, exuberantly bounces into bed, bargains unsuccessfully for two books tonight (they curl up with Anna Karenina), and begs for a glass of water. Watching the clocks will provide added amusement (it takes one hour to get Mom tucked in, and then it's Dad's turn). With the entire text in speech bubbles and humorous, uncluttered watercolor paintings surrounded by lots of white space, this switcheroo book is a perfect bedtime choice. Preschool-Kindergarten. –Patricia Austin
Isn't that cute? Well, you can own it! They have been very generous and are giving away four copies of the book! Want to enter? We will do five entries, one per book, plus a bonus. Here is how:
For Your First Entry:
Become a follower of this blog. Then leave a comment. If you are already a follower (the thing where your cute face pops up with all the other cute faces of people following), comment telling me so.
Sample Entry
I am a follower!
For Your Second Entry:
Like this blog on Facebook. Already "like" it? Tell me so. Comment saying you are a fan.
(FB changed "fan" to "like")
Sample Entry
Hi! I like this blog on Facebook!
For Your Third Entry:
Blog about the giveaway with a link to this post! You need to have a blog in order to blog about it. Once you have posted your blog (any blog will do), leave a comment with a link to the blog.
Sample Entry
I blogged it! valscreations.blogspot.com
For Your Fourth Entry:
Change your status on Facebook to talk about this blog giveaway with a link to this review. Leave a comment saying you did so.
Sample Entry
I changed my status!
For Your Fifth Entry:
Tweet about it with a link to this post. Then leave a comment saying you did so. Include your Twitter ID. (HINT: You can click on the share button at the bottom of the post and choose Twitter. It will automatically set you up with the tweet!).
Sample Entry
I tweeted it! @valplowman
ENTRY RULES
You must leave a comment in order to have an entry.
You must leave a separate comment for each entry. This is not so I can get lots of comments–it is because it makes it a million times easier to choose a winner. It takes less time, and less time is good.
You don't have to do all seven entries…for example, if you just want to tweet about it but don't want to enter through the other methods, you can just do entry seven.
One entry per comment.
Up to seven entries per person.
You must fulfill the rules of each entry for each entry to count. If I see the entry is not valid (did not meet entry requirements), I will remove your entry.
Entries will be accepted until 11:59 PM Friday, April 30 Mountain Standard Time.
The winner will be randomly selected at random.org
The winner will be announced Saturday, May 1.
If you would like, you can add your email address to your entry. If you are the winner, I will email you to let you know. You do not need to add your email address in order to win. I understand not everyone wants to share their email addresses with the world. I will announce the winner on the blog, so you can check the blog to find out if you won.
Once the winner is announced, you will have one week to contact me or another winner will be chosen.