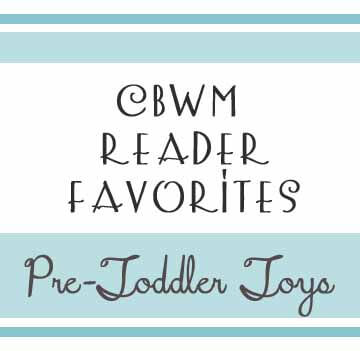 Okay readers, what are your favorite toys for the toddlers 12-18 months old?
Please share the name of the toy and a brief reason why you/your child likes it. You can also add a link to be sure I will be able to identify the correct toy when I move it to the main body of this post. Thanks so much! (This post contains affiliate links).
Erika said…
My 16 month old DD LOVES her Playskool Busy Ball Popper
. She is obsessed with balls which this has and she is obsessed with music and dancing which this also has. She plays with it during IP and FP both. I think I actually heard about the toy from someone on this site so thank you so much!!
dyhale said…
My daughter is 13 months, and her favorite things right now are wooden puzzles
, picture books, and blocks. She has a few toys with batteries that she likes, but the things without batteries by far hold her attention longer!
Elemenosqueeze
by B. Toys – The set has 26 squeeze blocks, each with a letter and objects that start with that letter. The blocks are in a variety of shapes for building all kinds of fun things and then knocking them over, of course 🙂
First 100 Words
by Bright Baby – It is a large board book with 100 pictures labeled. I like it because the photos are realistic instead of cartoon-looking.
Stack and Smile Photo Blocks
– My daughter has enjoyed these for months. I filled them with photos of family members and common objects. We incorporate them into our block basket and she loves looking at the photos while we play.
Photo Book – I made my daughter a photo book at shutterfly.com that is all about her. I included photos of her playing with various things, taking a bath, eating, napping, etc. I labeled every page with a simple sentence that describes what she is doing. She's had it for about 3 months and still looks at it multiple times a day.
the Shipe's said…
My son who is about to turn 18 months loves playing with the Parents brand Mirror Pound-a-ball
toy from Target.http://www.buybuybaby.com/product.asp?sku=15054336&
He loved/s playing with basic, inexpensive bounce balls from Walmart.
He also loved/s his Little Tikes Cozy Coupe
. We kept the little foot protector in, so he likes to climb in & sit & play. Soon we will try taking that part out & see if he's ready to scoot.
I try to buy toys that are going to last, are somewhat unisex, & developmentally appropriate. I also prefer toys that give children the oppertunity to explore it in different ways & be creative.
stephanie said…
My younger daughter is 16 months. Honestly if I could ask her what her favorite is, it would be my keys. The mail keys, the car keys, you name it. Second to that is my phone or remote controls. So since those are not typically in her toybox, her play phone is a great substitute. She has 2 – a fisher price one with big buttons
, and a cheepie flip phone. They make little sounds and she walks around talking on them. Cute!!
She also likes the cooking tools like big sister, she stirs all sorts of things up in her pots! She asks for Mr. Potato Head now because he looks so cool, but doesn't do much with him. Her other favorite requests are for books – in particular the books with pictures of animals.
amy solomon said…
I love Reader Favorites! It's how I picked a lot of our books and baby toys! So glad to be able to share some of ours now 🙂

My 16 month old twin boys love their Fisher Price (FP) Poppity Pop Musical Dino. It was a hit when they were younger, and they still like to feel the popper or push balls through themselves. Fisher-Price Go Baby Go! Poppity Pop Muscial Dino

They also love the FP Laugh & Learn Fun with Friends Musical Table. This was great when they were learning to pull up and stand and they will still occasionally go back to it to dance and play. 🙂 Fisher-Price Laugh & Learn Fun with Friends Musical Table

Right now they love anything they can push, including their Dirt Devil Junior Reaction Vacuum Cleaner the Schylling Color Roller, and their Step2 Push Around Buggy Car. Step2 Push Around Buggy (Red)

Also big hits that keep their little hands busy are their tool kits and shape sorters. We have two tool kits – the FP Handy Manny tool kit that dance Fisher-Price Disney's Handy Mannys, and the iPlay Cool Tools set. They like to use the tools to "mix" with their stacking cups. Their favorite shape sorter is the Educo Shake'n Match. Educo Shake'n Match Shape Sorter

Others that my boys just love are their Sassy Pop N Push Car Sassy Pop N Push Car, Playskool Busy Gears Geomag GBaby Baby Sea – 19 pieces Fisher-Price Laugh & Learn Sing-with-Me CD Player (they love the CDs that come out), and the Intex Jump O Lene Transparent Ring Bounce Intex Jump O Lene Transparent Ring Bounce. We use it as a ball pit/play area and my boys still use it every day, even though it's been out for months.


MonstorB said…
When my daughter turned one we got her the Munchkin Mozart Magic Cube. She is now three years old and this is STILL one of her favorite toys. When she was a wee one the sounds and lights were fun to hear and watch, but now it's her orchestra for ballet shows, parades, and so much more. Plus she's learned all the instruments and can identify them in a real orchestra (when we watch them on PBS).
Chrysti Hedding said…
My son at 16 months old loves the Sassy Pop n' Push Car.