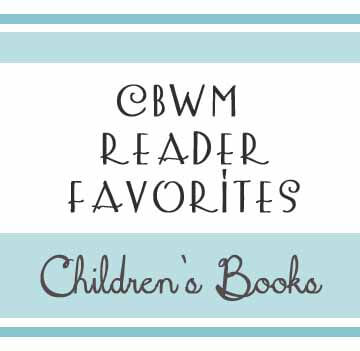 What is your favorite children's book? I know it is too hard to pick just one! Share one or more of your favorite books. I am talking "you must own this book" favorites. Add it by simply commenting with the title and author if possible. It would also be helpful to list the age of the child(ren) who loves the book. Thanks! (This post contains affiliate links).
Ellyn said…
21 month old boy:One Duck Stuck: A Mucky Ducky Counting Book by Phyllis Root and Jane ChapmanMy Truck Is Stuck! by Kevin Lewis and Daniel Kirk
Lastly, all the books by Laura Numeroff and Felicia Bond ("If You Give a Pig a Pancake", "If You Give a Mouse a Cookie" etc.)
Kristy Powers said…
Hop on Pop (I Can Read It All By Myself) andHug by Jez Alborough
for babies, pretoddlers, toddlers, and preschoolers
Hop On Pop has been one of the all-time most-read books in our house.
Hug is great because it is a good book for giggling at and older siblings can very easily read it to younger siblings.
Janice said…Quick As a Cricket by Audrey Wood. My favorite, now my 15-month-old's favorite.
Holly said…
The Napping House and King Bidgood's in the Bathtub by Audry and Don Wood
I read them to my newborn, my brother read them in 3rd grade. Entertaining for Mom and Dad too and the illustrations are wonderful.
Jennifer said…
My two year old loves….The Seven Silly Eaters by Mary Ann HobermanIs Your Mama a Llama? by Deborah Guarino
All four volumes of Read Aloud Bible Stories, Volumes 1-4 by Ella Lindvall
Savage Family said…
Snuggle Puppyby Sandra Boyton 1-3 yrs
Read alouds: The Princess Bride, The Chronicles of Narnia,Little House on the Prairie (we read aloud often to our 6.5 yr old, the 3 yr old sits and plays nearby, listening a bit)
MommyBott said…
The Going-To-Bed Book by Sandra Boynton for the toddler set. My 2-year-old thinks her Blue Hat, Green Hat is hilarious, too.
Shannon said…I Love You, Stinky Face by lisa mccourt
Megjaned said…
Goodnight Moon by Margaret Wise BrownWherever You Are: My Love Will Find You by Nancy Tillman
Laura said…
I Love You This Much (Songs of Gods Love) by Lynn Hodges and Sue Buchanan (Birth-5).That's Not My Baby by Fiona Watt (Birth and up).
Emily Anne Russ said…
For my 9 month old.On the Farm– Illustrated by Olivia Rayner. It's a pop-up book that rhymes.Moo Baa La La La – by BoyntonBabies – by Gyo Fujikawa
MsSarahNicole said…
1. Fool Moon Rising by Fluhardy
2. Richard Scarry's The Animals of Farmer Jones (Big Little Golden Book) by Scarry
3. Over in the Meadowby Keats
MarieEnzaldo said…
18-24 months (girl)Where Is the Green Sheep? (Mem Fox)Ten Little Fingers and Ten Little Toes (Mem Fox)
Jessica said…
Llama Llama Red Pajama by Anna Dewdney. I think the age range is 2-6 but I've been reading it to my son since he was 6 months old and he loves it.
In fact, I memorized it and would recite it to him at night as a 'story' before bed. We don't have a board book version and he was still eating books more than looking at them at that point. Now that he's almost 10 months old, he likes to turn the pages and check out the pictures. The illustrations are stunning! It's cute – he's been gently stroking my eyelashes lately and last night, he reached out and stroked the eyelashes of Mama Llama…so adorable!
Anyhow, it's the best book we own. She has a few other Llama books that I can't wait to read. Uh, I mean that my son can't wait to read. 😉
Kelly said…
Chicka Chicka Boom Boom by Bill Martin Jr and John Archambault. My son is 2 and loves this book! We read it almost every night. The version we have also came with a CD with Ray Charles reading the story and he loves to listen to it in the car. This book was recommended in the Read Aloud Handbook by Jim Trelease(thanks, Val for telling us about this book).
Jessica said…
I love reading Millions of Cats by Wanda Gag to my four month old!
MeganRuth said…
Mo Willems pigeon books as well as his Leonardo, the Terrible Monster great all the way to 6 y.oBrown Bear, Brown Bear, What Do You See? By bill Martin for newborns to 5 y.o
Those are just a few of the many AMAZING books out there.
(I was a childrens librarian so I'm clearly all about books)
Jayci said…My 3 year old girl LOVES her Beginner Bible. I don't know the name or author, but you can find any out there. I am so happy she is interested in these stories. The one we have is short and basic, but also has a discussion question for when they are older. Lots of pictures too.
LKD said…
6-18 months it was Sheep in a Jeep by Nancy Shaw
Since then (now 28 months) if I have to pick two: Good Dog, Carl by Alexandra Day and The Little Mouse, the Red Ripe Strawberry, and the Big Hungry Bear by Don and Audrey Wood.
We love books so this was quite hard!
The Shrayber Family said…
My 26 month old son loves –Corduroy Goes to the Beach (A Flap Book) by B.G HennessyJamberry by Bruce DegenGo Away, Big Green Monster! By Ed Emberley
The Kring-a-lings said…
God Made You Nose To Toes (birth- 2yrs) Leslie ParrottThis Is NOT a Pumpkin (1-2yrs) Bob StaakeHow Do Dinosaurs Laugh Out Loud? (2+) Jane Yolen
amy solomon said…
Brown Bear, Brown Bear, What Do You See? by Bill Martin, Jr. & Eric Carle has been my 16 month old twin boys' favorite book since they started crawling. Anytime I sit down and start reading that book they stop what they're doing & crawl (now walk & climb into my lap!) over to me to get closer and listen. I think they love how rhythmic it is. They will often "read" it to themselves, turning pages on their own, as it's one of their only non-board books.
Other big hits are B is for Bear, by Roger Priddy, Where Is Love, Biscuit?: A Pet & Play Book, by Alyssa Satin Capucilli, and I Love You Through And Through, by B. Rossetti-Shustak & C.J. Church. We also love Nancy Tillman books for bedtime (On the Night You Were Born and It's Time to Sleep, My Love)
MonstorB said…
Books are a big deal around here!
I have to second the Mo Willems pigeon books as well as his "Leonardo the Terrible Monster." My 3 year old has been enjoying these books for well over a year now.
Anything by Sandra Boynton. A lot of here books are also songs. We love her CDs. Often "read" the song books that come with the CDs and "sing" the board books.
My infant son loves "Hello, Animals!" by Smriti Prasadarn. It's a black and white board book.
My daughter just turned three and this is a list of some of her favorite story books:
Pete the Cat: I Love My White Shoes by James Dean
Angelina Ballerina by Katharine Holabird
Extra Yarn by Mac Bernett
Anything by Oliver Jeffers
The Fantastic Flying Books of Mr. Morris Lessmore by William Joyce
Zen Ties by Jon J. Muth
Beautiful Oops! by Barney Saltzberg
Emma Kate by Patricia Polacco
And on and on and on!
Sarah said…
My 2.5 year old loves the Gossie and Friends books by Olivier Dunrea. She requests them over and over.
Another favorite is EVERYWHERE BABIES by Susan Meyers (and has been since about 15 months old).