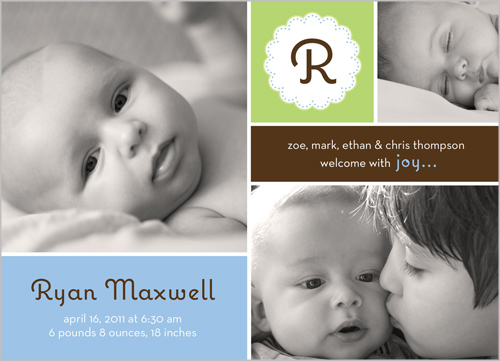 I am sure many of you have heard of Shutterfly.com and the many great things you can do there! Shutterfly has some new things they are just coming out with:
1. Storybook of Facebook Photos
Pull pictures straight from a proud parent's Facebook page to create this stunning personalized storybookfor baby. It's a sweet suprise for the family when you gift it upon meeting the child.
2. Birth Invitation
In this age of the modern family, parents aren't the only ones in the room when baby makes his or her debut! A birth invitation is a formal way of getting those closest to you enthused about attending the labor and delivery.
3. The Moment We Met Momento
To commemorate the first moments shared between baby and special friends and relatives, use the images taken to create photo plaques that can be gifted or used as nursey deco
4. Explain the Name
Parents fret for months about choosing the perfect moniker for their child and often the story of how the name came to be is rather interesting. Include it on the back of the baby's birth announcement.
5. Don't Play Favorites!
It's tough to choose a single portrait of baby so don't! Have each family member (older siblings included) select their favorite snapshot to create a collage announcement.
Lots of fun things especially for parents.
Today, Shutterfly is giving away 15 flat 5×7 stationery cards to a lucky winner! Here is how you enter: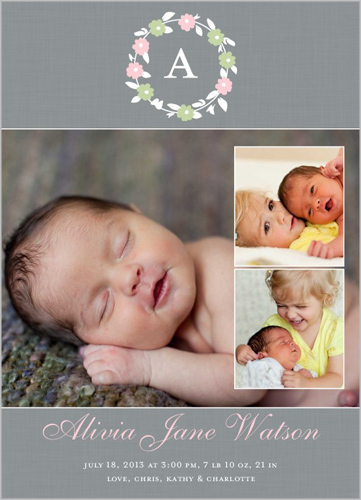 For Your First Entry:
Become a follower of this blog. Then leave a comment. If you are already a follower (the
thing where your cute face pops up with all the other cute faces of people following),
comment telling me so.
Sample Entry
I am a follower of Chronicles of a Babywise Mom!
For Your Second Entry:
If you are the winner, you will need to have a Shutterfly linked email address. If you do not have one, set up an account at Shutterfly (it is free!). Once you have an account, share that you have one (you don't need to share the email address)!
Sample Entry
I now have an account!
For Your Third Entry:
Like Chronicles of a Babywise Mom on Facebook. Already do? Tell me so. Comment saying you like it.
Sample Entry
Hi! I like Chronicles of a Babywise Mom on Facebook!
For Your Fourth Entry:
Follow Chronicles of a Babywise Mom on Twitter.
Sample Entry
Hi! I follow Chronicles of a Babywise Mom on Twitter!
For Your Fifth Entry:
Free Entry! But you have to enter to get it.
Sample Entry
Entering for free!
For Your Sixth Entry:
If you win, what do you think you will get? Birthday invites? Family cards? Birth announcement? Comment with your choice.
Sample Entry
I am debating between birthday party invite and a birth announcement…
For Your Seventh Entry:
Blog, update your status, or tweet about this giveaway. Then comment saying you did so and which you did.
Sample Entry
I tweeted! @valplowman
Entry Rules
You must leave a comment in order to have an entry.
You must leave a separate comment for each entry. This is not so I can get lots of comments–it is because it makes it a million times easier to choose a winner. It takes less time, and less time is good. Plus, it makes sure I don't miss an entry.
You don't have to do all seven entries…for example, if you just want to follow this blog, you can just do entry one.
One entry per comment.
Up to seven entries per person.
You must fulfill the rules of each entry for each entry to count. If I see the entry is not valid (did not meet entry requirements), I will disqualify your entry. Trust me, I check.
Entries will be accepted until Saturday, March 31 when I choose the winner.
The winner will be randomly selected at random.org
The winner will be announced Saturday, March 31.
If you would like, you can add your email address to your entry. If you are the winner, I will email you to let you know. You do not need to add your email address in order to win. I understand not everyone wants to share their email addresses with the world. I will announce the winner on the blog, so you can check the blog Saturday to find out if you won.
Once the winner is announced, you will have one week to contact me or another winner will be chosen. Be sure to check back. The only thing worse than not winning is to win but not realize it in time!