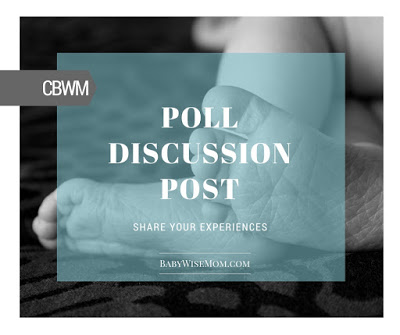 Oh when oh when should you start to worry about the newborn schedule/routine? Do you start to implement things right away, or do you wait before you worry about it? And if you wait, how long do you wait? How do you know when it is time to start a routine?
Parents often worry about these questions–even parents who are not having their first baby. We want to get it right, but we don't want to over-stress. We want to enjoy our newborn baby time, but we don't want to encourage bad habits that will make life hard for baby down the road.
Please take a moment to answer the questions below. Doing so will help other parents now and in the future. It is very helpful for me when compiling answers if you at least number the answers you give. You can also copy the questions and answer them. If the question does not apply to you, simply put "N/A."
What age did you start to implement a routine/schedule with your newborn?
Was this a good age, or do you think you went too early or too late?
What drove you to start the routine/schedule at this age?
What did you early days of implementing routine/schedule look like?
How did following a routine/schedule evolve over the newborn weeks?
Would you do it differently next time?
Any words of advice?