"What would you like for Christmas?"
This is the question we ask children to help them relax a little bit before they audition. Children are always nervous, and we like to help take their minds off of their nerves and place them someplace else.
The funny thing is, most of the time, the response we got was a very shaky, "Um…I don't know."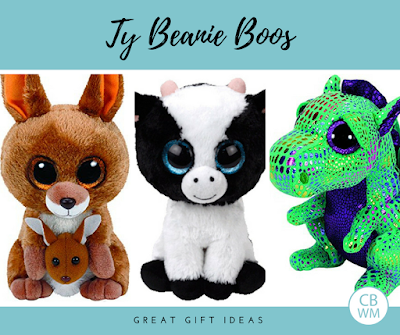 THAT'S how nervous they get. So nervous that the first week of December, the response to the question "What would you like for Christmas?" is answered with "I don't know."
Last year, I decided to let the parents know we would ask that question and to tell their children to expect the question. A little ask and tell going on, because it always works. I want the children to be able to relax a bit.
And it worked!
This past year, children were able to answer the question.
There were, of course, a myriad of lists, but there was one thing that was a noticeable stand-out.
Beanie Boos.
Children love Beanie Boos!
My children love them. A lot. For my girls, they ask for a Beanie Boo for every birthday and for Christmas. Beanie Boos are what my girls always choose to give as gifts for birthday parties. This post contains affiliate links.
The cuteness never ends with these things. This raccoon is currently the favorite among Kaitlyn's age group:
They are also loving the goat, who is surprisingly cute.

McKenna can't get enough of these different cats (seriously, she has multiple patterns of cats):

For Brinley, the unicorns are a hit.
It isn't just stuffed animals in all their varieties that the girls love. They also like having these cute keychains to clip to their backpacks–they have a lot of different ones:
Brinley's favorite coloring book right now is this one she got for her birthday from a friend:
These make great gifts for your children and for others. They can be great as stocking stuffers or as wrapped gifts under the tree.