What can babies sleep in while traveling? This list of travel beds will help your child sleep well while on vacation or sleeping away from home. Get tips to have successful sleep while you are away from home.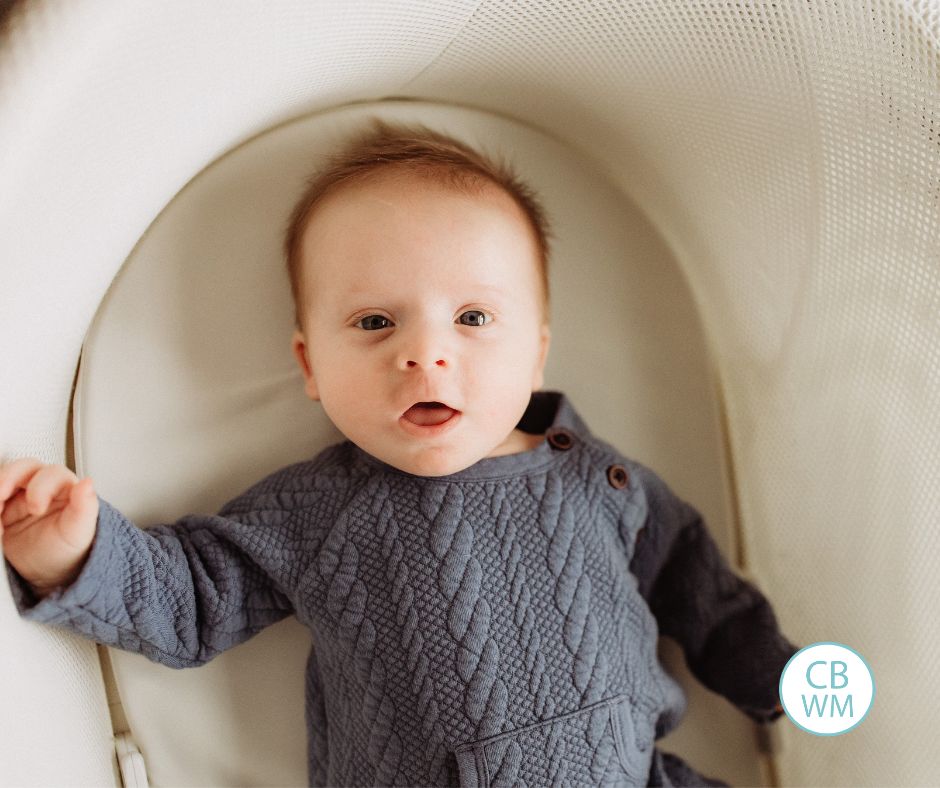 When you are headed out of town with your baby or toddler, your first concern is most likely where will baby sleep. If you are wondering what babies can sleep in when traveling and if baby can sleep in a travel bed, this post is for you!
Here are 12 great options for you for beds for your baby or toddler when you travel. Be sure to also go beyond the bed recommendations for some tips for great sleep when away from home.
Travel Bassinet
A bassinet is a great option for a portable baby bed. When our second baby was born, we bought a bassinet that we could use as an additional bed in our home for her to sleep in. That way she could easily take naps in different parts of the house rather than just in he crib.
The bassinet detached from the base and we were able to take it with us whenever we traveled. It was small and easy to move around. It was lightweight. It didn't take up a lot of space in our car nor in the place we were visiting.
It was also a bed she was very familiar with, so she was more likely to sleep well when on vacation.
There are many bassinet options out there to choose from. Here are some good options to consider.
This is a very lightweight bed that is comfortable and has breathable fabric. It folds up compact, so this would be a viable solution if you are flying or just don't have a lot of space to pack. It can be great for a vacation or day at grandma's house, but also just for visiting a friend for the afternoon or even to take to the park with your older kids. It has a firm mattress and comes with a sheet. They have several different fabric options, so that is fun, too.
This is made by the same company as the one listed above. It also folds up and is lightweight and breathable. It is JPMA certified and safe for baby sleep. This is for 0-5 months old or 20 pounds. This bed is slightly bigger than the one listed above. It is a great option for a baby travel bed.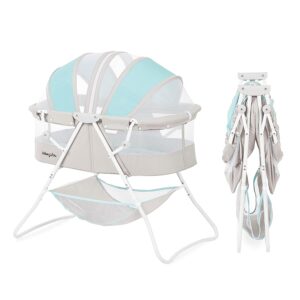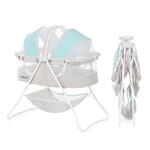 If you want to be able to use the bassinet consistently at home as well as have it for a travel option, you might prefer this style of bassinet. It has a base so you wouldn't have to bend over so far to get to your baby. It does fold up, but is much larger than the two listed above, so it would not be plane friendly. It would also take a up a lot more space in the car.
It is lightweight and meets all required safety standards. It also has canopy so you can keep bugs away from baby if you want this outside. It holds up to 25 pounds, so it would last longer than the previous two.
Kidco Peapod
With our third child, we discovered the Kidco Peapod. It is our favorite travel bed for older babies and toddlers. Our third child loved to socialize, so this bed worked really well for making it so she couldn't see us even if we were in the same room as her.
We loved the ease of use. It folds down very flat and is easy to pack around. It has side-zippered doors and options for opening things up to make it more breathable. We loved to camp when she was a baby and this was a great camping bed for a baby and toddler. It also works really well on a beach and inside a house.
Pack and Play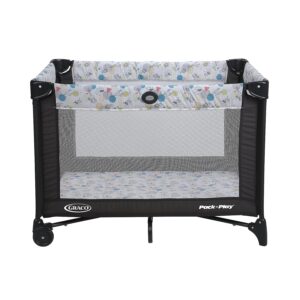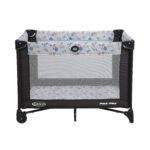 With our first baby, we used the good old pack and play for a travel crib. The pack and play is a great portable crib because it can hold an older baby and a toddler. It is larger than any of the options listed above.
Because it is larger, it is also heavier and takes up more space. When my oldest was a baby, we would go spend the day with a friend and take the pack and play with us. It worked great, but it is big and bulky and harder to travel with.
If you travel to visit grandma a lot, you might want to have a pack and play that is just kept at her house. Then you get the benefit of the larger bed without having to pack it every time, especially with all of the baby gear you have to haul.
As your baby grows into a toddler, you may find you want extra padding to offer more comfort. When that time comes, you can get quilted matress protecors for the pack and play to help with that.
The pack and play is a great tool for independent playtime, so it is definitely worth owning in general anyway.
This is another popular style of portable travel crib for your baby. It is lightweight (12 pounds) and covers ages 0-3 years old. The pack and play is nearly 18 pounds, so this one is much lighter.
The fabric is polyester and sides are mesh fabric for easy breathing. There is a side zipper door.
This and the pack and play are among the best portable cribs that cover a wide range of ages.
The Guava Lotus Travel Crib is a similar design. It is more than double the cost, so you might prefer the less expensive option. It does rate very well and is very popular. This one is 15 pounds. Compare the two and see which you think you prefer. Another popular version is the Babybjourn Travel Crib.
You often are in the same room as your baby or toddler when you travel. Some kiddos just will not sleep well if they see you. If you are running into this issue, get a pack n play cover. This is breathable and provides some blackout benefits too, which is great if you cannot darken the room well enough for your baby when traveling.
The SlumberPod is another option to the cover. A great thing about this option is it covers playards, mini-cribs, bassinets, travel cribs, toddler cots, and toddler mattresses. So it can really grow with your child. It has a pouch for your baby monitor, also.
Cribs at Your Destination
Many hotels offer a crib if you ask for it. You may want to use a crib that is already at the location you are traveling to. I know my mom and mother in law both set up cribs in their homes when they had grandchildren who were babies. This is super convenient if it is possible.
Once we were done with babies, we still held on to our pack and play so neices and nephews or friends who were visiting could use it if needed.
>>>Read: How To Help Baby Sleep at a Holiday Party
Travel Cots
The pack and play options listed above work great for toddlers. The best toddler travel beds for toddlers who are in a regular bed are travel cots. We did not discover the Regalo My Cot Portable Toddler Bed until we had our fourth child. We loved it for all travel. Camping, reunions, hotels…it worked well everywhere we went.
Inflatable Toddler Travel Bed
Inflatable toddler beds are another great option for portable toddler travel beds. The hiccapop Inflatable Toddler Travel Bed is a great option. It has a bumper on all sides, so it is great for toddlers who might fall off a cot.
This is of course lightweight and small for easy packing. It also comes with a travel bag and electric pump.
Inflatable Bedrail
If you have a toddler, you might have a bed available for your little one to sleep in, but it might not have bedrails. Toddlers can be very squirmy, so this might make you nervous.
If that is the case, the hiccapop Inflatable Bed Rail is a great option. This is easy to pack and take with you when you travel. You can also use it at home, so it can be one purchase for home and travel.
>>>Read: Tips for Traveling with Baby/Toddler: Naps on the Go
Tips for Sleeping Away from Home
There is a good chance that your baby or toddler will not sleep as well while away from home. That is normal and nothing to freak out about.
Once you get home, your baby might go right back to normal sleep or may need up to two weeks of a super consistent schedule at home to get back to normal. Be patient with your baby as she adjusts back.
Here are some ways to help your kiddo to sleep better while traveling. See more at How To Handle Baby Sleep When Traveling and Traveling With a Toddler: 17 Tips for Your Family Vacation for more tips.
Get Baby or Toddler Used to Travel Bed
There are two ways to approach a travel bed.
One is you don't worry about the travel bed until you are traveling. That is the first time your child ever sees the bed. The risk is your little one might not sleep as well, but at least no sleep was compromised at home before you left.
The other is you do 1-2 naps a day in the travel bed before you travel. You start this ideally about 2 weeks before traveling. This makes the transition to the travel bed less stressful when you are on vacation, but it can disrupt naps at home.
If you can, I think it is wise to have your kiddo take one nap a day in the travel bed. I would do the shortest nap of the day if there is one. If your child does not respond well to the travel bed, I would not compromise overall sleep by continuing the nap each day. I would rather start the vacation with a well-rested child.
You can just have some playtime in the travel bed each day so it doesn't seem so foreign when you travel.
Make it So Kido Cannot See You
If you are sleeping in the same room, do what you can to make sure your kiddo cannot see you at night. If your little one can see you, he will likely expect you to be available. Blackout curtains can help a lot with this.
Use a Sound Machine
Even if you do not use white noise at home, I would recommend you use a sound machine while traveling to block out weird noises that will wake baby up at night.
Maintain a Normal Sleep Routine
While traveling, do your best to maintain your normal sleep routine before nap and bedtime. This will help signal to your little one that it is time to sleep.
Keep a Sleep Schedule as Much as Possible
Do your best to have naps when they should and bedtime when it should. It is okay to skip some naps or have short naps. The more disrupted your kiddo is while away from home, the longer it will take to get back on track once you get home. If you are doing a once-in-a-lifetime trip, you will probably be more willing to have disruptions than a day away from home you take once a week.
Conclusion
Traveling can definitely disrupt sleep, but with a few steps, you can help your baby or toddler sleep best. A good travel bed will go a long way to help sleep be as successful as possible for your kiddo.
Related Posts: