Sleep Routine Ideas to Get Your Baby Sleeping Well. A sleep routine helps your baby know it is time for sleep. Keep sleep routines consistent each time.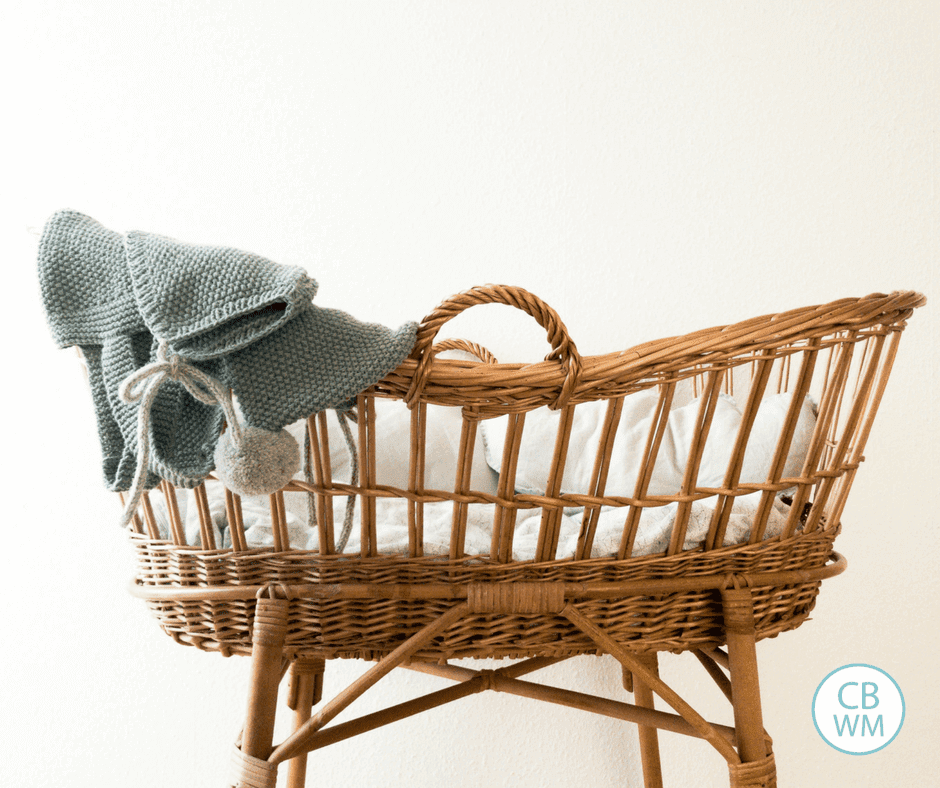 It is a good idea to have a solid routine before sleep time to signal your little one that it is time to sleep. Below are some ideas for a naptime routine and a bedtime routine so you can aid your little one in going to sleep quickly.
Nap Routine Ideas
I prefer the least amount of "show" prior to a nap–especially now knowing that the older they get, the more tactics they use to delay bedtime. I want to have as few tactics in place to start with because believe me, your child will do everything he can think of to make naptime come a little later. A drink of water, a story, a hug, a kiss, a song, one more song, last song…you get the picture. They are smart!
With a newborn, many people like to rock their baby to a point of sleepiness before putting them down in the crib. I think this is a good idea. I didn't do it with either children, but will possibly do it with the next. If you choose to do this, be sure to stop it at a young age. You want to move to a really

CIO

when your child is old enough, and you will have to feel that out. My thoughts are I will stop around 3-4 weeks old if I think baby is ready for it. I would guess most babies would be ready to stop this by 8 weeks. You don't want your baby to become dependent on rocking; it is only something to help a young baby have more success with

CIO

. Only do it if your child needs it.
Here is my routine with my nearly 9 month old. It has been the same since birth. I kiss her and hug her, etc. Then I lay her down in her bed and sing "Twinkle Twinkle Little Star" to her. Then I tell her to sleep well and that I love her and that she my princess, etc. Then I kiss my fingers and touch her nose. She smiles at me the whole time. Recently, she has started to roll to her tummy and start trying to scoot around the bed. I just leave her that way because when I put her back on her back she cries.
Here is my routine with my 2.5 year old. His routine has evolved over time. It started the same as Kaitlyn's is now, but as he got older (about 16 months old), he started requesting things. We read a story for a while, but I curbed that because he was using it as a delay tactic. I also curbed it because I realized once I had the new baby (Kaitlyn) she would have a feeding at 1 and his nap starts at 1. I needed a routine that was consistently under 5 minutes. I do the hugs, kisses, etc. He lays in bed and I sing "Brahma's Lullaby"( I am kind of sentimental about stuff so I gave each child their own song). As I sing, I rub his back if he is laying on his belly. Then I tell him to have a nice nap, assure him we will play once he gets up, and that I love him, etc.
Bedtime Routine Ideas
You will want a routine for bedtime also. Bedtime routines are often different from nap routines, and that is a good idea. Babies are smart and will recognize that something different is coming.
Many people do their baths at night to settle their children down for the night. I do my baths in the morning so it is not included in my routine, but it could be in yours.
Our bedtime routine is pretty much the same for each child. For the nearly 9 month old, I put her in her pajamas. Then I read her one story. Then we say a prayer with her. This is followed by hugs and kisses. Then I put her in bed, sing, and tell her I love her and end with "I will see you in the morning time, love you!" (there are times it is not I, but my husband doing these things).
For the 2.5 year old, our routine is very similar. My husband puts him in his pajamas and then

Brayden

picks three stories to read. Then they read the stories followed by hugs and kisses. Then I take

Brayden

to bed and we have a prayer. Then he lays down, I cover him with

blankies

, and I sing. Then I tell him I love him and to sleep well and that I will see him in the morning time (as with Kaitlyn, there are nights the roles of mommy and daddy are reversed). I would like to note that it is a good idea to limit the number of books read at bedtime, otherwise story time can really be drawn out. It is also nice to do it somewhere other than the bed or even the bedroom. Then you read your stories and go off to bed rather than already being there.
You can do whatever you want for your routines. Just be sure what you do has the following criteria:
It is consistent day to day and night to night.
It covers the necessities.
It is cozy and happy. You don't want

naptime

and bedtime to become a battle.
You can do it anywhere. You want to be able to go out of town and visit people and places. If you use things specific to your home, you will not have as pleasant of a trip.
For more nap routine ideas, see Sample Nap Routines.
Reader Sleep Routine Questions: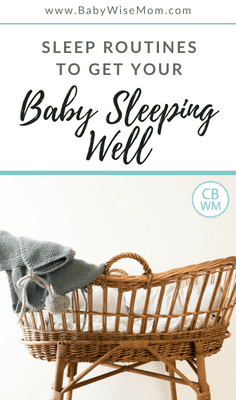 We are sorry that this post was not useful for you!
Let us improve this post!
Tell us how we can improve this post?