A video baby monitor is a great way to have peace of mind and make sure baby is safe and secure in their room.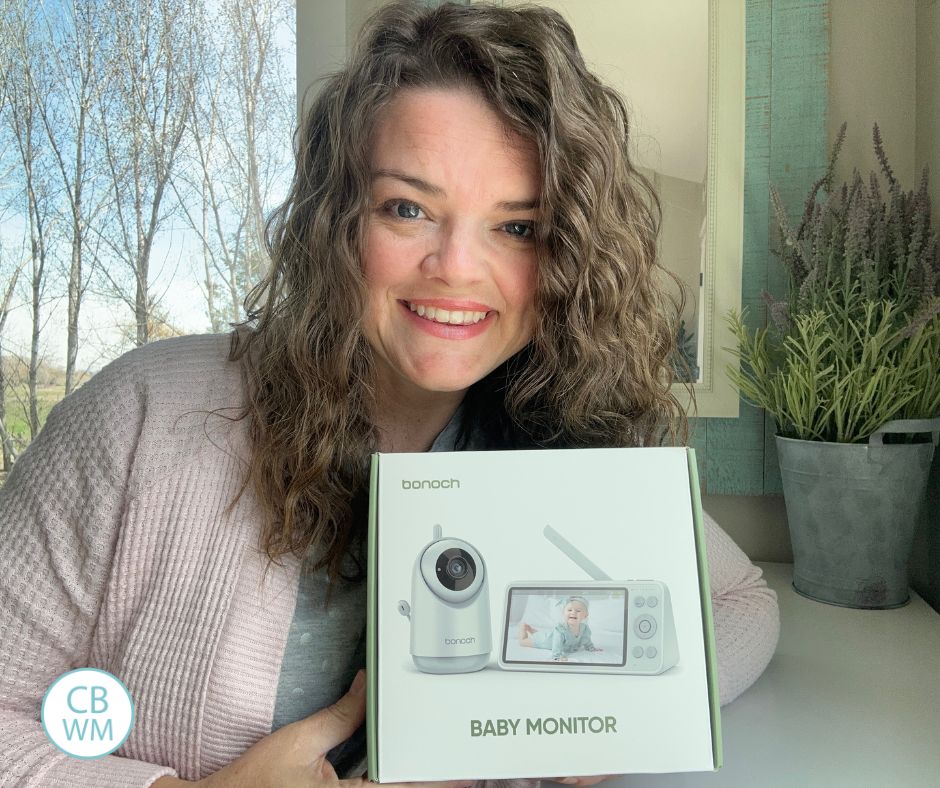 A baby video monitor can provide parents with a lot of peace of mind. You can use the camera to be able to see into the nursery and your baby's crib. You know if your baby is asleep or not and if your baby is breathing or not (because we worry about that a lot!).
With my first two kids, we did not have a video monitor, but I used one with my second two babies. I absolutely love the information you have from a video monitor over just an audio monitor. I will always recommend a video monitor as part of your nursery set up.
This is a sponsored review of the Bonoch Long Range Baby Monitor.
Bonoch Long Range Baby Monitor Features
When you are using a video monitor with your baby, there are many features to look for. Here are some important features as well as features that are just nice to have:
Large Coverage: This video monitor has a upgraded frequency that allows it to provide a reliable stream through walls and stories in your home. You want to be able to see your baby from anywhere in your home, so this is important.
Night Vision: Night vision is a must for your video baby monitor. You need to be able to see your baby well in the dark. This provides clear night vision, so you can tell what is going on even in the dark.
Long Battery Life: You want to be able to move your parent unit around with you, so you want to watch for a long battery life. This unit will last 40 hours in Eco mode and 15 hours in regular mode–all with the screen ALWAYS on. You can also extend the battery life with an auto-off feature.
Secure: Safety has been a big concern for parents since even the basic audio baby monitor was first used. People worried neighbors would be able to pick up on their monitor. Now with video monitors, people worry about the devices being hacked. This monitor uses hackproof and encrypted close-loop transmission. No WIFI or apps are required, so everything is safe in your home.
Zoom: If you are wanting to see the small details, like your baby's chest rising and falling, you will need a zoom feature. This has a 4x zoom, so you can really see what is going on.
Pan: Pan is a nice feature to be able to scan the room. This monitor offers a 355 degree pan. I loved this even more as they baby moved into toddlerhood and had independent play in the room (and when they got out of bed when they were not supposed to at bedtime).
Tilt: You will also want your monitor to be able to tilt. The Bonoch monitor offers a 115 degree tilt.
Two-way Talk: You can hear your baby, but with this, your baby can also hear you because to two-way audio. This is valuable if your baby wakes up and you want to let her know you are coming. This is even more valuable with those toddlers.
Alerts: It is always nice to be notified of things you want to know. You can get motion alerts, crying alerts, and temperature alerts. This will send you a notification if you need it.
Temperature Sensor: I love that this has a temperature sensor. Most homes are run off of one thermostat, but we all know different rooms have different temps. This can really help you figure out how to best dress your baby for sleep.
Active Noise Canceling: This feature makes it so you only hear the child–not the other things in the room like a white noise machine. This is a super nice feature so you hear what you need to hear.
Pictures and Video: This is not a necessity, but I love the feature of being able to take photos and record with your monitor. You can get those cute sleeping pics without waking baby up. You also can playback to see what happened if you didn't see it live. This can help with problem solving! This has a 1080p for the camera AND the monitor. You can even use a micro SD card to store footage. This camera will auto record 24/7!
Lullabies: This would not be a must for me, but it can be a handy tool and a nice feature. This monitor has 8 lullabies available.
What Does it Come With?
When you purchase this monitor, you will get:
One parent unit
One baby unit
110 degree wide angle lens
Two USB C Cables
Two power adapters
Two set screws
Positioning card (for wall mount)
User manual
Conclusion
When the time comes that you decide to move your baby to their own room, you will want a way to monitor baby and check in. This Bonoch Baby Monitor is a great option that will meet all of your needs and more!