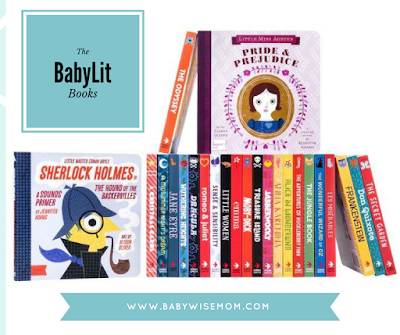 You know I love to read. You know I love books. You might know I love classics. I love the classics! I have an extensive collection of hard-back books of the classics. When I was in college, I obviously didn't have much money. Even so, I bought one new classic book each month to build my library (I have always been more like the tortoise than the hare).
When we took our trip to Portland, Oregon this past summer, we spent an afternoon at Powell's Books, also known as City of Books. The friends we were with all love books, also. We wandered through the store, finding our favorite books and our kids' favorite books and sharing them with each other. It was a magical afternoon. This post contains affiliate links.
It was tainted with a twinge of sadness for me though. Sadness mixed with thrill. One of my friends showed me a BabyLit book. Oh my amazing! These are board books based on the classic literature. Why had I never heard of them before?!?!? (insert crying face emoji here). They were first published in 2011, so too late for my first three children, but Brinley and I could have reveled in them.
They are primer books. You cover camping, flowers, colors, playtime, counting, animals…They have:
And more! Many more. Oh the possibilities…
Now you know. You don't have to live in the sad darkness like I did.