How to get your kids doing chores and set up a good system for them to follow. Learn when the best age to have your child start doing chores.
Exactly how you do chores in your family is up to you and your family. There is no one right or wrong way to go about it–it is not a moral activity. There are so many ways to set up chores, track chores, require chores…you just choose what seems best for your family.
However you do it, just be sure you do it. "Family chores play a significant role in building loyalty, unity, and responsibility to your child" (On Becoming Preschoolwise page 182).
Best Age To Start Chores for Kids
When can you start chores? As young as possible.
I encourage you to let your child help you as soon as he is interested, which will likely be somewhere around 9-12 months old. Your 9-12 year old won't be actually helping with the chores, but she will think she is.
Doesn't that mean chores take a lot more time? Doesn't that mean chores aren't done as well as you would like them to be? Yes, and yes. It definitely does. This is a great practice time. It is a great time for your little one to observe how to do the chores and try to mimic you. And your little one is interested right now.
The practice must come sometime. If you wait until your child is 5, there will still be a learning curve. It will still take time to get good at it, and by that age, she won't be so interested in helping anymore.
The best age to involve your child in chores in some way is right now. Whatever your child's age, it isn't too late or too early to get going.
---
Read: 5 Steps to Teaching Your Child to Do Chores
---
How to Get Kids Interested In Chores
The best way to get kids interested in doing chores is for them to see you doing chores.
During Brayden's first year of life, we lived in a studio apartment type of a place. Because of that, I cleaned during his waketime, never naptime. He saw lots of cleaning, and he really wanted to help.
I let him. I have had "help" vacuuming for four years. And you know what? Now I get real help. I give him the vacuum and go do something else. When I come back, the room is vacuumed beyond my expectations and 100% to my satisfaction. He is four years old.
I know you can do it better and faster, but do you want to be doing it better and faster for the next 18 years? Probably not.
---
Read: A Beginner's Guide to Children Doing Chores
---
How to Set Up a Chore System
Because Brayden is such a good hard worker, I haven't ever implemented formal "chores." He helps when I am working and he helps when I ask. I clearly remember last fall. We were out raking leaves. I was pregnant with McKenna and very sick. After a short time, I sat down to rest because I was tired.
Brayden didn't pause for a minute. He kept on raking. He only stopped when it was naptime, and right after nap, he went back out and helped my husband finish the job.
But I am now feeling the need for some formal chores on a daily basis. I want to teach him more order and routine to the chores we do each day. My hope is that it won't turn into a "chore" instead of something he enjoys. When I was growing up, I always loved reading. I literally read at least 30 books a month–usually closer to 60. When I entered honors English in middle school, we suddenly had the requirement to read a lot. Reading was less fun for me then. I don't want to do that to Brayden and his love of chores.
I have done some thinking about it. I am first trying out chore charts that I made on my computer. There is also a fun idea found in Preschoolwise using index cards. My husband and I decided we will try out the charts for two weeks and the cards for two weeks and see what works best for our family right now.
Here are samples of what we are doing. I want these to be things they do each day without me telling them to. I fully expect to have to help Kaitlyn along (she is 2.5), but I believe Brayden will do it without being asked. They will get to put a sticker on when each item is completed. Click on each image for a larger view.
You will notice on the monthly list of jobs, there is a "chore jar" category. On those days, the children will draw a chore that is written on a piece of paper out of a jar. They will then do the chore listed on it. Examples are help unload the dishwasher, rake, weed, shovel snow, sweep, dust base moldings, help make dinner, set the table, and help feed the dogs. They each have their own chore jar with jobs that are age-appropriate.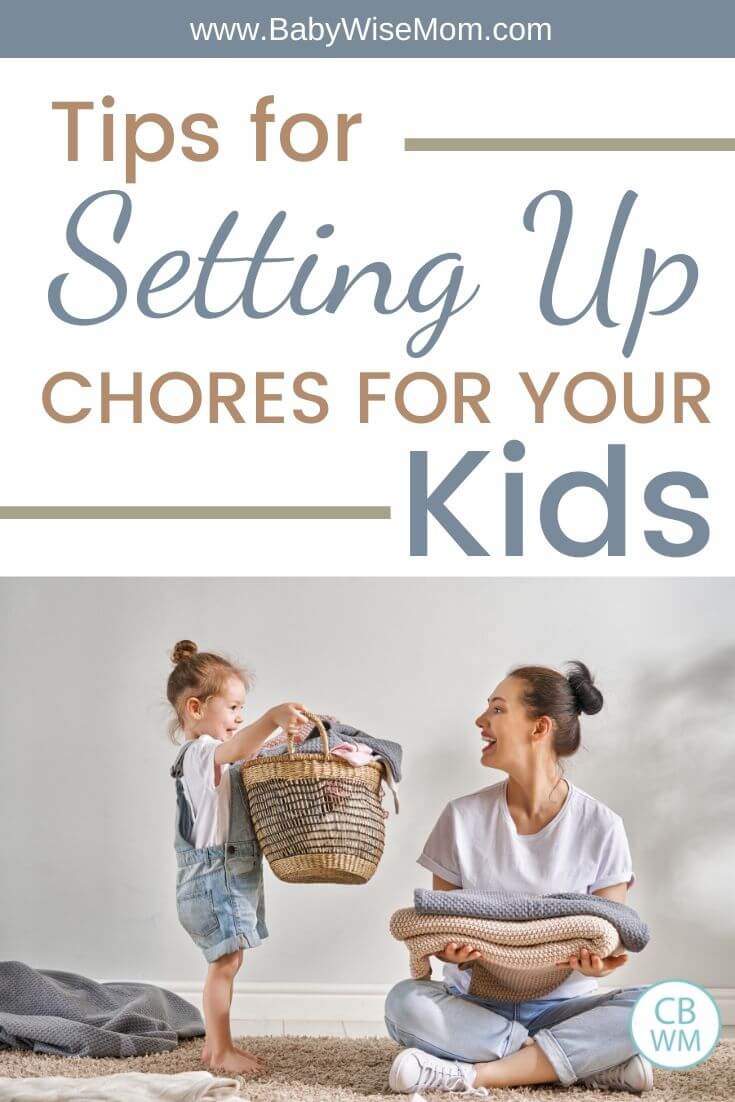 DAILY CHORES BEFORE BED CHART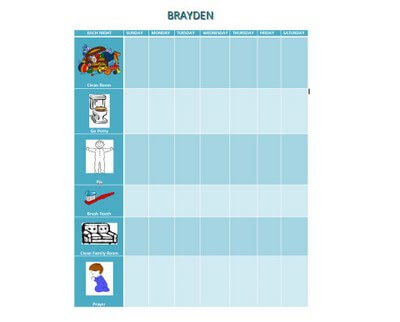 DAILY CHORES OVER THE MONTH CHART
A note about chores, you want to give your child a good experience. Kaitlyn is literally terrified of the vacuum and has been since birth. On Saturdays when her job is to help vacuum, her job will be picking things off the floor so Brayden can vacuum.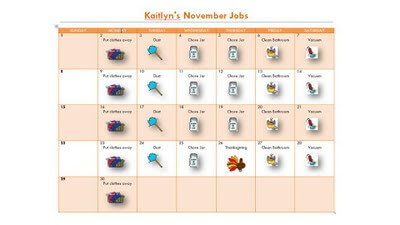 RELATED POSTS on CHORES