You can have the Halloween costume you want on the cheap! Simple ways to recreate your favorite characters to dress up for Halloween.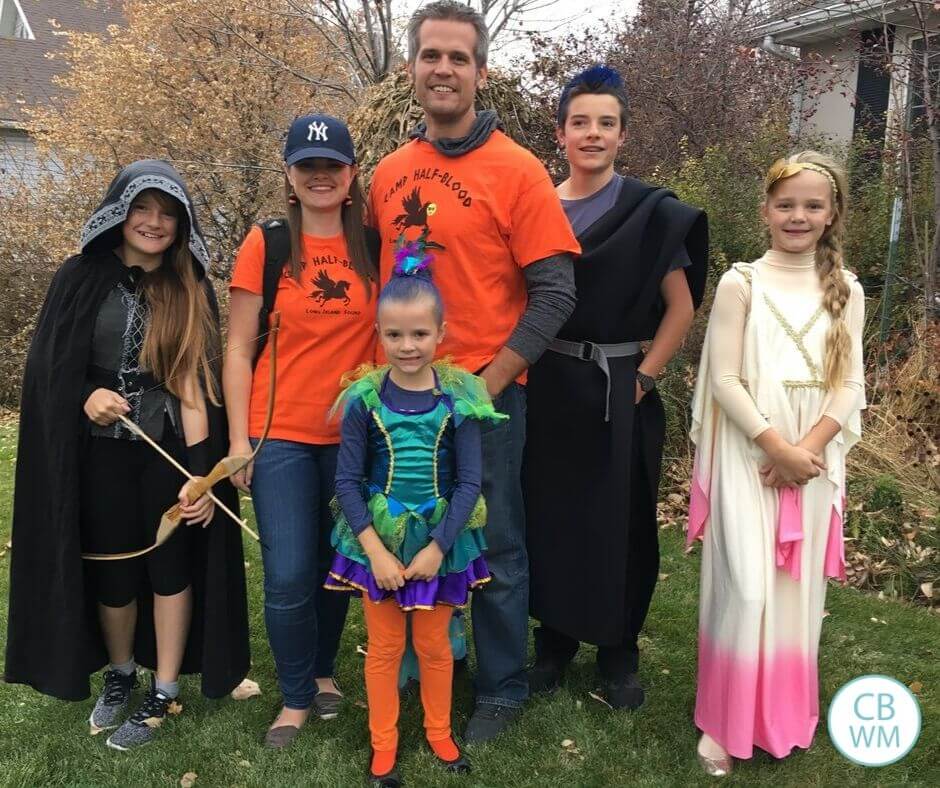 We LOVE dressing up for Halloween. We typically do a big family-themed costume based on something our kids are loving at the time.
It can be pretty simple to put together your child's dream costume and it doesn't have to cost a fortune. In this post, I walk you through the steps of how I create costumes for my kids.
We go big. Once Halloween is over, we add items that can be added to their wardrobes. I try to buy pieces they can wear in daily life. Others go to the dress up tote. My kids love dress up, so this is very fun for them and a great toy investment.
Family Halloween Costume Ideas
We have a lot of fun with Halloween costumes as a family. Each year, we choose a theme and all dress up with that theme. You can see many of our past costumes in this post, and the rest below.
It started out simple–we did what we wanted as parents. Then as Brayden got older, he had his interests while the girls didn't really care, so we did what he wanted.
Then as the girls got older, we had to get more creative as the girls and the son have different ideas of what they would like to be.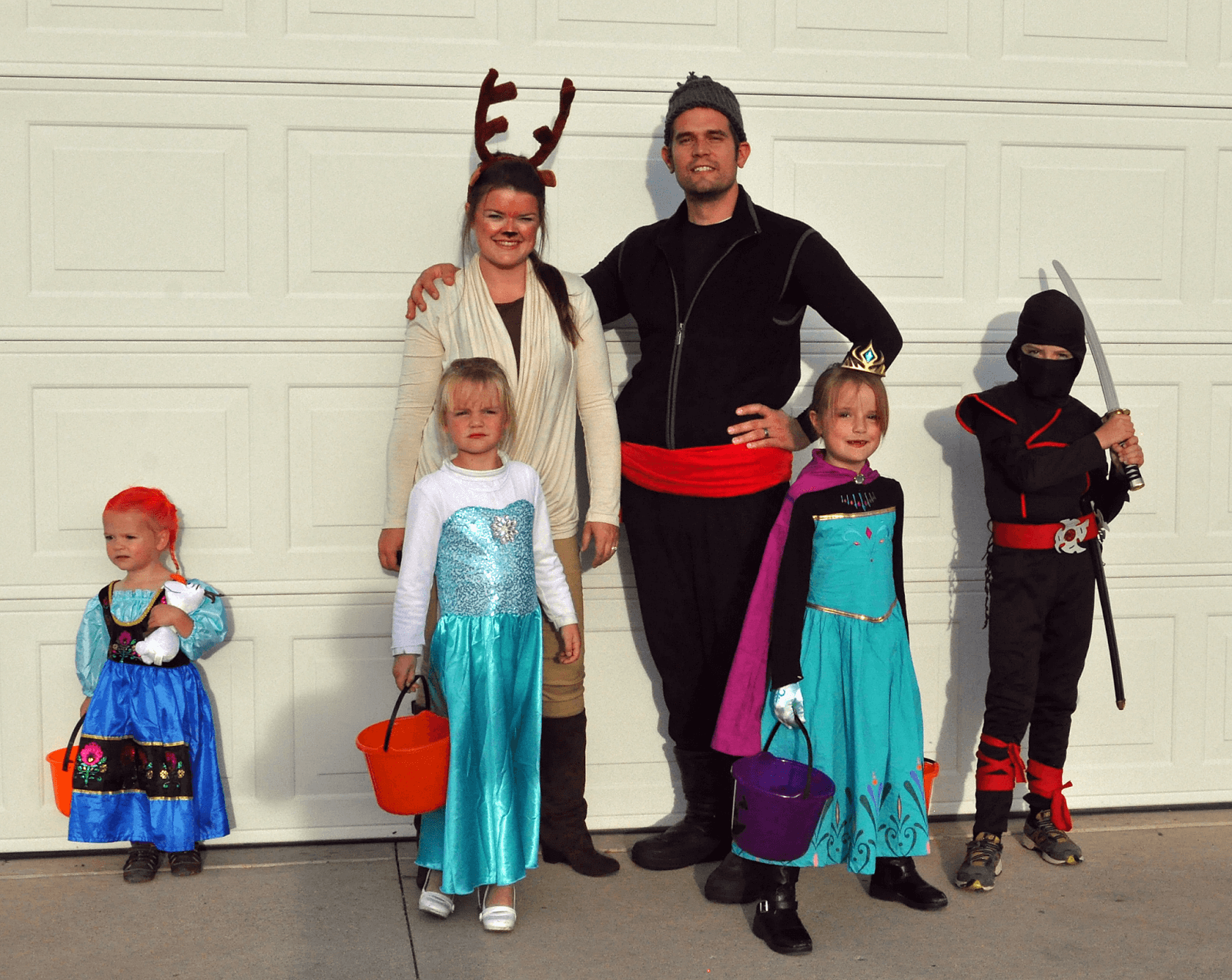 Above was 2014. We did a Frozen theme. Brayden was the ninja…didn't notice the ninja in Frozen? That is because he was such a good ninja…
But that is one way we reconciled the girls jumping in the Frozen craze and Brayden staying out of it.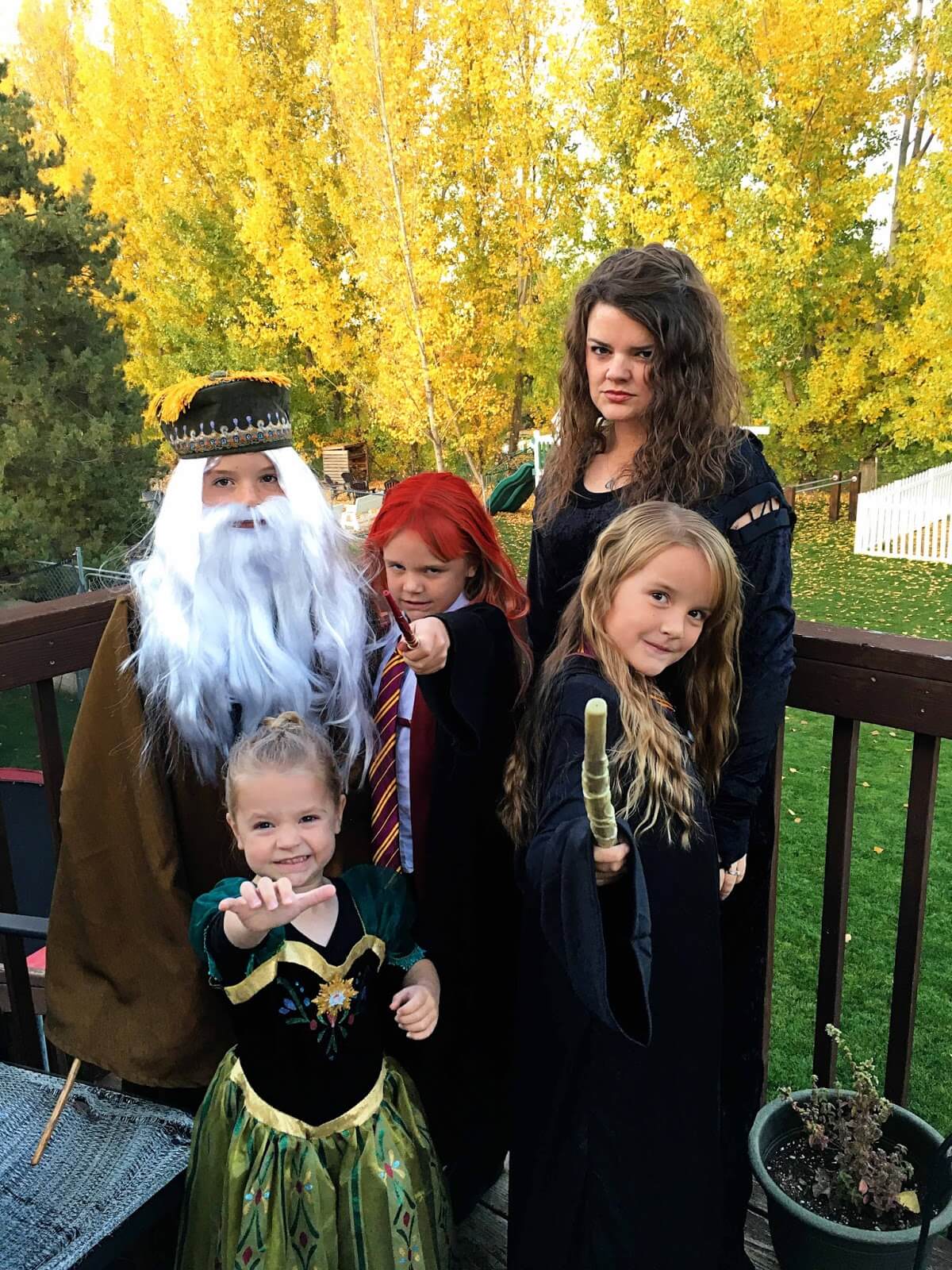 This was 2015. The kids wanted to do Harry Potter. Brinley was more into princesses, though. So she was a muggle dressed for Halloween. She was also a different princess for each of her Halloween activities.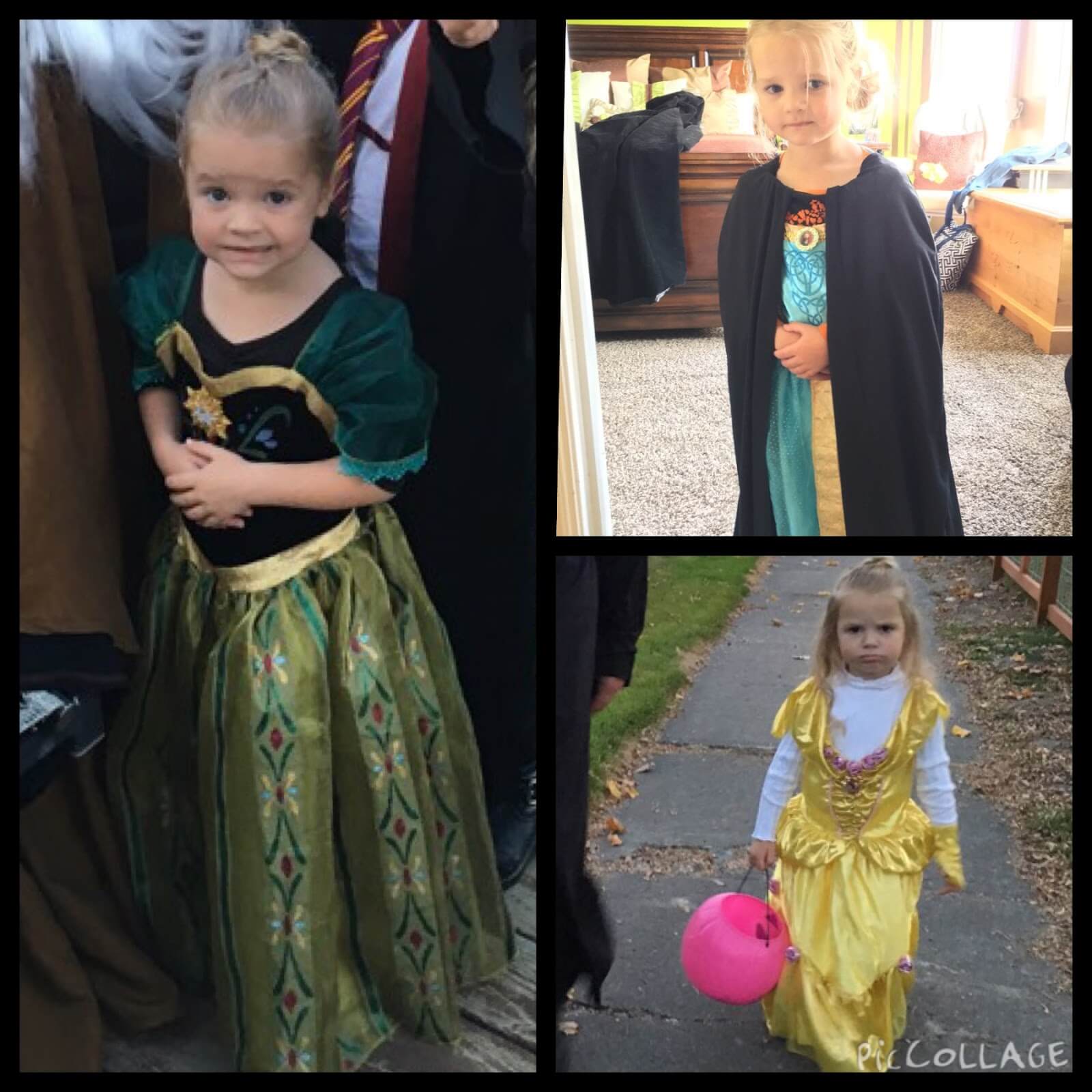 A few years ago, we had a lot of different interests and opinions going on among our children, so our costume theme was "Favorite Character." Here they are: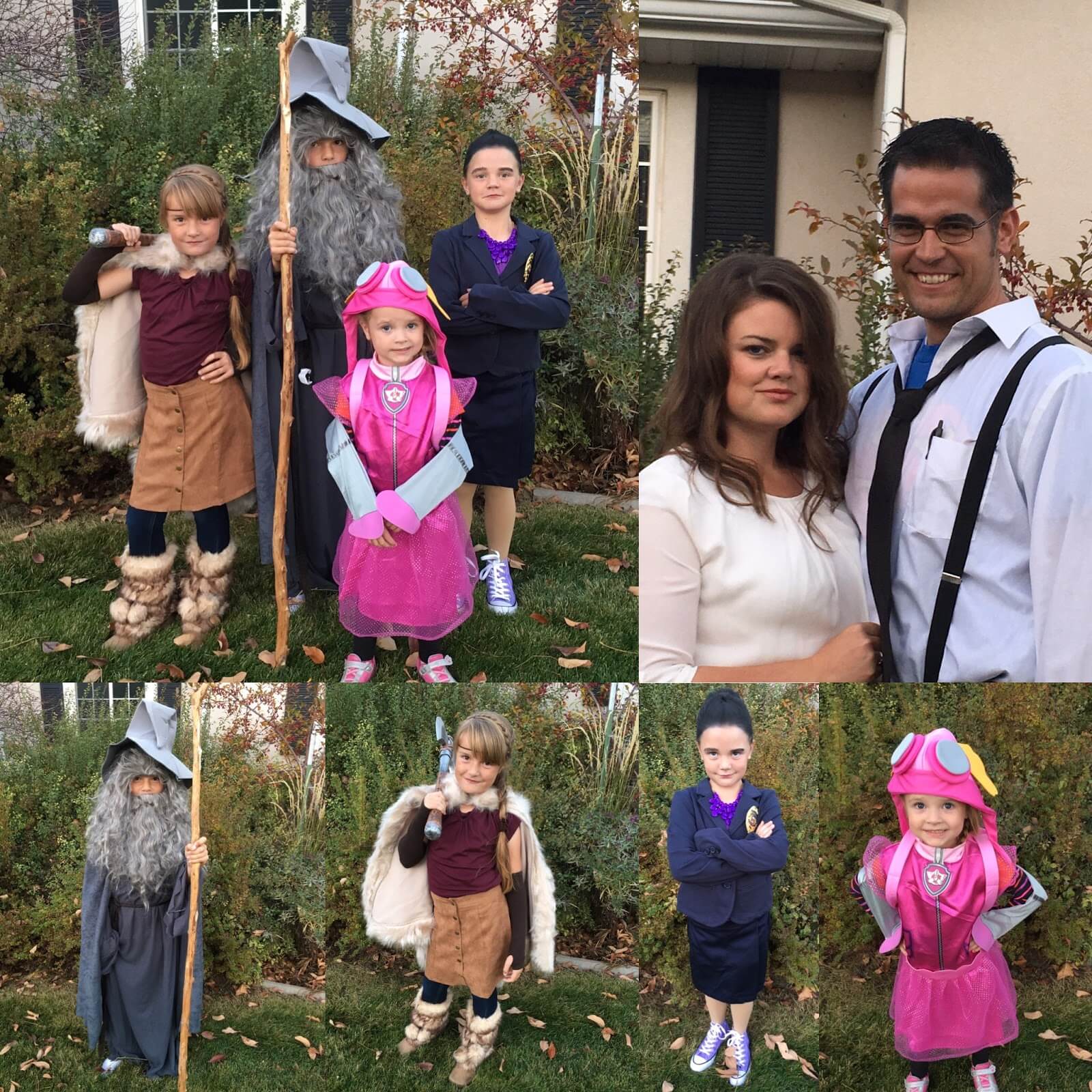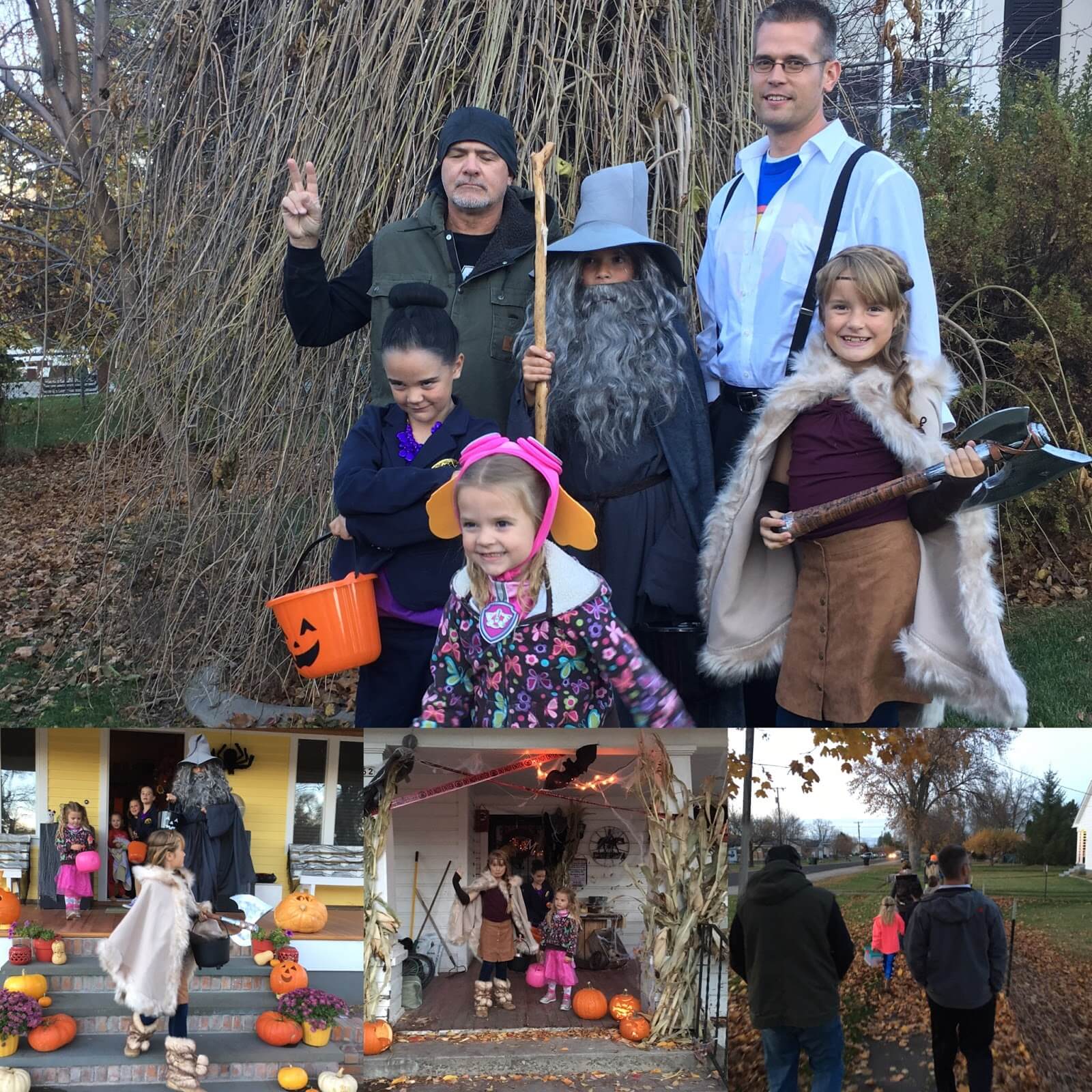 How to Easily Prepare a Halloween Costume
I have done all sorts of types of costume preparation. Many years, I have sewn everyone's costume. It is a lot of fun, but a lot of work. As the years went on, I started sewing some costumes but buying the ones that were good enough.
I now default to buy unless it MUST be made. Most costumes can be purchased cheaper than they can be made in our modern-day. Quality is better with a homemade costume, but I am not too worried about fantastic quality for a Halloween costume.
Let's talk about those costumes above of "Favorite Character" for how I created the Halloween costumes.
Kaitlyn wanted to be Astrid from How to Train Your Dragon for Halloween and McKenna wanted to be Mrs. O from Odd Squad for Halloween.
My typical first stop for costumes these days is Amazon. There were Astrid costumes on Amazon, but only for smaller children. There are no costumes for Mrs. O on Amazon.
>>>Read: Fun Ideas for a Memorable Halloween at Home
Because I had moved to the business of buying costumes and not making them, I didn't want to make the girls' costumes if I could help it.
It is much simpler to do this than you might think.
First, I "Googled" the character. "Astrid How to Train Your Dragon." A lot of images came up. These were our inspiration:
Then we just searched Amazon for each item Astrid was wearing. The great thing about this method is that many of the items we got were able to be used for everyday wear after Halloween. This post contains affiliate links.
We started with a search for fur boots. We looked through options and found some Kaitlyn would like to wear even after Halloween. Blossom Womens Tara-Fashion Boots.
We went through the same process for her burgundy shirt and a skirt. For the pants, she wore some blue jeggings that she already had. We got some things she wouldn't likely wear after Halloween. Arm warmers, a fur poncho, and a huntsman axe are all just part of the accessories. She plans to make a skull belt out of paper and I found a tutorial for making shoulder armor. This tutorial has a lot more than shoulder armor. This girl went all out.
To finish it off, we will use some yarn for the leather wrapping on Astrid. Kaitlyn's hair is very similar to Astrid's already so we will just do her hair to match.
Now for Mrs. O.
Again, I started with a search. "Mrs. O Odd Squad." This is the image I went with:
This one was quite simple, and most of it could be used in the future, so that was a bonus. Her shoes were fantastic and were be great for everyday wear after Halloween. Her blazer, shirt, and skirt were all easy enough to find on Amazon thanks to school uniforms.
The badge was just a fun addition to our dress-up pile. We also got a purple necklace and just chose one McKenna loved. She can wear it afterward. To finish it off, I pulled her hair back and sprayed it black. I also got some khaki leggings since our area is cold on Halloween. We always need the option of warm clothing with our costumes!
As you look at pieces, consider items that can be used in future costumes. Something like a black cape can often be used in many different scenarios. Nate and I save our costumes in a costume tote away from children so we can reuse them for various parties and functions.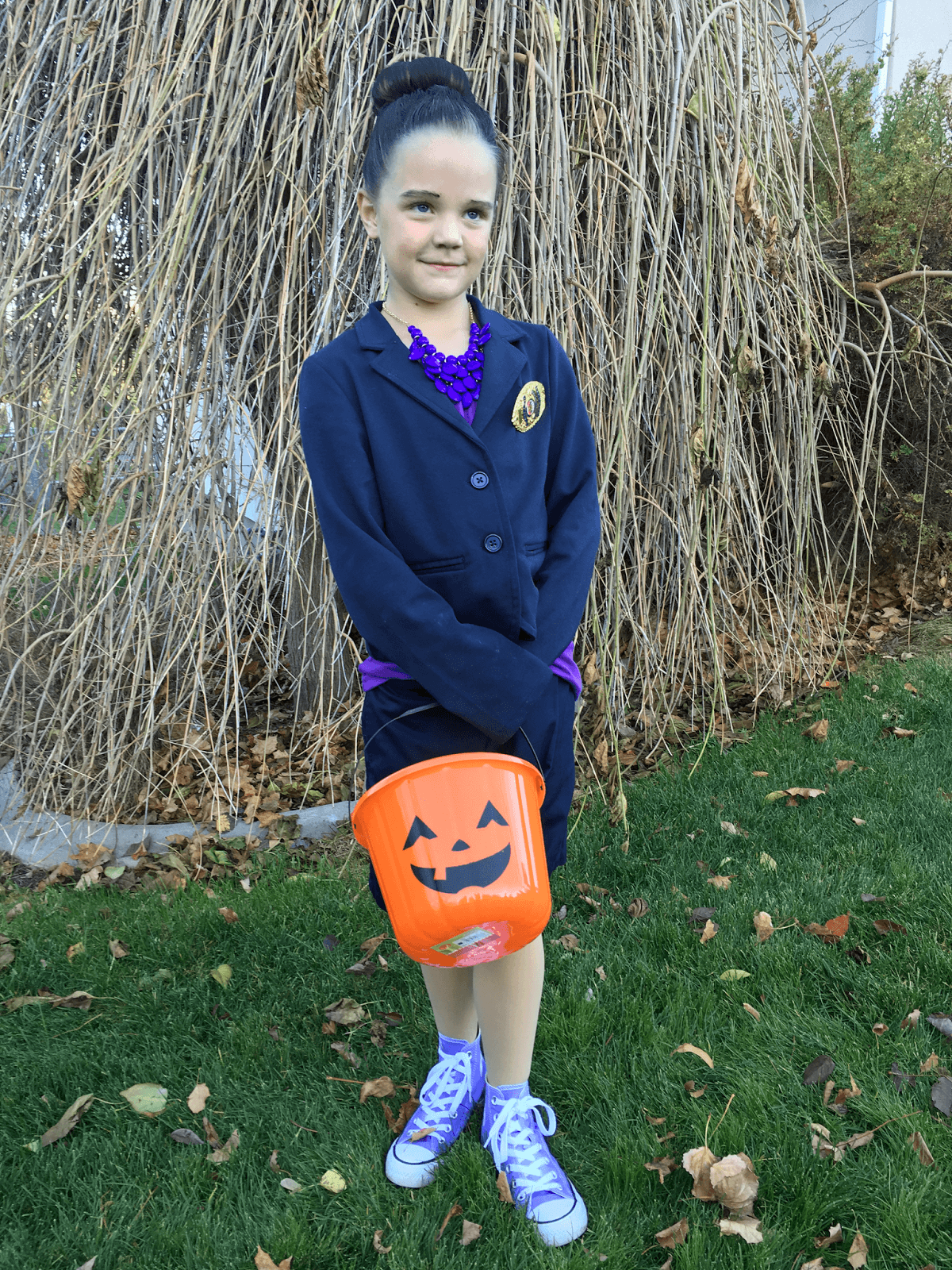 One quick tip, if you are ordering things from Amazon, pay close attention to shipment arrival dates. I often filter my search results to just include Prime items so I know they can get her fast.
In situations like purchasing items for a costume, it is good to buy things as early as possible so you have time for sloooowwww shipping so you can get what you want at the best price.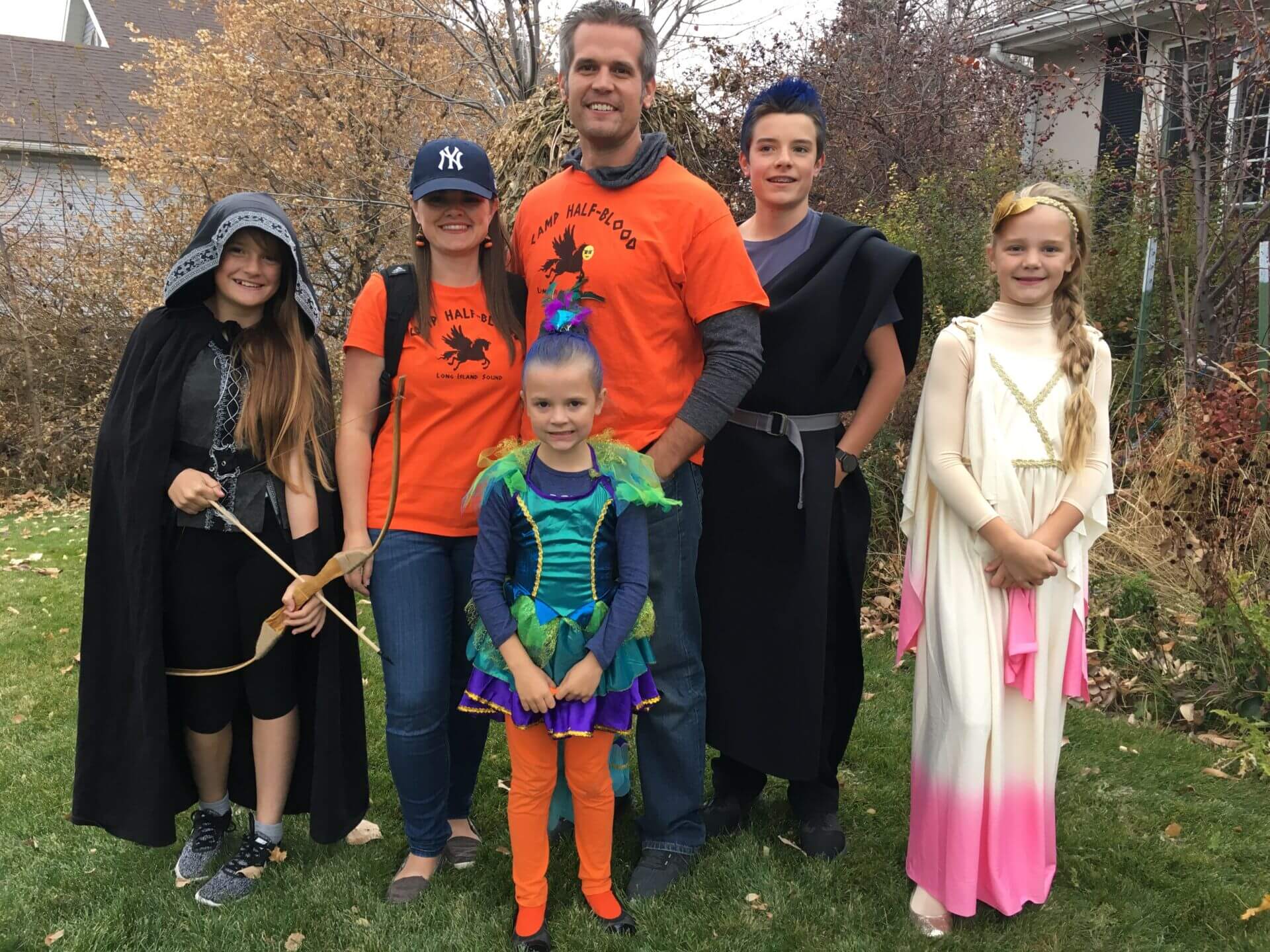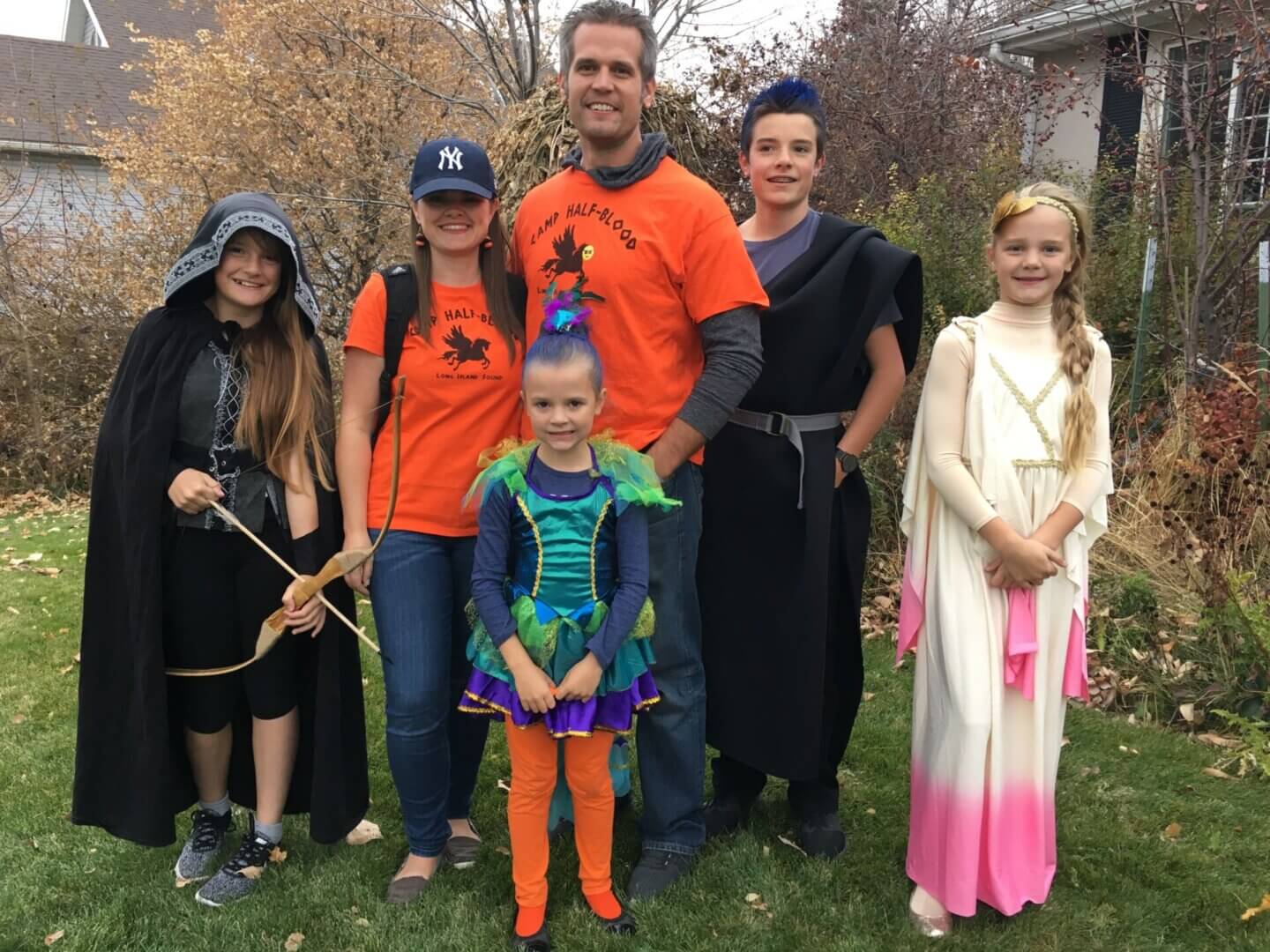 This is our Percy Jackson Halloween costume theme from 2018.
Conclusion
I hope that gives you an idea of how you can create a costume that is easy to put together. It also should give you ideas for ways you can buy things for Halloween that can be worn more than just on Halloween.
We have always let our kids keep their costumes out and add them to the dress up. Our kids love to play dress up and use the guts out of each costume. But as they get older, they play dress-up less and I want costumes to be more and more usable for other things if possible.
Related Halloween Posts