Halloween Costume Ideas for the Whole Family. Over 36 ideas for Halloween costumes. There are costume ideas for kids, costume ideas for siblings, and costume ideas for families.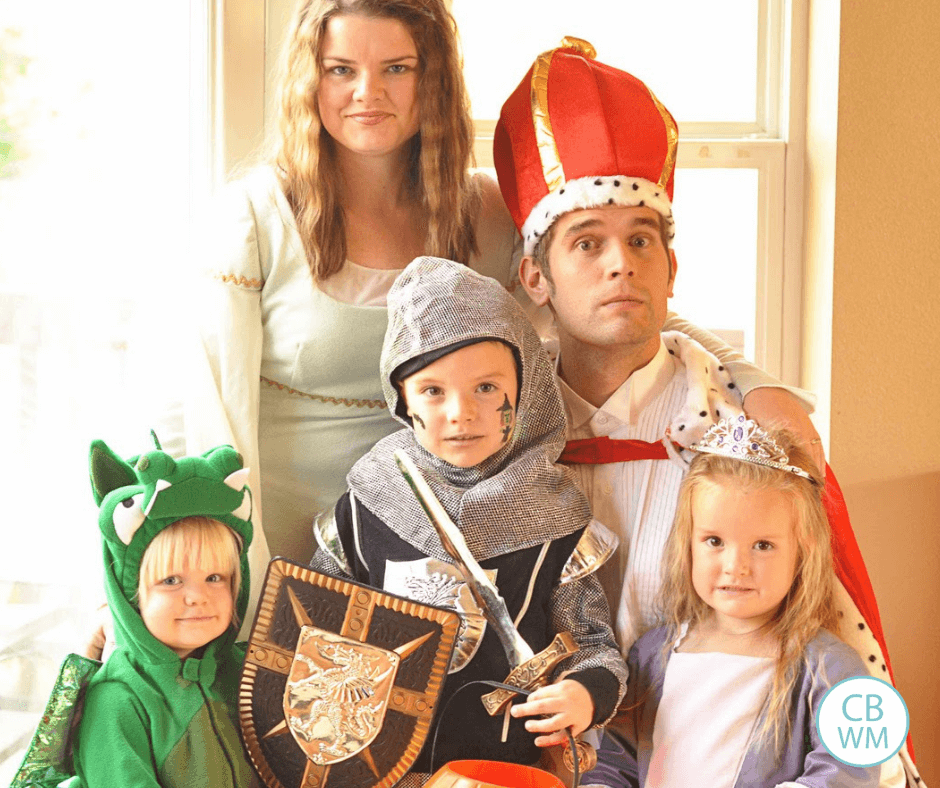 We have a lot of fun dressing up for Halloween at our house. We all enjoy it. For many years, we have done a family theme for our costumes.
Some years have been more of everyone just dressing up how they want to dress up, but we have still dressed up and had a great time!
>>>Read my tips for How to Easily Put Together a Halloween Costume
I have even more pictures of our family's costumes in that post above, so be sure to check that out also!
Family Costumes Build Unity
Dressing up as a family and doing a family costume theme really helps build unity in the family, create a fun tradition, and build a family culture.
If you are on the fence about dressing up and aren't sure if you want to or not, see my post on To Dress Up or Not to Dress Up for Halloween. We completely love dressing up as a family. The kids love to see their parents dress up.
Again, we don't always have a solid theme. Some years, we are each a favorite character and that is the theme. So our characters don't go together, but the theme does.
While these ideas are all cute and fun, always remember you can make Halloween simple by letting your child choose clothes out of the dress up box to wear. This is a great idea if you need a last-minute Halloween costume.
One year, Brinley was a different princess at each party and event she went to. Story time at the library, preschool, church party, playgroup, and Halloween night each had a different costume. She just pulled stuff out of our dress up each time and had fun!
Kids have a lot of fun dressing up and going out in public.
Halloween Costume Ideas for the Family
If you are on the dress-up side of the fence, check out all of these fun ideas for costumes! These are all Babywise families. Moms shared these with me in the Chronicles of a Babywise Mom Facebook Group. There are so many cute costume ideas here! We have some great group themes and some cute individual ideas.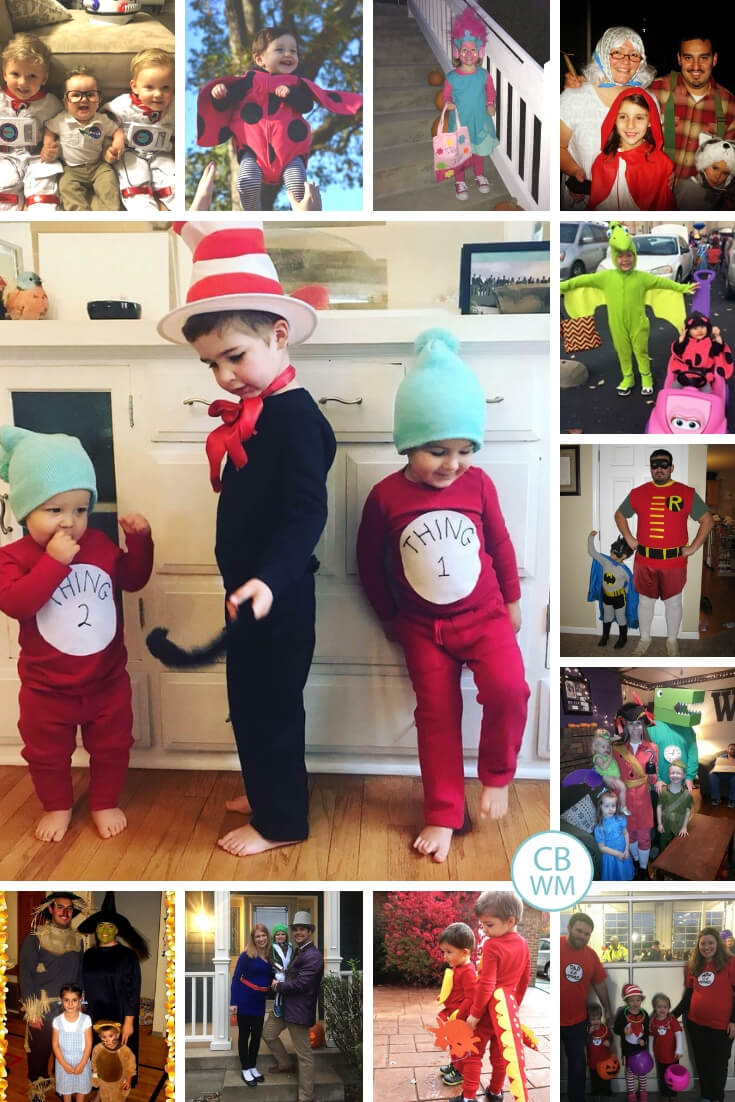 In the image above, you can see a lot of classic costume ideas for groups. We have Little Red Riding Hood with Granny and the Huntsman. We have a couple of Doctor Seuss themes with some Thing 1 and Thing 2 (always fun for twins).
We have a Peter Pan group as well as a Wizard of Oz group. Another fun family costume theme is the Willy Wonka group shown above. The Batman and Robin duo is really fun for a father/son costume idea.
There are also some fun costume ideas where everyone is in a group. We have some dragons, some bugs, and an astronaut crew.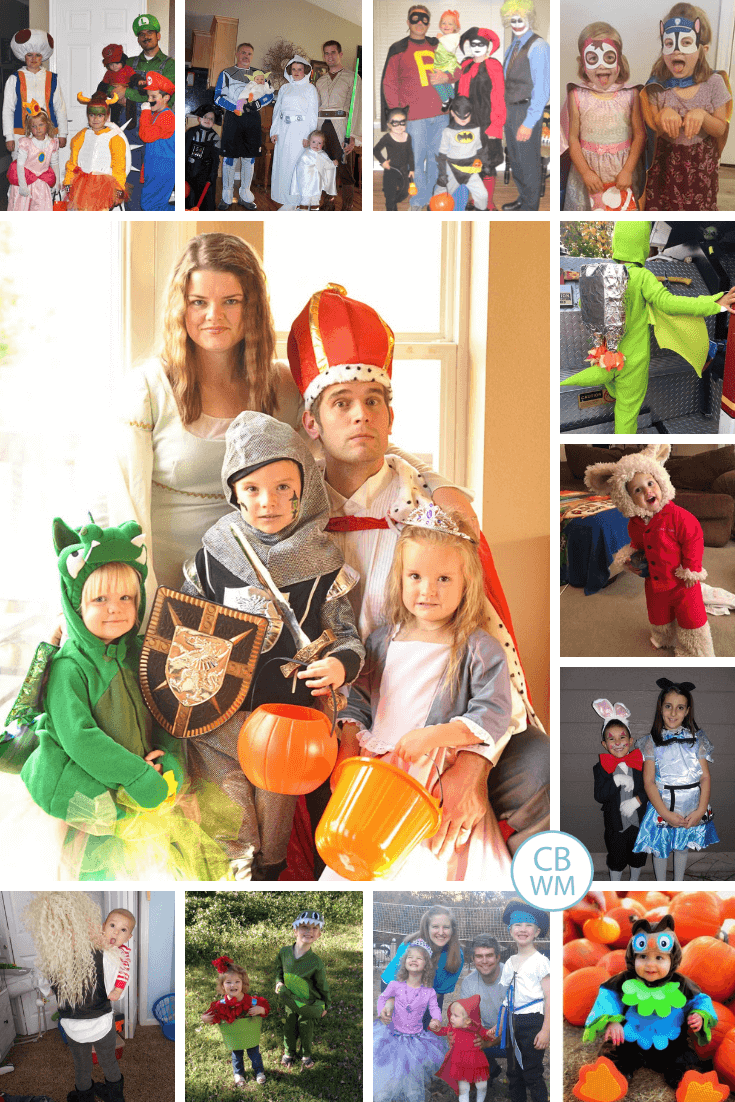 In the photos above, we see a lot of themed group costume ideas for family costumes. There are a lot of lovable characters. There are a lot of Halloween costumes for mom.
We have Super Mario Brothers group from the classic video game where a great baby costume is Diddy Kong. We had a Star Wars theme one year where we had a Baby Yoda long before that was popular. A Baby Yoda idea is another great parents and baby Halloween costumes idea.
We also had fun with a Batman theme one year. We had a combination of store-bought costumes (Amazon bought in reality) and DIY costume using clothes we had and some fabric glue.
We loved the year we did a royalty theme. Kaitlyn really wanted to be a princess so we worked around that.
Here is another dragon idea if you want a dragon idea for an older child. This was Brinley in 2020.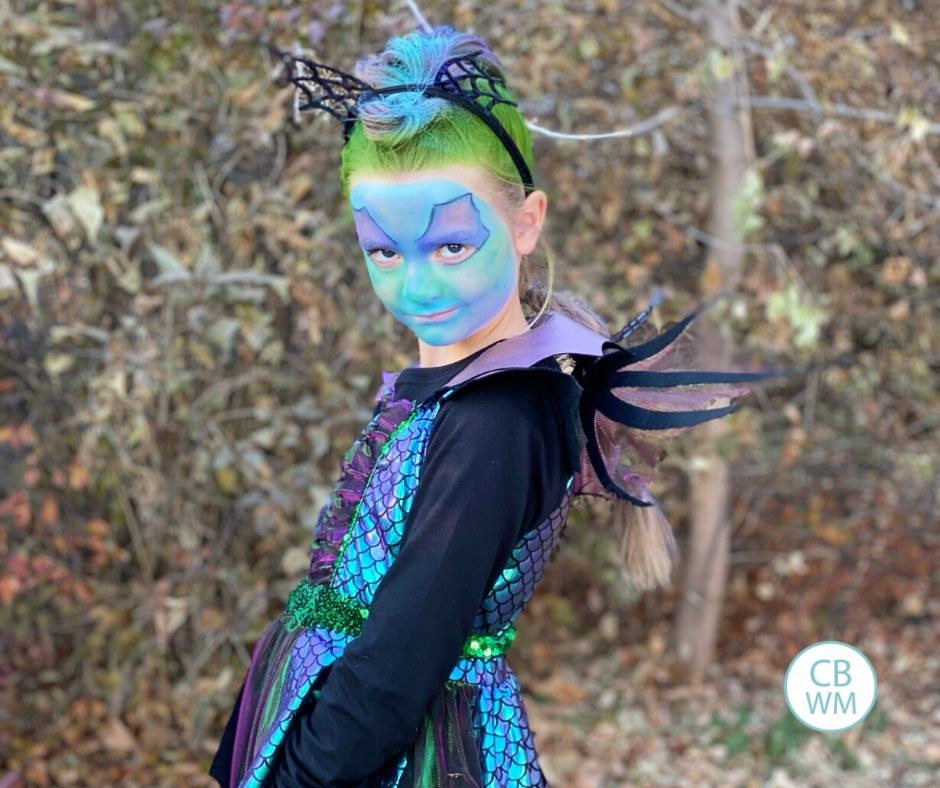 Also shown above are some Paw Patrol characters, Alice and Wonderland, a cute owl, pirates, and more!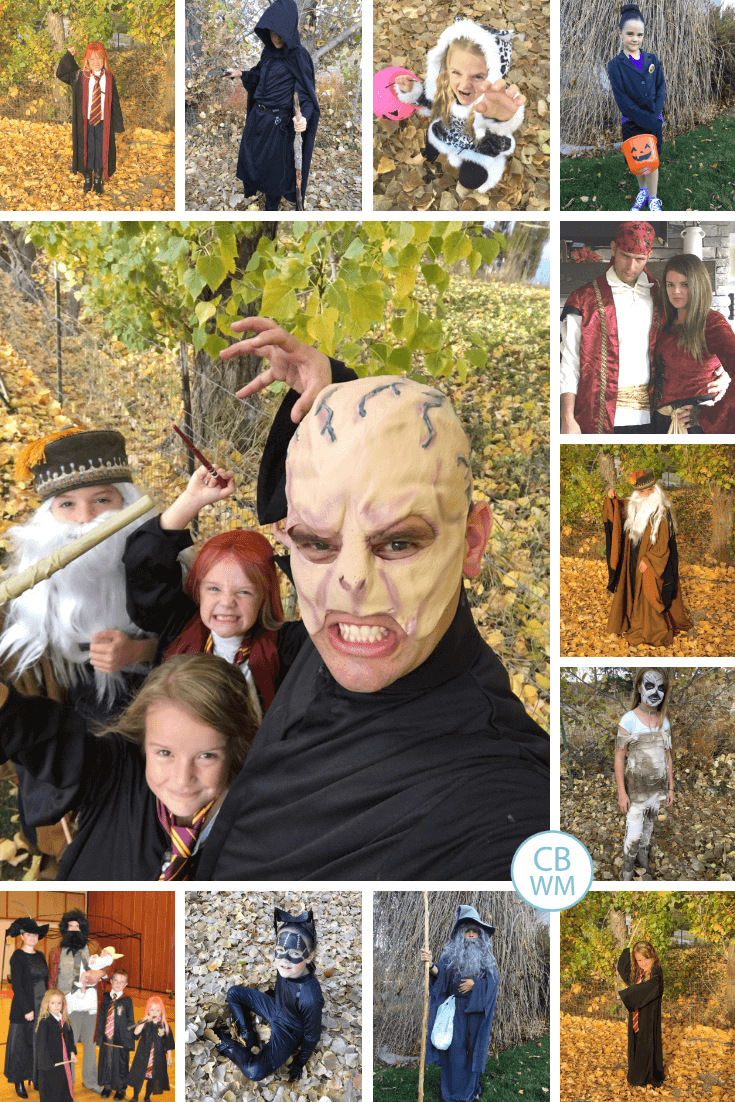 This picture above shows many pictures from one of our very favorite family costume themes and that is Harry Potter. We have done that one many times. Here is another one we did a couple of years ago: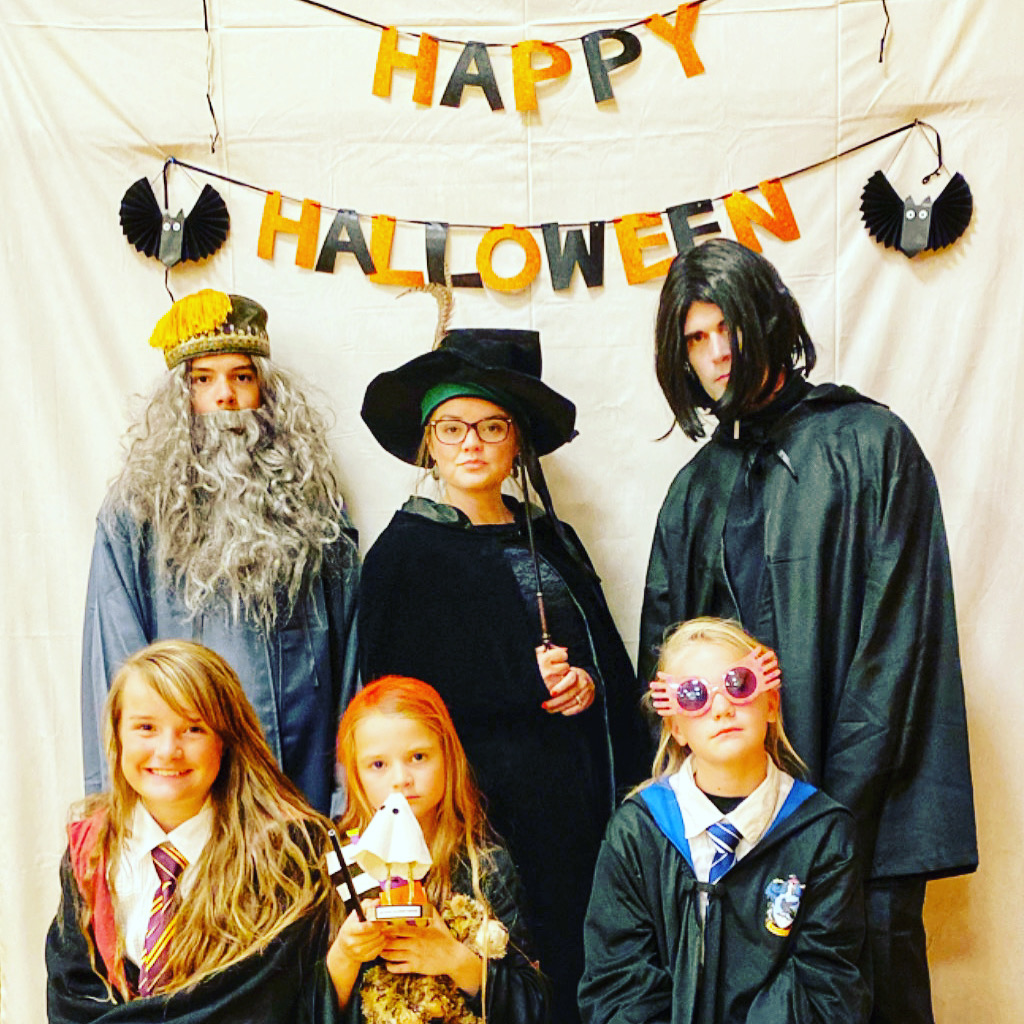 We also have some random costumes, with Kaitlyn as a mummy, McKenna as Cat Woman, Brayden as a scary guy in black, Brayden as Gandalf, and McKenna as Miss O. Brinley has often liked to be animals over the years, and you can see her snow leopard costume above as well as pirate costumes.
How to Choose a Family Costume Theme
When you have just parents and a baby, it is easy to choose a theme. As your oldest gets older, you can go off of that child's interest or favorite character. You can also just go off of classic themes.
As you get multiple children old enough to have multiple opinions, it gets harder. That is why we have had years when we were each a favorite character and not all one group theme.
Think about what each family member loves. Do they have aspirations they want to be some day (like a doctor)? Do they have a favorite television character or book character? Do they love animals? Try to think of ways you can merge the different interests.
We have had a couple of years when one person just didn't want to go with the theme. One year, the girls wanted to do Frozen and Brayden was a ninja. It was fine. We just said if you didn't notice the ninja in the movie, he did his job (HA!).
Like I said, Brinley loves to be animals. This year, we are doing a Star Wars theme again. Brinley will be a wolf (apparently there are wolves in some Star Wars books, so it works).
You can usually come up with some way to do a theme if you really want to, but it is also fine to let everyone do their own thing.
Conclusion
Once Halloween is over, add the costumes you get to the dress-up play clothes for your kids to play with all year. They will have so much fun dressing up again and again. Dress-up clothes are my favorite thing my kids play with because that leads to imaginative play, and imaginative play is not messy!
For older people, we save the costumes so they can be reused in future years. Once people stop growing, you can reuse stuff over and over!
Related Halloween Posts
This post originally appeared on this blog in September 2018