14 super fun ideas of things you can do to celebrate Halloween at home this year. You can keep it simple and still make great memories!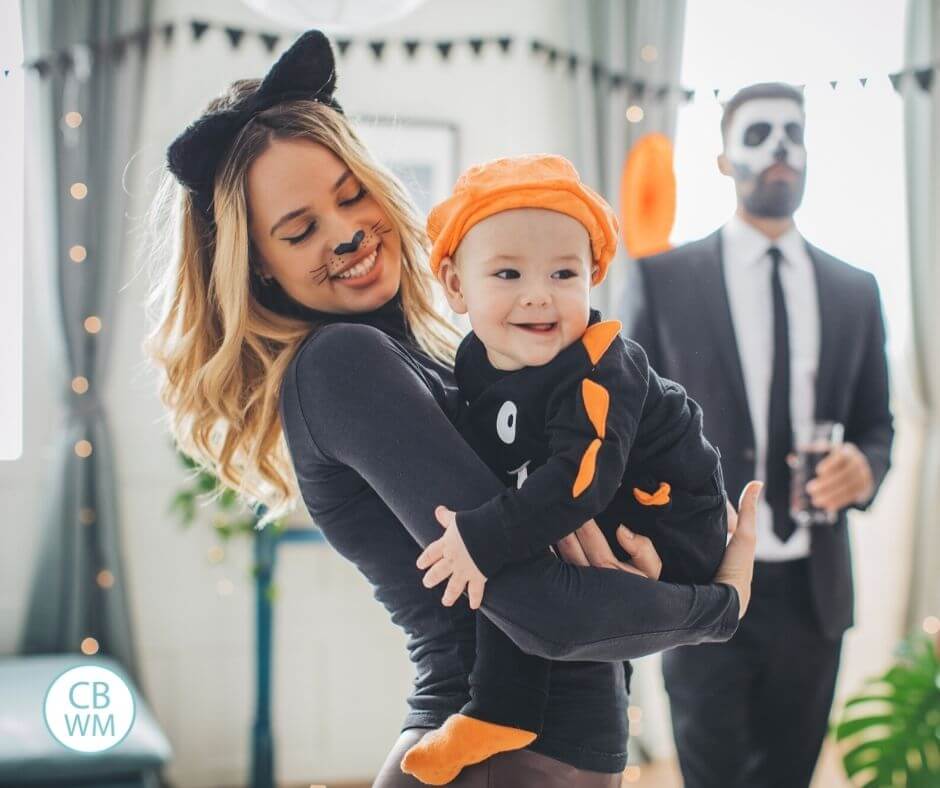 If you find that you will be spending Halloween at home this year, do not despair! You can still have a lot of fun and make it memorable right at home.
I am a person who HIGHLY values tradition. I love to have traditions and I love to follow traditions.
Over the years, we have had times we have had to change up our typical tradition at various holidays for one reason or another. We have always been able to still have a fun holiday that we look back on with fondness.
If you will be spending Halloween at home this year, pick some things to do to make it novel and fun.
Fun Ideas for Halloween at Home
You do NOT need to go overboard or do all of the things listed below. Kids really are easily satisfied and are always happy when they just get to spend time with the family.
Do not stress yourself out more than you need to, and do not feel like you need to overcompensate for being home.
Decorate the House
If you are going to be home together for the holiday, it will be fun to have it feel festive. Kids love to decorate, so if you get them involved, it will be a happy memory they remember.
Make Treats Together
Being at home together means you can really take some time if you like to make a Halloween treat together.
There are SO MANY cute Halloween-themed treat ideas out there on Pinterest.
One of our favorite Halloween treats has always been Witch Cupcakes. You can see how to make them here.
Listen to Halloween Music
We love music at our house and love to make playlists for specific occasions. You will have a lot of fun turning on some Halloween songs and having a dance party or sing-a-long party.
I have a list of kid-friendly Halloween songs in this post: Halloween Playlist for Children
Carve or Paint Pumpkins
Carving pumpkins takes a whole lot of time if you do one for each member of the family. Well, if you are home together, you have that time!
We have some books with pumpkin carving templates, but we also search the internet for printables at times.
Painting pumpkins is a lot faster if you want to do something but don't want to dig in.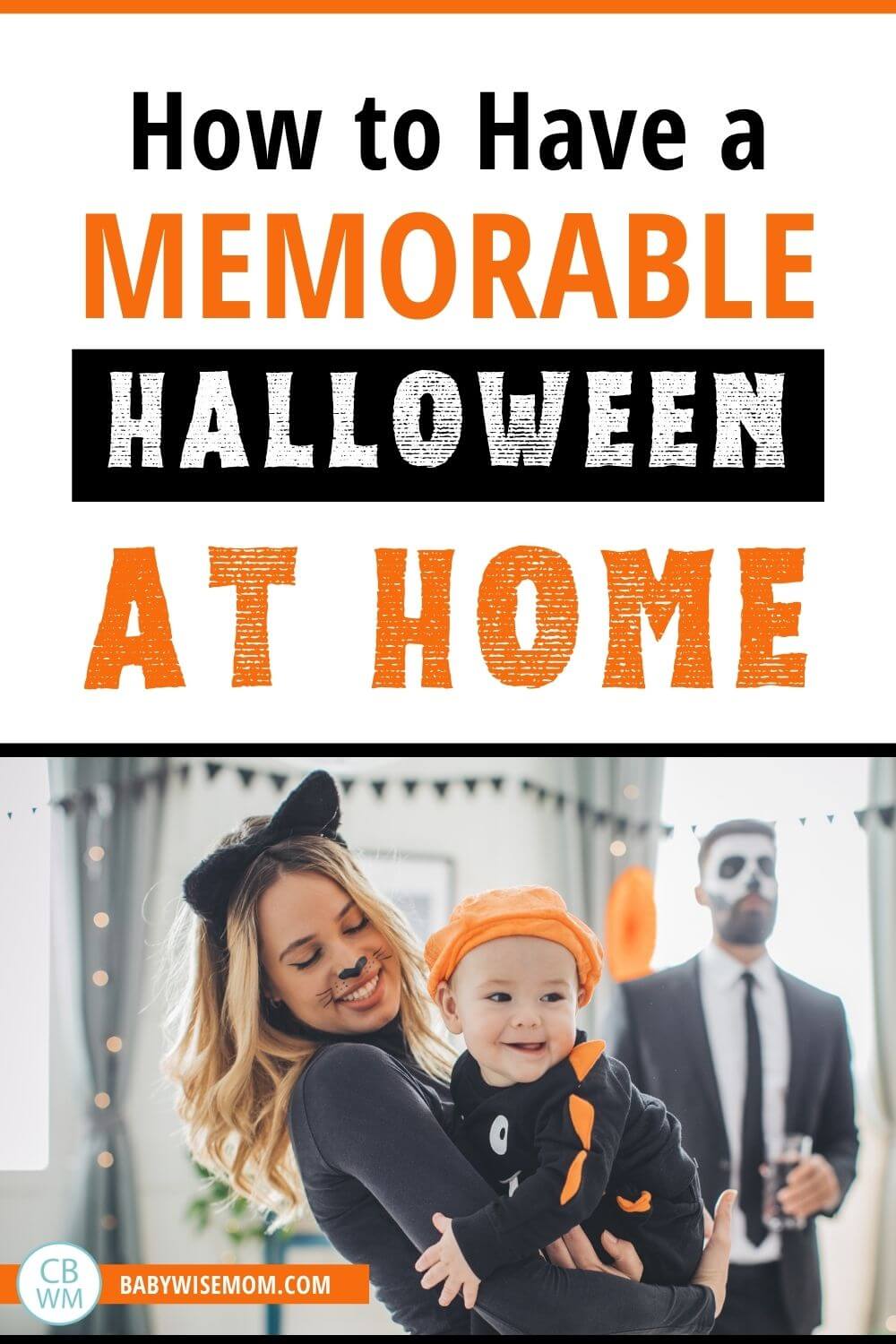 Read Halloween Books
My children always love to read books. Cuddle up together and have a Halloween book marathon.
>>>Read: Best Halloween Picture Books for Kids
Do Fall Crafts
Have some fun doing some fall or Halloween crafts together. You can also do learning activities.
>>>Read: Fall Learning Activities Your Kids Will Love
Tell Each Other Jokes
Children love jokes, and they love to make up jokes. The great thing about kids is they will laugh even when jokes aren't funny.
Brinley is so into jokes she grilled our exterminator for jokes last spring. When he came back this fall, he came prepared with a list of jokes for her.
You can easily find some Halloween jokes online and read them to each other, or you can create your own jokes.
Dress Up
I still remember one Halloween from when I was young–I was five or younger. I remember my parents dressing up.
I don't remember trick-or-treating. I don't remember eating candy. All I remember is they dressed up and I thought it was the most amazing thing ever.
Kids LOVE IT when their parents dress up.
Find some way to dress up even if you are all staying home. It doesn't have to be elaborate or fancy. It can even just be face paint or crazy hair. You can easily put together inexpensive costumes.
>>>Read: Halloween Costumes for the Whole Family
Face Paint
Have a face-painting party! Paint your kiddos' faces and let them paint your face. They will definitely remember it!
Trick or Treat with Yourselves
I have joked around that if we couldn't go out to go trick-or-treating this year, we would just trick-or-treat at our house. The kids can ring the doorbell, get candy, run around the house, and do it again.
You can also set up trick-or-treating in your house. Have your kids knock on different doors in the house to get treats. Or you can hide candy around the house and do a scavenger hunt or Easter-egg style hunt for it.
Eat a Halloween Dinner
Have a special Halloween dinner. It can be fancy and themed or something simple.
Every year, we have a bacon-potato soup along with rolls or bread bowls on Halloween. This is far from fancy, and soup is actually the least-favorite meal of every one of my kids. Despite that, they all very much look forward to this meal every year.
Watch a Halloween Movie
A very simple activity to do together is to watch a Halloween movie. Read my Halloween Movie List for Families to get ideas for various age ranges.
Have a Little Party at Home
You can make Halloween a bigger deal with a little party at home. You can play Halloween games (like a cakewalk or bobbing for apples), do a craft, eat a treat, and read some books. You can pump music while you party. You can really combine many of the ideas above into one party at home.
Halloween Charades can be a fun game at home. Get a free printable with word cards here: Halloween Charades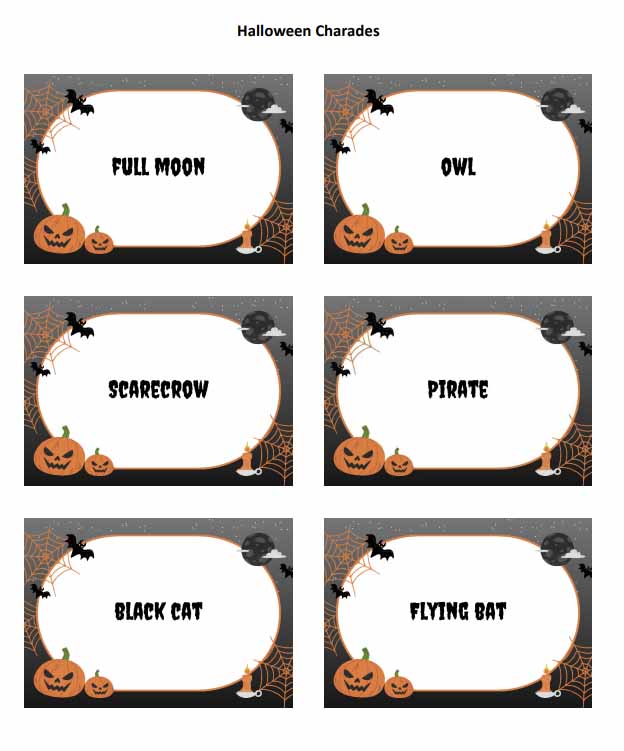 Another fun game idea for at home is Would You Rather… This game enables you to get to know the other people playing and gets your brain thinking. Get a free Halloween Would You Rather printable here.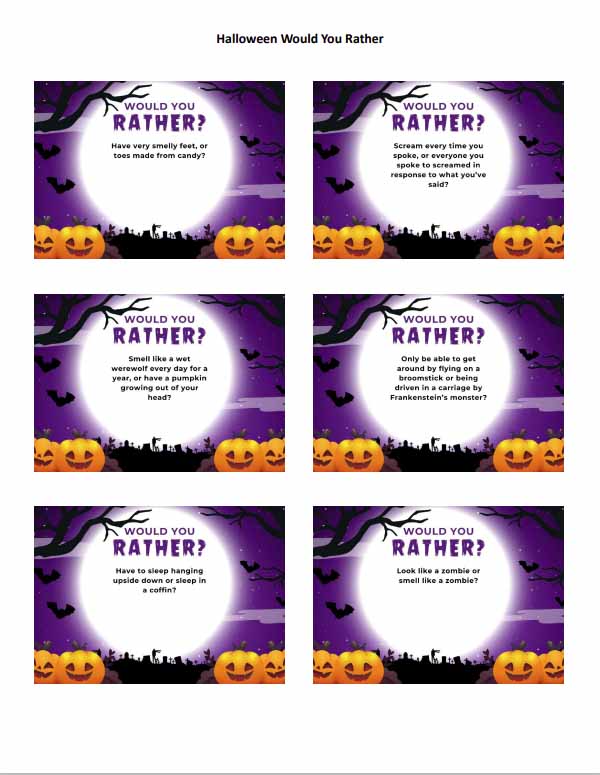 Have a Murder-Mystery Dinner
If you have tweens or teens at home, a really fun idea is to do a murder mystery dinner at home. This is something I want to look into–the trick is just making sure the kit you get is all clean.
Conclusion
I hope this post gives you some fun ideas and some hope that you can still have a really fun Halloween and make some great memories even if things are different this year.
Related Posts