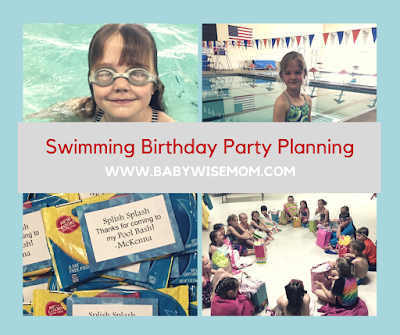 I love an easy party. Last year, McKenna did a party at a gymnastics gym and it was fantastic! This year, she wanted to do a swimming party and I was all over that.
Here are my tips on doing your own pool party. It was an easy party to do–I love going places for the party. It is easier pre-prep and easier clean up by far.
Pre-Party:
Call the pool you want to have the party at with a lot of advance notice. I had planned to go to the party just during open swim hours, but when I called, I found out I could rent the pool. They only rent out the pool at certain times, so days are limited. That is why you want to call ahead of time.I highly recommend renting out a pool and not doing a party during public pool time. The reason for this is that you can't easily keep an eye on all of those kids if you are at the public pool. Yes, pools have life guards, but if you don't like taking your own children to the pool alone because you worry about what might happen, then you certainly don't want to take 10-20 or more kids to the pool by yourself or with one other adult!If you can't rent anywhere, then enlist enough adults to be there to help it be a safe activity.
Create and deliver invites. Get invites out 1-2 weeks in advance. See the one we did below. I made it in Canva, which is a free program that is very easy to use! Just go to canva.com.
Prep your thank you gift (party favor).
Talk to the parents before you go. Know their comfort level in the pool. Make sure they bring flotation devices if needed. Make sure you know what the moms want with their child. For example, one mom told me her daughter had never had swimming lessons and she was worried about the party. She sent her in a life vest. Halfway through, the girl decided she felt comfortable and didn't need her life vest. I stopped her and told her that her mom wanted the vest on the whole time, so she turned around and put it back on.
Make sure you have a life guard. If you are at a private pool, you need someone there dedicated to watching kids and keeping them safe who knows how to do so.
Buy any toys and prep any activities you might want to do at the party.
Get cake and ice cream ready.
Pictured below, you can see the toys I bought for the party and also the party favor we did.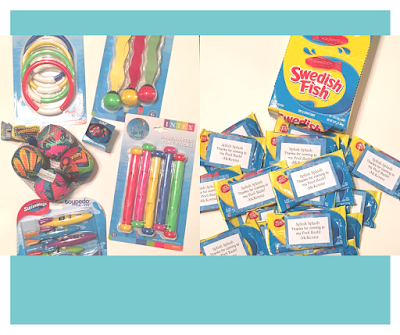 At Party:
Decide on your party flow. We did swimming, presents, and cake and ice cream. It would make sense to do all of that before swimming so everyone isn't wet and cold when you do cake and ice cream and presents. Remember that eating before swimming isn't a good idea. Your biggest concern with this age really is them puking the food up in the pool. So you might do presents before, but you should leave cake and ice cream to the end.One hard thing with starting with presents is that you often don't get everyone there right at start time. So if you start with presents, you might be waiting around for 15 minutes before everyone gets there.
You might plan some water games, but realize that a lot of times, many kids are not great swimmers. The pool manager told me that they have a pool party with fifth graders every year and every single year, they have to save a couple of kids from drowning. The children you invite will have various swimming skills, so be ready to change or scratch games if needed. We had a lot of games planned and in the end, just let the kids play with the toys and with each other the whole time they were swimming. We didn't do any games. So be ready to be flexible. Have ideas for in water games, out of water games, and be willing to just let them play in the water if they are loving that.
That is it! It was super simple and a lot of fun. Of course in my planning, I found several fun ideas on Pinterest. Be sure to check out my Birthdays and Parties board for more pool party ideas! Just remember, children do not have as grand of expectations as you might see on Pinterest. They are very content with simple, so don't kill yourself over a 2 hour party.